Discover more from Wonkette
Wonkette is filthy, hilarious, liberal news. YOU CAN HANDLE THE TRUTH!
Over 15,000 subscribers
Welcome To Wonkette Happy Hour, With This Week's Cocktail, The New York Fairytale!
Drink too many of these, you'll spend Christmas Eve in the drunk tank.
Greetings, Wonketteers! I'm Hooper, your bartender. This is a holiday riff on the Manhattan for the punks, the chefs, the late-night guys who work until midnight and party until 4. Christmas is a grind sometimes. We'll make it through. Let's make a New York Fairytale.
New York Fairytale
3 oz Rittenhouse Rye
1 oz R. Jelinek Fernet
1 oz Martini & Rossi Sweet Vermouth
4 drops Angostura bitters
Add all ingredients to a stirring vessel filled with ice. Stir until chilled, 8-12 seconds. Strain into a small chilled brandy snifter. Garnish with a flamed orange peel, pierced with a spent kitchen match.
This drink is inspired by Fairytale of New York , my favorite Christmas carol of all time. I've had my share of awful Christmases; somehow this song always helps me get through them. I think my worst was roughly three years ago. I was visiting family in NYC; I only had a few days of vacation from the miserable sales job I was working then, and trying to get through LaGuardia in a hurry is a circle of hell all its own. I got to the hotel, and the fire alarm was blaring, and no one could figure out how to turn it off. I camped at a mediocre Red Robin nearby until they could figure it out. When my brother saw me the next day, he handed me a Manhattan without saying a word. It was the best cocktail I'd ever had. I learned to make more like them. I realized that making cocktails for money was a thing. I became a professional bartender. I guess this cocktail isn't just a riff on a Manhattan; it's a love letter to that Manhattan I needed so badly, on a ragged, ugly Christmas weekend. Thanks, Jon. I appreciate it.
Let's dive into the ingredients: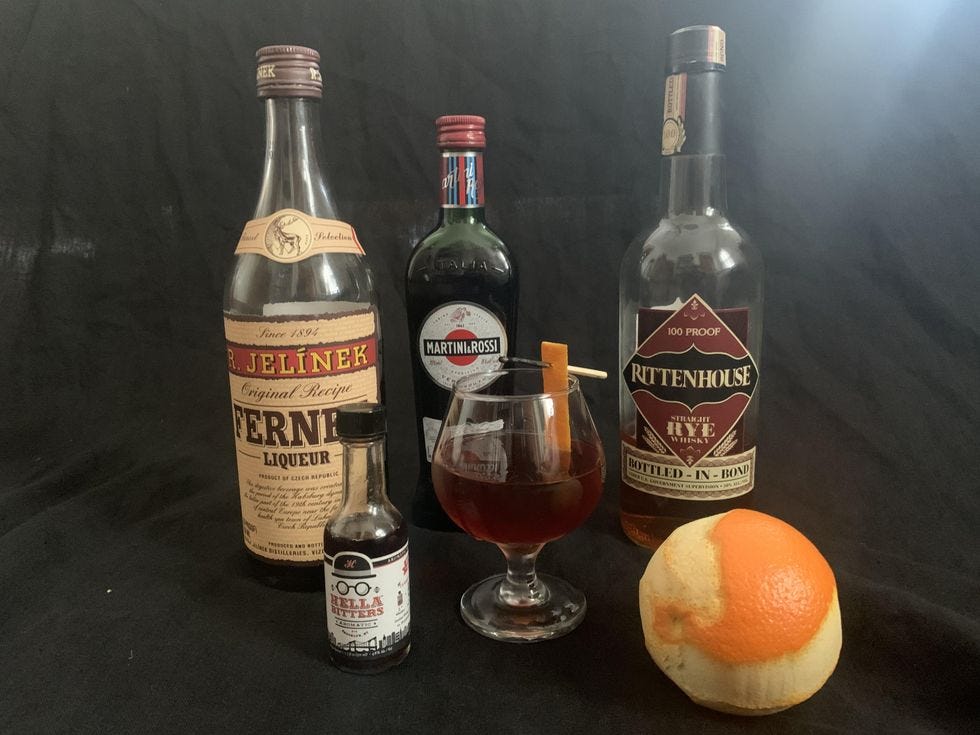 Ingredient shot. The New York Fairytale vanished like a dream after this photo was taken. Matthew Hooper 

Rittenhouse Rye: I want to use rye whiskey instead of bourbon here – this is meant to be a spicy, complex cocktail, and bourbon is too sweet and mild. A funky Jamaican rum like Appleton Estate would be a fun option as well. Rittenhouse is 100 proof, so a milder rye like Bulleit or Jack Daniels Rye might be an option.

R. Jelinek Fernet: Fernet is a category of Amaro — a spicy, sweet Italian aperitif that adds a ton of complexity to any cocktail. Odds are good that you can find Fernet Branca at your local liquor store. I'm using Fernet Jelinek because it's a touch mellower and less expensive than Branca, but Branca would be great here too. Any fernet will have a ton of allspice, clove, and "holiday" spice flavor. Many bartenders I know use it as a secret ingredient to transform a simple cocktail into something magical. Add a little to your holiday eggnog. You'll love it.

Martini & Rossi Sweet Vermouth: I picked up some of this for 2 a.m. Negronis after a long shift, and it's grown on me. There are better sweet vermouths out there, but this one does the job. It adds body and depth to the cocktail, and I couldn't really call this a riff on the Manhattan without vermouth. Once again, with feeling: Thou Shalt Keep Thy Vermouth In The Fridge, Lest It Turn Nasty.

Angostura bitters: Angostura's a spice bomb in the right drink. It's just harsh enough to lend a spent-cigarette feel to the cocktail without being nasty like the real thing. Spiced cherry bitters or Creole bitters would be milder options.

Garnish: A flamed orange peel adds smoke and citrus notes to a cocktail. I wanted a little sharpness to balance out the sweetness of the Fernet. The toasted orange oils are enough to do the trick. Piercing the orange peel with the spent kitchen match is just theater. The Pogues' video for Fairytale of New York is wreathed in cigarette smoke, and I wanted to nod to that.

Flaming an orange peel is a little tricky, but gratifying once you master it. Cut a long strip of orange skin with a vegetable peeler, roughly three inches by a half inch. Square up the edges. Cut a small "x" into the strip about a half inch from the top. Light a wooden kitchen match and hold it in your right hand. Put the orange strip in your other hand with your thumb along one long side and 2-3 fingers on the other side. Hold the match over the cocktail, and gently pinch the orange strip 2-3 inches above the match. You should be rewarded with a small puff of sparks and a tiny fireball. If you don't get fire, make sure the orange strip is dry. A little water will extinguish the orange oil before it even lights. Stick the match through the "x" in the strip, and balance the whole thing on the rim of the cocktail. ( This video might explain it better. )
I cannot, in good faith, recommend a non-alcoholic drink in response to La Guardia airport on Christmas week and incessant hotel fire alarms. When I was young and immortal, a coffee and cigarette breakfast was my answer to bad times. I don't "recommend" it, exactly, but it's worth remembering the days when that's all we had to make it through the ugly weekends. We survived the rough Christmases. We keep going. Here's hoping we don't have to do it again. Happy Holidays.
In summary and conclusion, drink well, drink often, and tip your bartender — donate to Wonkette at the link below! And if you'd like to buy some bar gear or books from Amazon, please click on the links above, or this one! 

Open thread!
The Pogues - Fairytale Of New York (Official Video)    www.youtube.com