Discover more from Wonkette
Wonkette is filthy, hilarious, liberal news. YOU CAN HANDLE THE TRUTH!
Over 18,000 subscribers
It's Wonkette's Special Weekend Happy Hour, With The Old Fashioned!
With a bunch of newfangled variations, because you can teach an old dog new tricks.
Greetings, Wonketteers! I'm Hooper, your bartender. It's officially fall, and the weather's getting cold and rainy here in Ohio. Time to cover the oldest cocktail in the book, the Old Fashioned. I'm putting a little twist on the classic, and there are a ton of options when you get the basics down. Here's the recipe.
Spiced Cherry Old Fashioned
4 oz Four Roses Yellow Label bourbon
.25 oz Enriched Demerara Syrup
2 dashes Woodford Reserve Spiced Cherry Bitters
1 barspoon Luxardo Cherry Syrup
Combine all ingredients in a mixing tin with ice. Stir until cold, 8-12 seconds. Pour into and old fashioned glass with one large ice cube. Garnish with two Luxardo cherries and an orange twist.
The Old Fashioned is a simple, primal cocktail, dating all the way to 1862 . It doesn't get more basic than liquor, sugar, and bitters. The most important thing in this drink is that the sugar and bitters are meant to season your base spirit; they're the salt and pepper on the steak. I've leaned hard into the cherry flavors here, but the bourbon is still front and center.
You'll still hear requests for a "Wisconsin Old Fashioned" once in a while. That's a '60s style, "Don Draper" Old Fashioned, back when Canadian Club was a high-end whiskey. For the record, you muddle an orange slice, a cherry, bitters, and a sugar cube together, and pour the whiskey on top. I don't think this is a very good cocktail. Sugar paste flavored with a little orange juice and bitters … does not appeal to me. Keeping all of your elements separate — bitters, sweetener, garnishes — lets you control all the flavors individually. That gives you the freedom to build an Old Fashioned tailored just for you. You can also swap out all the ingredients — including the bourbon — to build new, unique cocktails. We'll talk about the possibilities after we run down the ingredients in the classic.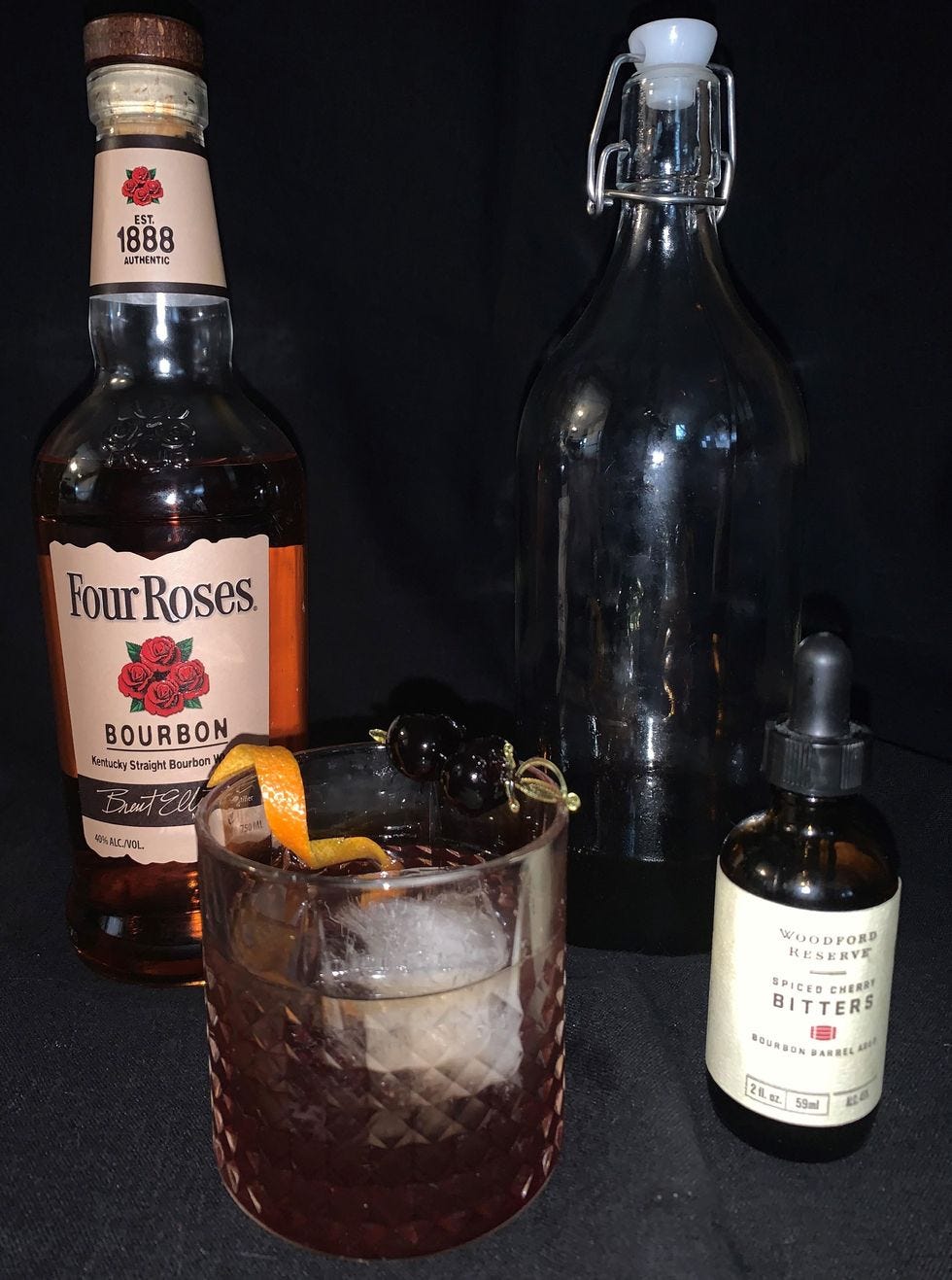 Ingredient shot. The Old Fashioned disappeared shortly after this photo was taken. Matthew Hooper 
Four Roses Yellow Label: As I mentioned last week, high-end bourbon is pricing itself out of the market. A workhorse like Four Roses or Weller Special Reserve is excellent. The workers at Heaven Hill Distilleryare currently striking for better hours, so skip Evan Williams, Elijah Craig, and Larceny until that's settled. If you want to splurge, use Woodford Reserve or Woodford Reserve Double Oaked. They pair up with the bitters beautifully.
Woodford Reserve Spiced Cherry Bitters: These bitters are so very, very good in bourbon. You can find them in some stores, butAmazon supplies them as well . The oakiness of the bitters is a huge boost to the workhorse bourbons I favor. If you can't get this amazing elixir, go with classic Angostura bitters and you'll be fine.

Luxardo Cherry Syrup: Very much optional, but a wonderful indulgence. This is possibly a touch too sweet with the enriched syrup. Try it and see what you like best.
Enriched Demerara Syrup: This is a little different than my normal demerara – I wanted something darker and thicker that would support the oak flavors of bourbon. You could use a liqueur instead of a syrup and it would work fine. Luxardo liqueur would be great here. Be gentle with the amount of sweetener in your cocktail, no matter what you use. The base spirit needs to be front and center. Directions ahoy!
Enriched Demerara Syrup
1 cup Sugar in the Raw
½ cup water
Pinch of sea salt
1-2 drops high quality vanilla
Combine all ingredients in a small saucepan and warm over low heat. Stir occasionally. Remove from heat when the sugar is completely dissolved. Let the syrup cool to room temperature before storing.
Other Old Fashioneds!
The real fun begins when you realize this recipe is simply a template for all manner of amazing cocktails. Any aged spirit can be made into an old fashioned. It's the choice of sweetener and bitters that can make a particular variation on the cocktail sing. Here are a few examples:

Tequila Old Fashioned: Anjeo tequila, crème de cacao, and chocolate bitters. Tequila loves chocolate. For an even better version, swap 1 oz. of tequila for a good mezcal. Garnish with an orange twist and a cacao nib.
Gaelic Old Fashioned: Irish whiskey, honey syrup, orange bitters. Irish whiskey and honey go together wonderfully. Lemon twist here.

Rum Old Fashioned: Dark aged rum, tiki bitters, and falernum. The spice is a great way to balance sweet, aged sipping rums. A lime twist is a must.

Scotch Old Fashioned: Smoky, peaty Islay scotch needs bold flavors for a balanced cocktail. Use the same enriched demerara syrup we used for bourbon, but swap in Creole bitters instead of the Angostura. I'd also use a full orange wedge instead of a twist
Roy Rogers
Since we're on the subject of cherries, let's use a Roy Rogers as our NA cocktail – AKA a cherry coke. As much as I love Luxardo cherries and homemade grenadine, I can't imagine using anything other than Maraschinos in a Coca-Cola. And while Rose's grenadine is awful in a cocktail, I've got a soft spot in my heart for that fire engine-red corn syrup in a cola.
Try these proportions to start:
1 oz Rose's grenadine
1 oz Maraschino cherry syrup
Add ice to a cola glass. Pour the syrups over crushed ice and top with cola. Garnish with 3-4 maraschino cherries.
In summary and conclusion, drink well, drink often, and tip your bartender — donate to Wonkette at the link below! I'm currently behind the stick at Tiki Underground ; come by and say hello. And if you'd like to buy some ingredients or bar gear from Amazon, please click on the links above, or this one! 
OPEN THREAD!