Discover more from Wonkette
Wonkette is filthy, hilarious, liberal news. YOU CAN HANDLE THE TRUTH!
Over 18,000 subscribers
Welcome To Wonkette Happy Hour, With This Week's Cocktail, The Shark Bait Cooler!
It's not safe to go back into the water ...
Greetings, Wonketeers! I'm Hooper, your bartender. Matt Hooper, in case you didn't know. It's a shame that I'll be missing movie night this week, but I've got the perfect cocktail for your 4th of July beachside festivities. Let's make a Shark Bait Cooler. Here's the recipe.
Shark Bait Cooler
2 oz Skyy Vodka
1/2 oz Bohls blue curacao
1 oz Stirrings orange curacao
1 oz simple syrup
1 oz lemon juice
1/2 oz lime juice
2-3 drops orange blossom water
½ oz sour cherry syrup
Shake all ingredients except for the sour cherry syrup. Pour into an iced glass. Drizzle sour cherry syrup over the ice and serve at once. Garnish with Swedish fish.
This is my take on a Shark Bite, a cocktail that doesn't have a ton of history. The earliest version I can find comes from Joe's Crab Shack, sometime around 2014. It's intended to look like a poolside drink. Presentation is more important than taste. The recipes I found online generally used white rum, blue curacao, and not much else. I wanted to go in a different direction. This is a tart, herbaceous lemonade that has a "bite" all on its own. The sour cherry syrup complements the rest of the drink, bringing extra tartness and flavor to the cocktail that plain Rose's Grenadine can't provide.
Flashy, boozy, lazy cocktails like this are the descendants of classic tiki drinks, easy to make and easy to enjoy. Hardcore tiki fans look down on these cocktails, but their popularity is undeniable. A 13-ingredient Zombie is a wonderful drink, but there's something to be said for a simpler, more relaxed approach to your poolside sipper.
Craft bartenders have been re-evaluating "boat drinks" like this as they grapple with the cultural baggage tiki brings with it. Tiki doesn't treat authentic Polynesian culture with much respect. Rather than struggle with the ethics of decorating your bar with plastic topless hula girls, bar owners are choosing to highlight tasty, beautiful drinks that aren't as pretentious or troublesome.
Let's talk ingredients: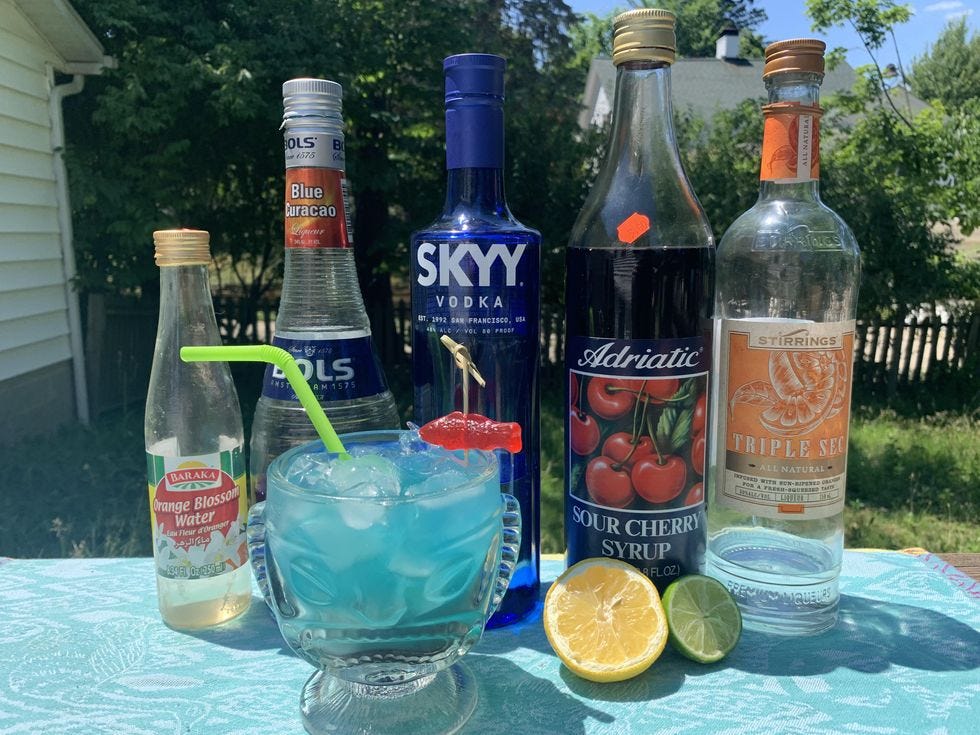 Ingredient shot. It was very hot and boy howdy did this cocktail vanish quickly after the photo was taken. Matt Hooper 
Skyy Vodka: I wanted a simple base for the cocktail. Skyy is a favorite ingredient of mine for their LGBTQ record. Bacardi Silver rum would fit right into place here. I feel that Bacardi has such a neutral taste that replacing it with vodka makes no difference. Some versions of the Shark Bite use spiced rum. Greg from "How To Drink" ratherthoroughly sums up my opinion of Captain Morgan and his cousins.
Bohls Blue Curacao: Bohls is the original blue curacao, and is still made with bitter oranges and herbs. I found myself leaning into the herbaceousness of the Bohls as I built this drink. If you use cheaper versions of blue curacao, you might not get the same taste.
Stirrings Orange Curacao: I like Stirrings as an all-natural curacao. The more orange and citrus flavor I can bring into this drink, the better. If you have Cointreau to spare, by all means use it here. Cheaper curacao is probably made with artificial orange flavor. Use it if you must, but I'd prefer the good stuff.
Simple Syrup: We need just a touch more sweetness in this cocktail to balance the citrus. 1 part sugar, 1 part water, heat until dissolved.
Lemon and Lime Juice: I work in measurements, but this equates to the juice of 1 small lime and half a lemon.

Orange Blossom Water: If you're lucky enough to have anatomizer to spritz orange blossom water over this drink, please do that. It makes the whole glass smell like Coppertone suntan lotion, in a good way. If you don't have an atomizer, simply add 2-3 drops of orange blossom water to the shaker tin. Too much makes the cocktail taste like perfume.
Sour Cherry Syrup: ThisMediterranean ingredient is a great addition to the cocktail. It's a little more red in color than my normal house-made grenadine. The sour cherry is also a terrific complement to the lemon-lime flavors of the drink. Dilute sour cherry syrup into some regular lemonade, and you'll have an amazing pink lemonade that tastes much better than store-bought.

Garnish and presentation:
Fill your glass completely with ice. You need the cubes to catch some of the cherry syrup.
Be liberal with the sour cherry syrup. You need to splash a fair amount over the ice to get the "blood in the water" effect.
I would definitely drink this cocktail with a straw. It lets you taste the sour cherry syrup at the bottom of the glass.
If you are lucky enough to have some gummy sharks in your neck of the woods, by all means use them. Otherwise, an impaled Swedish fish on a cocktail skewer will be fine. This isn't a subtle drink, feel free to go nuts with the garnishes.
In summary and conclusion, drink well, drink often, and tip your bartender — donate to Wonkette at the link below! I need a bigger boat! And if you'd like to buy some bar gear or books from Amazon, please click here! 
OPEN THREAD!