Discover more from Wonkette
Wonkette is filthy, hilarious, liberal news. YOU CAN HANDLE THE TRUTH!
Over 18,000 subscribers
Welcome to Wonkette Happy Hour, With This Week's Cocktail, The Tom And Jerry!
If the cat and mouse had drunk more of these, they wouldn't have fought so much.
Greetings, Wonketteers! I'm Hooper, your bartender. I found an old-school, Midwestern take on classic eggnog that's super tasty and interesting. It's also so alcoholic it'll make your toes curl. Let's make some Tom and Jerrys.
Tom and Jerry
½ oz Appleton Estate Rum
½ oz Remy Martin 1738 cognac
2 tablespoons Tom and Jerry batter, divided
Hot water
Warm whole milk — heat in a pan until just below a simmer
Pour hot water into a glass coffee cup to warm the vessel. Discard the water. Add rum, cognac, and 1 T batter to the cup. Stir gently. Fill the cup with warm milk. Top with additional batter. Garnish with a small dash of nutmeg.
Tom and Jerry Batter — should equal roughly 8 servings
3 eggs, separated
1 cup sugar
½ t Jamaican rum
¼ t vanilla extract
Beat the egg whites until they form stiff peaks. Mix the egg yolks, sugar, rum, and vanilla until fully combined. Add the yolk mixture to the egg whites and gently fold until incorporated.
This is really meant as a punch, not an individual drink. You're going to have tons of leftover batter here, and it doesn't hold all that well – raw eggs and all that. You can use pasteurized eggs from the supermarket for this. However, in my experience, pasteurized egg whites don't whip up into stiff peaks well. The batter in these photos is a day old, and it's separated out a few times in the fridge. You'd be better served making up a big bowl of alcohol and warm milk and dumping all of this batter on top.
The physical evidence bears me out on this serving suggestion. When you search for " Tom and Jerry cocktail mugs " on the web, inevitably you'll find a set of milk glass coffee mugs and a big white punch bowl, all labeled "Tom and Jerry" in Olde English gold lettering. This is your grandparent's drink. Yogi Yorgesson sang about this cocktail in 1949, back when Yogi Yorgesson was funny. Tom and Jerrys hit their peak in the '40s and '50s in the Upper Midwest, and fell out of fashion after that. Possibly because of the raw egg thing, or all that hot milk. If you want to drink these one at a time, you might want to consider a pre-made, shelf stable Tom and Jerry batter mix .

The drink itself does date well before the '50s. It was invented in 1820 by a journalist named Pierce Egan. He had written a book called Life in London that featured two young rascals named Tom and Jerry, and the cocktail was created to promote his work. (Ah, for the days when people wrote cocktails to promote books...)
There's no direct evidence that his book influenced the cat and mouse cartoon, if you were wondering. But "Tom and Jerry" was slang for "a pair of hooligans" for a roughly a century. It's not unreasonable to believe that the cocktail influenced the cartoon.

Despite the challenges, this is a drink well worth trying. It's similar to eggnog, but less heavy and more boozy. The original recipe used a full ounce of rum and cognac each. Drinking the cocktail through the foam reminds me of an Irish Coffee. You taste the foam and the alcoholic warm milk at the same time, but they remain two separate things in the same glass. Unlike most cocktails, a Tom and Jerry benefits from sitting in the mug. It's a slow sipper that improves with time, as the batter melts into the dairy. I definitely think it's worth your time. Let's run down the ingredients quickly.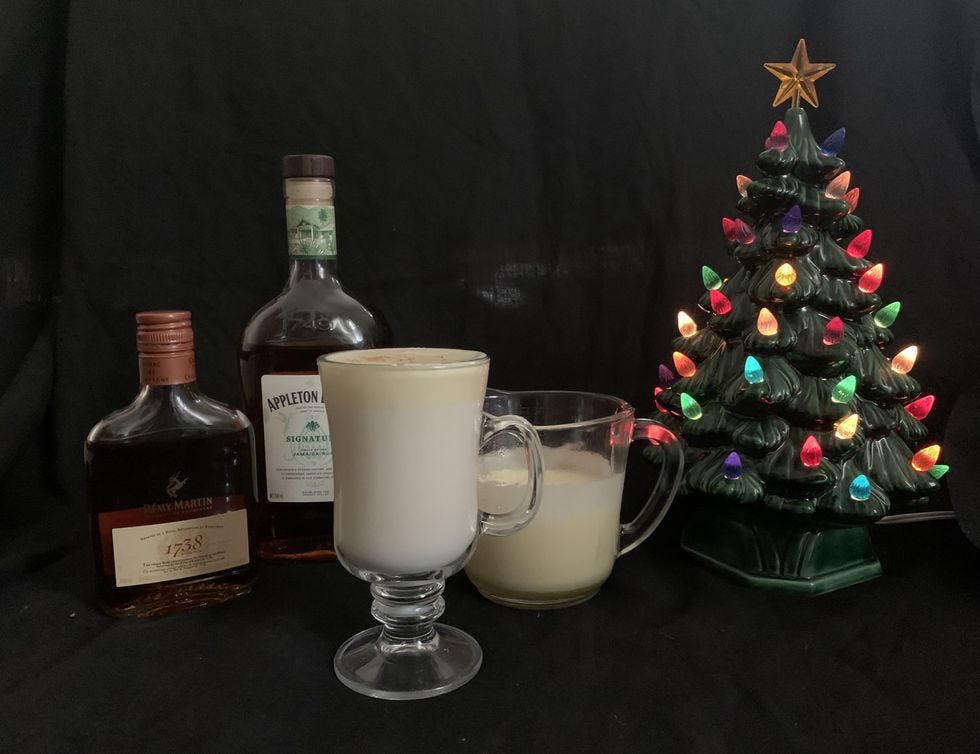 Ingredient shot. The Tom and Jerry vanished, merrily, shortly after this photo was taken.  
Appleton Estate Rum: The original recipe asks for Jamaican rum, and Appleton is mild enough to cooperate in this cocktail. With all the flavors in this drink, you could probably use a Puerto Rican rum like Bacardi Gold and get away with it.
Remy Martin 1738 Cognac: This is my go-to cocktail cognac. It's specifically made for cocktails, and blends smoothly with the other ingredients without disappearing.
Hot milk: I suggest whole milk, but 2% or fat free would be fine. If you use soy or almond milk, this cocktail is dairy-free.
Tom and Jerry Batter: This was the hard bit. My wife shooed me out of the kitchen and did the bulk of the work on this when it came up. The batter by itself is extremely sweet, fluffy, and doesn't taste "eggy" at all. Feel free to be generous with the batter you use to top the cocktail. You have plenty, and it won't go to waste.
A non-alcoholic versionof this would be fairly simple. Drop the rum from the batter. Add the batter to hot milk and serve. It's going to be a delightful clean cocktail. In good faith, however, I'd argue that a completely natural eggnog from your local grocery store might be a better choice. The cheaper versions use artificial thickeners and taste gelid. Get yourself something in a glass bottle that specifically says "all natural" and you're probably in the right neighborhood.
Also, since I mentioned this drink as a party punch, I thought I'd provide a full punchbowl's worth of recipe. The biggest variable is the amount of hot milk you want to use. Classic Tom and Jerry mugs are pretty big, so I'd err on the side of generous with the milk if you want your guests to drive home. This is a recipe for 16; scale up according to the number of your guests.
Tom and Jerry Punch
8 oz Appleton Estate rum
8 oz Remy Martin 1738 cognac
Hot milk — let's call it a gallon at 6 or 8 oz per drink
Tom and Jerry Batter, full batch (see above)
Add hot milk and alcohol to a warmed punch bowl. Top with a full batch of Tom and Jerry batter.
In summary and conclusion, drink well, drink often, and tip your bartender — donate to Wonkette at the link below! And if you'd like to buy some bar gear or books from Amazon, please click on the links above, or this one! 
Open thread!