Discover more from Wonkette
Wonkette is filthy, hilarious, liberal news. YOU CAN HANDLE THE TRUTH!
Over 15,000 subscribers
Welcome to Wonkette Happy Hour, With This Week's Cocktail, Hooper's Transfusion!
Spoiler: It's a country club cocktail. Gird your liver.
Greetings, Wonketeers! I'm Hooper, your bartender. Last year around this time, I was pouring vodka sodas and dirty martinis for the country club set. Let's update a golfer's cocktail and tell some fun war stories from my first bartending gig. Time to make some Transfusions. Here's the recipe.
Hooper's Transfusion
2 oz Bombay Sapphire East gin
2 oz Welch's 100% Concord grape juice 
1 oz fresh lemon juice
½ oz house grenadine
½ oz demerara syrup
3 oz. Fever Tree ginger beer 
Shake all the ingredients but the ginger beer until ice cold. Strain into a pint glass filled with ice. Top with ginger beer. Garnish with a lemon wheel and a cherry.
A classic Transfusion isn't a cocktail. It's a vodka transmission device. As written, the Transfusion is grape juice, ginger ale, and an absurd amount of vodka - as much as four ounces . No one has admitted to inventing the drink, but Eisenhower was known to enjoy them when he hit the links.
I poured a lot of these when I worked as a country club bartender. Some of my customers loved a well crafted martini or tiki drink. But the ones who paid my bills were the drinkers with a golfing problem. I'd find myself behind the bar at 1 AM pouring endless rounds of vodka sodas for six hardcore drunks. Eventually, they'd stagger to their golf carts and careen off to their McMansions, leaving me to close up the joint.

These were the guys who lived for the "member guest tournament" — a lost weekend of golf and booze. Especially booze. The cocktails were constant: a Bloody Mary bar in the morning, two bars on the golf course, another round at lunch, back to the links, back to the bars on the course, an evening supper with yet more drinks. Every day, for three whole days. You had to be a decent golfer to play in the tournament, but you also needed a liver made out of solid titanium. (It's worth noting that the six-vodka-soda-a-night guys never won this tournament.)
Before I moved on, I finally saw the drunks get their just rewards. I was working on a muggy, rainy Sunday afternoon. The bar was dead, the kitchen was closed, and I was ready to go home. Half an hour before closing, the lads rolled up in their golf carts. They'd been waiting out the rain at another course, watching football and chugging vodka. Now they were ready to keep the party rolling. "You got any food?" one of them slurred at me. I brought them a big bowl of Goldfish crackers. They promptly threw fistfuls at each other like grade schoolers.

"Don't tell my wife I'm here," the ringleader begged me. Well, I won't admit to calling his wife. But twenty minutes later, the ringleader's wife — and his mother — stormed into the bar. They ordered Chardonnay and stared at the offending soul until he slinked home with them. "I gotta go. My Mommy came to get me," he moaned. After that, the party broke up pretty quickly. It's amazing how fast a good old boys' club dissolves when someone's mother drags him home.
Back to the cocktail. Let's talk ingredients: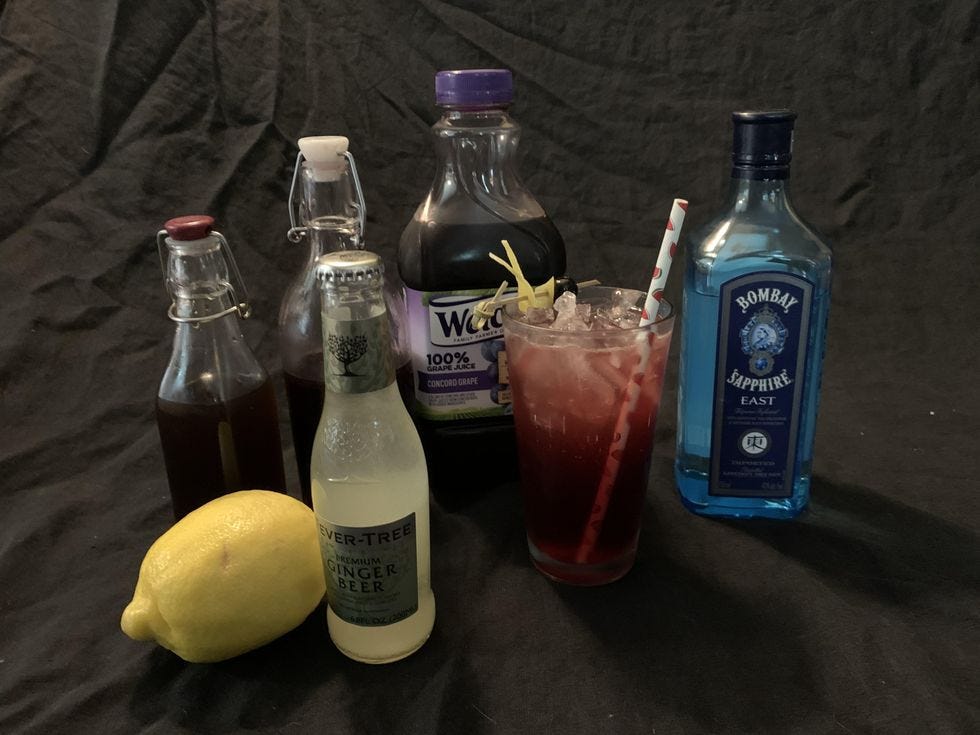 Ingredient shot. The cocktail mysteriously sliced into the rough shortly after this photo was taken. Matthew Hooper 
Bombay Sapphire East Gin: I swapped the vodka for gin to give this cocktail flavor. Bombay Sapphire East's black pepper and lemongrass notes help cut though the sweet, unctuous grape juice.
Concord Grape Juice: Welch's 100% grape juice is fine. I'd avoid a grape juice cocktail with added sugars or other ingredients.
Fresh Lemon Juice: We need a strong acidic component to balance out the sweet grape juice. Lime juice doesn't cut it. Always fresh, never from a plastic lemon.
House Grenadine: Back at the club, I'd use some cheap cherry-flavored vodka to give this drink another dimension. Our house grenadine does the same job without artificial cherry flavor. It's easy to make grenadine at home: one bottle of POM pomegranate juice, 2 cups sugar, heat until the sugar dissolves. Keep it in the fridge and it'll last for weeks.

Demerara Syrup: The cocktail needs just a little more sweetness to work. I used demerara syrup, but simple syrup is fine. To make demerara syrup at home, heat 1 part water and 1 part sugar until the sugar dissolves. It'll keep in the fridge for weeks too.
Fever Tree Ginger Beer: The drier and spicier the ginger beer, the better. I trust Fevertree to go light on the sugar in everything they do. Goslings or Reed's would work fine here.
One more piece of history: One year ago this week, while I was working at the country club, Yr Editrix asked me to write a weekly cocktail for Wonkette. It has been my pleasure and honor to be your bartender ever since. I'm looking forward to keeping the regulars happy for years to come.

In summary and conclusion, drink well, drink often, and tip your bartender — donate to Wonkette at the link below! Come see me at The Spotted Owl at Tremont! And if you'd like to buy some bar gear or books from Amazon, please click here! 
OPEN THREAD!