Discover more from Wonkette
Wonkette is filthy, hilarious, liberal news. YOU CAN HANDLE THE TRUTH!
Over 15,000 subscribers
Welcome To Wonkette Happy Hour, With This Week's Cocktail, The White Russian!
Okay, maybe a slightly fancy pants White Russian.
Greetings, Wonketeers! I'm Hooper, your bartender. White Russians came up in last week's thread, so I thought I'd give you my modern, upscale take on the classic. This is definitely not The Dude's White Russian. Trust me, you'll love this one. Here's the recipe.


Modern White Russian
3-4 oz. Heavy cream, whipped into soft peaks (see technique)
2 oz. Black Kite Coffee Liqueur
1 oz. Plantation Special Dark Rum
1 shakes chocolate bitters

Pour 3-4 oz. of cream into a squeeze bottle. Gently remove the spring from a hawthorne strainer and place it in the squeeze bottle with the cream. Shake 8-12 seconds.

In a cocktail pitcher, stir rum, coffee liqueur, and bitters over ice 8-12 seconds. Strain into a highball glass. Squeeze a layer of whipped cream on top of the cocktail. Garnish with bittersweet chocolate shavings.

The White Russian was invented in 1949 by Gustave Tops , a bartender out of the Hotel Metropole in Belgium. It was created in honor of Perle Mesta, the U.S. ambassador to Luxembourg. Obviously, neither Luxembourg not Belgium are in Russia. The drink was called "Russian" because it included vodka. Kaluha came to market on a few years after the cocktail was invented, and the two have been synonymous ever since.

This recipe was written with two core ideas in mind: Kaluha tastes terrible, and vodka is boring. If you've ever tasted Kaluha neat, you'll understand my first point. It's syrup. The sugar content is off the charts. You can get a little coffee flavor from it, but it's weak. And the rum is undetectable. I'm sure there are Kaluha fans out there somewhere; all I can say is, taste it neat. You'll change your mind.

My second point is probably more controversial. Hear me out. Modern American vodka is prized for its "smoothness". Filtering vodka ten or more times is considered a selling point. What this means is that modern vodka is, with few exceptions, completely flavorless. It is always possible, and desirable, to fill that empty space in your glass with something that has flavor. I'm not saying that vodka is bad, per se. I'm just saying it's not good. It's literally neutral. We can replace "neutral" with "good". (Yes, this means that I'll be revisiting the vodka cocktails I've written for this blog and improving them. I've learned better. Watch this space.)
Let's talk ingredients: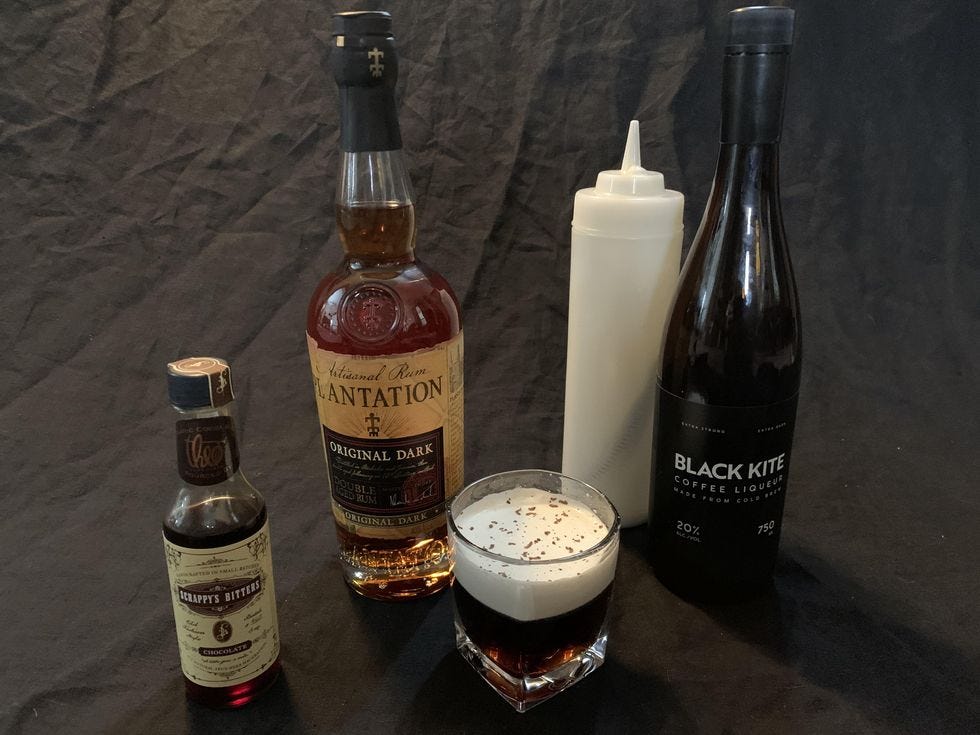 Stir this up and it's coffee ice cream in a glass. Soooo good. Matthew Hooper 
Heavy cream: Definitely not half and half or milk here. The richness of the cream and the big, fluffy white head on the drink is amazing. I'll talk a little more about the whipping technique in a bit. If you're lactose intolerant, acoconut whipping cream alternative might be best. I'd prefer something that isn't an aerosol like Reddi-Whip. The peaks are too stiff, and you'll have to wait for the cream to melt a little before drinking.
Black Kite Coffee Liqueur: I feel like I'm cheating by including this.Black Kite is a local product , made in Toledo, OH. But it's so good I can't resist. And I do love supporting local products when I can. Black Kite is made with real cold brew coffee from a Toledo coffee house. It is sweet, but nowhere near as sweet as Kaluha. The flavor is clear, intense, and distinctly cold brew coffee, not just generic coffee. And it's just about the same price as Kaluha.
If you can't get your hands on this, I'd recommend Van Gogh Espresso Vodka. It's nationally distributed and well regarded by my fellow bartenders. Do keep in mind that it's an espresso vodka, not a coffee vodka. Also, most coffee liqueurs hover around 20% alcohol; Van Gogh is 35%.
But before you grab Van Gogh, please poke around the liquor store and see if there's a microdistiller near you making a coffee spirit. Don't be afraid to try a bottle with an unfamiliar label. Support your neighbors. Look for a hidden gem.
Plantation Special Dark: Rum is my favorite spirit. I wanted to thumb my nose at Kaluha's lack of rum flavor by adding this. Plantation Special Dark is my go-to – a blend of Jamaican and Demerara rum, nicely aged with some dark caramel notes. Bourbon would great here, too. Use a workhorse like Bulleit or Four Roses. Tequila could also be extremely interesting, especially an anejo like Casadores. Feel free to experiment.

Chocolate Bitters: Dark chocolate and coffee are naturals together. The bitters adds just a touch more complexity and bridges the gap between the coffee liqueur and the base spirit.
Technique: Shaking the cream in a squeeze bottle with the spring is a genius bar hack. This trick comes via Leandro DiMonriva fromThe Educated Barfly . With the spring, you only need to shake the bottle 8-12 seconds; too much and you get butter. Squeezing the soft peaked whipped cream into the glass is easy as well. It's an awesome way to make a small amount of whipped cream for anything. The size of your glass does matter; too much whipped cream and you'll have a hard time finding the cocktail underneath the topping. Stirring the cocktail after admiring the pretty layers is perfectly OK.

Garnishing this with some bittersweet chocolate shavings is great, but feel free to use cinnamon or espresso powder. Whatever you choose, you'll end up with a White Russian that will put The Dude to shame.

For a NA White Russian, I'd recommend buying a locally made cold brew coffee and topping it with a cloud of softly whipped cream. Look for the small labels; skip the Starbucks and look for something you've never heard of that's made in your home state. Some cinnamon or other spice on top of the cream is a must. Sit down, have a sip, and abide.

In summary and conclusion, drink well, drink often, and tip your bartender — donate to Wonkette at the link below! And if you'd like to buy some bar gear or books from Amazon, please click  here! 

Open Thread!
Please tip your bartender, or in this case, the bar itself!
 Do your Amazon shopping through this link, because reasons .