Discover more from Wonkette
Wonkette is filthy, hilarious, liberal news. YOU CAN HANDLE THE TRUTH!
Over 15,000 subscribers
Welcome to Wonkette Happy Hour, With This Week's Cocktail, Washington's Lost Weekend!
A hot Colonial punch to warm you up for the trick-or-treaters.
Greetings, Wonketeers! I'm Hooper, your bartender. When it comes to cocktails, the holidays are punch season. It's a tradition in the Midwest to sit outside the house watching the little goblins run amok with a bowl of candy, a fire pit, and something warm to share with the neighbors in the Crock-pot. Today, I'm sharing a hot version of a classic American punch. I call this one "Washington's Lost Weekend." Here's the recipe:
Washington's Lost Weekend
2 oz Appleton Estate rum
1 oz Meukow Cognac
1 oz demerara syrup
8 oz Celestial Seasonings Country Peach Passion Herbal Tea
Pinch of sea salt
Lemon twist
Steep 4 tea bags in 8 oz boiling water for 10 minutes. Combine tea, rum, cognac, and syrup in a mug. Stir gently. Garnish with a large lemon twist.
This cocktail is inspired by Philadelphia Fish House Punch, which dates back to 1738. Nearly 40 years before the Revolutionary War, a bunch of fly-fishing enthusiasts founded the Schuylkill Fishing Company, a society established on the principle "Let's drink and fish" (in no special order). The Schuylkill Fishing Company prioritized fishing and drinking over politics. They declared themselves independent of the Crown shortly after their founding, and a state unto themselves after the Declaration of Independence. They are still, basically, a tiny independent country in the backwaters of Pennsylvania, and still dedicated to their original principles – fishing and drinking. No one has made any real effort to challenge their status. As a rule, they're too tiny and drunk to bother with. It is worth noting that as a "sovereign state," they didn't have too much trouble with the government during Prohibition.
George Washington came to visit the Schuylkill Fishing Company in 1787 to see what these scoundrels were up to. They shared their punch with him and his party. Historians later found that Washington, a fairly meticulous diarist, did not record anything for the next three days after the visit. Presumably, he was sleeping it off. Hence, the name for this cocktail.

Colonial-era punches tend to be very rum heavy. They rely on a large block of ice to dilute them to a drinkable strength over time. A hot version presents its own challenges. I've swapped around some ingredients to make a fall and winter warmer that stays true to the spirit of the original here; feel free to experiment with some options. Let's talk ingredients:
INGREDIENTS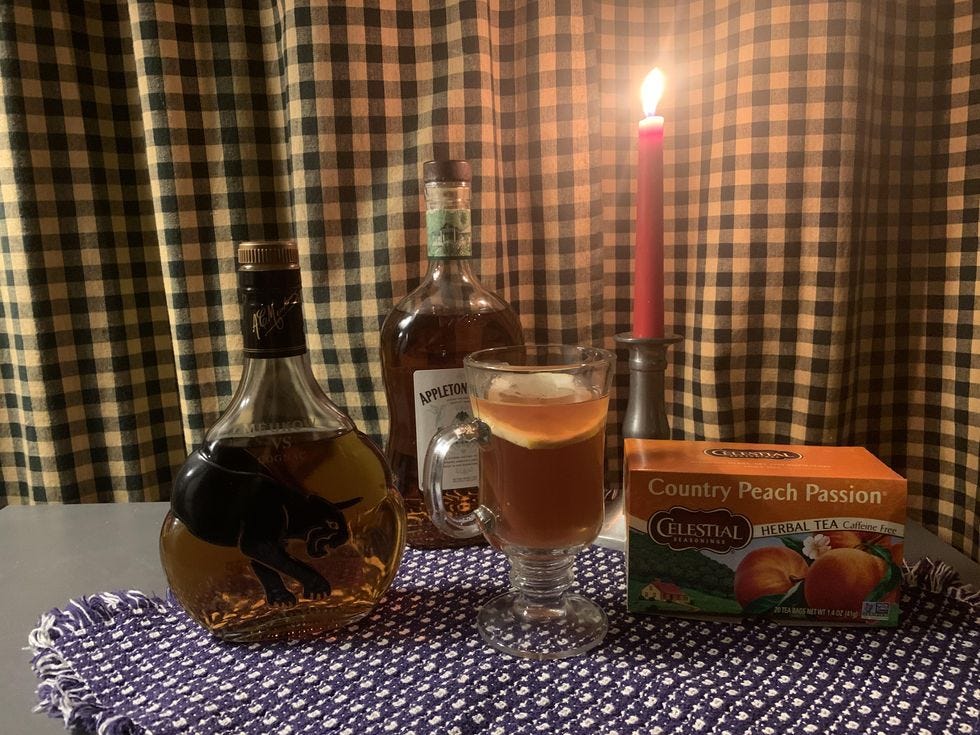 Important note: The candle is not an ingredient. Matthew Hooper  
Appleton Estate Jamaican Rum: Jamaican rum is the heart of every classic Colonial punch, and Appleton Estate is easy to acquire. The light, slightly tropical flavor of this rum cooperates with other classic punch ingredients, especially Cognac. Use your favorite rum if you'd like, but the end results are probably going to be heavier and beefier than Jamaican rum. Bacardi Gold will do in a pinch, but Guyanan rums like Hamilton 86 are out of place here.
Meukow Cognac: I've been guilty of using bottom shelf brandy in my recipes. This time, I went a bit higher end. Cognac is not exactly the same thing as brandy. It uses champagne grapes harvested at a particular time in its distillation, while brandy can use just about any grape or fruit. The difference is telling; Meukow is mellow, but fragrant and distinct. Most punches use rum and brandy as their base. I'll definitely be using Meukow in the future.
It's worth noting that modern versions of the Fish House Punch use peach brandy and cognac together. I wasn't thrilled with my local liquor store's options for peach brandy. There were some "peach flavored" options that probably didn't involve real peaches, if you get my drift. I do think there's a strong argument for using peach whiskey in this cocktail. Crown Royal Peach is extremely popular right now. This recipe would be a terrific home for it. If you're a peach lover, feel free to substitute a peach liquor you love for some or all of the Meukow.
Celestial Seasonings Country Peach Passion Herbal Tea: Black tea and peach brandy are both core ingredients in modern interpretations of Fish House Punch. I decided to split the difference and use a quality peach herbal tea in the warm version of this cocktail. It was a great choice. Celestial Seasonings uses chamomile, rose hips, and all sorts of herbal notes in their tea that partner wonderfully with the rum and cognac. Use another brand if you have a favorite. Brew the tea strong; it needs to fight with the booze for your attention. I might use some black tea and herbal tea in this glass. The bitter tannins would be nice here.
Demerara Syrup: One part sugar in the raw, one part water, heat until dissolved. I use this to sweeten every rum cocktail I make.

Garnish: Some lemon oil from a twist brightens the drink, and lemon is a traditional accompaniment for tea.
Sea Salt: A tiny amount of salt here is nice — not enough to make the drink salty, but just enough to sharpen the flavor. I keep a bottle of saline in my home bar, and dispense it with an eyedropper into any drink that needs a little kick. If you're snacking on salty foods while waiting for trick-or-treaters, you can skip this step.
In summary and conclusion, drink well, drink often, and tip your bartender — donate to Wonkette at the link below! And if you'd like to buy some bar gear or books from Amazon, please click here! 
There's probably some debates going on, but this is your one and only OPEN THREAD!