Discover more from Wonkette
Wonkette is filthy, hilarious, liberal news. YOU CAN HANDLE THE TRUTH!
Over 18,000 subscribers
WHAR BOXES? On A Bed On The Floor On A Towel By The Door ...
Oh Trump, LOL, you're going to big boy jail.
First things first, the BOXES HOAX WITCH HUNT indictment of an actual former president of the United States, if you can believe that, has been unsealed. It is here. It is FUCKIN' A.
Second, Special Counsel Jack Smith will be liveblogging his own indictment at 3 p.m., and we will all watch, together!
LIVE: DOJ's Jack Smith speaks after Trump classified records indictment is unsealed — 6/9/23    www.youtube.com 
Third, did I say it was FUCKIN' A?
Because FUCKIN' A.
Fourth, only Mitt Romney had, previous to the unsealing, called Donald Trump an actual piece of human shit who shouldn't be president, viz:
"Mr. Trump brought these charges upon himself by not only taking classified documents, but by refusing to simply return them when given numerous opportunities to do so," Romney said in a statement. "These actions are serious and if proven, would be consistent with his other actions offensive to the national interest such as withholding defensive weapons from Ukraine for political reasons and failing to defend the Capitol from violent attack and insurrection."
All the other Republicans were still, as of a half hour ago, protesting about the BANANA REPUBLIC indictment and UNFAIR and CIVIL WAR, and has that changed yet? Don't know, trying to write this post with my own brains all over the wall like so much ketchup.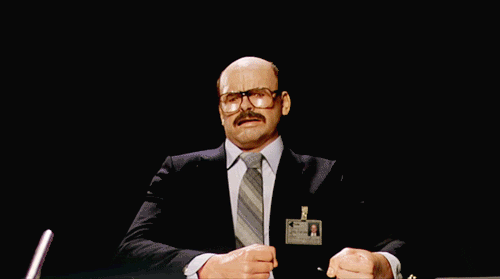 GIF by Giphy QA    Giphy 
So what's in this thing?
Well, WALTINE Nauta, Trump's body man, and no that is not a real name fuck you, is alleged to have lied to the FIBBIES AN AWFUL LOT. I was sad, aw, poor valet, but now I have read the indictment, and WALTINE is going to jail.
We're done with Waltine. The rest is did I say HOLY SHIT yet? Because HOLY SHIT.
Trump kept Top Secret and NO FOREIGN and regular classified documents on the stage in the Mar-A-Lago ballroom. When he wasn't having WALTINE and "Employee 2" move the boxes back and forth and up and down in a constant game of Hide The Salami I Mean The Boxes From Trump's Own Lawyer. He moved them to the shower. Waltine found them spilled all over the floor, and took pictures of the "Five Eyes" intel. He moved them across state lines to his Bedminster, New Jersey, trash palace where he buried his ex-wife near the first tee.
"Special Counsel Jack Smith's indictment against former President Trump includes photos of documents boxes stored in various places at Mar-a-Lago."

— Arden Farhi (@Arden Farhi) 1686334870 
Jack Smith would like to remind you of Donald Trump's mens rea that fucking with classified information is bad actually, like so:
Unless I missed it, Jack Smith skipped all the times Trump threatened that he was going to put Hillary Clinton IN JAIL. But Pepperidge Farms remembers!
 Donald Trump threatened to assign a special prosecutor to investigate Hillary Clinton over her use of a private e-mail server if he ... 
Hey, should Trump show people the classified documents, Jack Smith? He shouldn't???
Here's one time! Don't worry, Trump's on tape admitting he couldn't declassify it with the power of Christ. 
And then he did it again.
Did he lie to the feds trying to get the boxes back A WHOLE BUNCH? Baby you know it. Did he lie to his own lawyer A WHOLE BUNCH? Fuk yeh!
Have you read that fucking thing yet to prepare for Jack Smith's AV club presentation? Well get on it, he's DOIN IT LIVE.
Update 3: 15 p.m.:Well that was short! But we're going to hold Dok's book club till tomorrow regardless, so you can roll around in this post like pigs in shit : )
KEEP WONKETTE GOING FOREVER! WE LOVE YOU!