Discover more from Wonkette
Wonkette is filthy, hilarious, liberal news. YOU CAN HANDLE THE TRUTH!
Over 18,000 subscribers
Where's My Roy Cohn? Wonkagenda For Fri., Jan 5, 2017
Morning Wonketariat! Here's some of the things wemaybe talking about today, but first, look at this from yesterday's press briefing...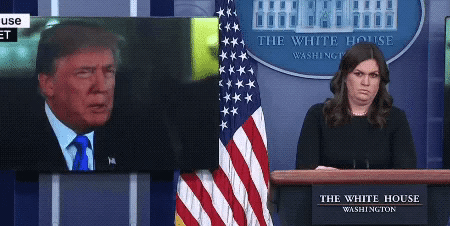 What the hell is going on here? Trump can't walk his ass down the hall to the briefing room? Who does he think he is, the Wizard of Oz? Zordon? It's not like there are any stairs leading to the briefing room. Your editrix says her money is on CGI Trump whose robot voice ain't learned to inflect yet.
A new bombshell report from the NYTimes details the events that led Trump to "You're Fired" James Comey, Trump demanding Don McGahn stop Jeff Sessions's recusal, lying lawyers, shady lying lawyers, and how Reince Priebus turned over his marble composition book to Robert Mueller, confirming Comey's version of events.
 Paul Ryan is standing behind Devin Nunes's shitfit to discredit THE DOSSIER, striking a deal with the FBI and DOJ that will let Nunes play James Bond, but only under parental supervision at the FBI.
The leader of the House Freedom Crazies, Mark Meadows, penned an op-ed with Rep. Jim Jordan saying Jeff Sessions should leave because he keeps obstructing the justice of Trump's wins.
A federal judge has denied Fusion GPS's attempt to block Devin Nunes/House Intel Committee from looking at the firm's bank records because, in so many words, it's just business.
 Everyone is bailingon "Sloppy Steve" Bannon in the wake of "Fire and Fury," from the Mercers to the Breitbard board, and now even 2018 Bannonite candidates are trying to walk away, leading Republican leaders to declare open-season . [ Archive ]
 Javanka have a special deal that would see Ivanka becoming the first lady POTUS if either of them ran for president, and they've been crafting an elaborate fantasy world to convince themselves that people like them.
 Michael Wolff was on teevee this morning talking about his book, and boy did he have some things to say! 
After one of the sources in Fire and Fury talked some shit about Trump, his people told Axios that they might "You're Fired" her from a pro-Trump PAC, which is hilarious since that is a new proposal to cut ACA insurance requirements. 
North Carolina Republican Sen. Thom Tillis is no longer invited to the DACA parties after he and his staffers opened their big mouths and started talking to reporters about murky and unconfirmed details.
 The news for DACA recipients is grim as the bipartisan talks are reportedly breaking down, with Republicans bailing on meetings, and some crafting their own plan to build Trump's Tortilla Curtain.
Jeff Sessions's new anti-pot policy is getting burned on both sides of the aisle by states who see pro-pot laws as beneficial to local economies.
Interior Secretary and crooked bastard Ryan Zinke announced new offshore drilling regulations yesterday, or rather a new and total lack thereof. We're sure his real hometown of Santa Barbara will be thrilled .
The federal advisory committee on climate change that Trump "You're Fired" is being brought together again in an effort to subvert the Trump administration by screaming climate science at the rest of the world. 
 The FCC finally released its order to repeal net neutrality, setting the stage for a torrent of lawsuits.
In the wake of "Cadet Bone Spurs" talking about his big button,Sen. Ed Markey and Rep. Ted Lieu sponsored a bill to require Congressional approval initiating a first-use nuclear strike.
Trump will fuck off to Camp David later today where he's expected to meet with Congressional Republicans and rage tweet about the 2018 elections. 
 Republicans are desperately hoping Elizabeth Warren will run in 2020 so they can label her a dirty Commie for beating up all the poor, innocent corporations.
FBI officials in Little Rock are looking into conservatives crying crocodile tears that there was quid-pro-quo , by Hillary herself, to use the Clinton Foundation to hide cash. This is really sad and sloppy for a DC conspiracy theory. (The Hill piece, in particular, was written by John Solomon and is absolute trash.)
 The NRA hauled in a record $366 million Ameros in 2016, according to recent IRS filings. Maybe they can use that cash to hide all their guns from the boogeyman?
The JEW lawyer for ALLEGED pedophile Roy Moore isn't actually a JEW, or a licensed lawyer, but he tries to to act like one when talking about the "abortion holocaust."
 Leigh Corfman has filed a defamation lawsuit against ALLEGED pedophile Roy Moore for calling her a liar for telling the LIBERAL media that Moore "sexually abused her in 1979 when she was a 14-year-old high school freshman and he was a 32-year-old assistant district attorney."
Maine Republican Gov. Paul LePage has been rerouting $1.7 million Ameros to fund Jesus camps instead of giving the cash to needy poors with kids, and that's on top of being grifty with multi-millions of dollars in federal grant money.
Yesterday the State Department announced it was cutting off almost all US security aid to Pakistan labeling it a "country of particular concern," and placing it on a "special watch list," leaving foreign policy nerds facepalming and shaking their heads. 
Steve Mnuchin scribbled out MORE sanctions for five Iranian businesses controlled by the Shahid Bakeri Industrial Group over human rights abuses, which is funny since REXXON previously said the US doesn't give a shit about human rights.
 The Marine Corps is phasing out hundreds of grunts in favor of geeks, dropping the infantry assault Marine MOS to bring in more cyber ops, intel and electronic warfare specialists.
Harold Martin, the former NSA contractor accused of stealing 50 terabytes of data in 2016, is expected to plead guilty later this month.
GOOD LUCKto the reporters at the LA Times in their vote to unionize in the face of corporate threats and smears! We'll see you again on Jan. 19, when the overseas ballots come in. And don't forget crucial Waukesha County!
And here's your late night wrap-up!Stephen Colbertis wondering what the hell Jeff Sessions is smoking ;Jimmy Kimmel'splainered why Jeff Sessions hates weed with a PowerPoint presentation;The Daily Showis shaking its head at "Fire and Fury" ;Jordan Klepperhad Josh Sharp and Aaron Jackson talk about Milo Yiano-whatever. 
And here's your morning Nice Time! A Klipspringer calf!
 TIP US so that we know you care about us keeping the lights and computers on! 
 Follow Dominic on Twitter and send him fuzzy animal pictures!