Discover more from Wonkette
Wonkette is filthy, hilarious, liberal news. YOU CAN HANDLE THE TRUTH!
Over 18,000 subscribers
Why Clickbait Headlines Do More Harm Than Good. Tabs, Wed., Nov. 30, 2022
Doctors HATE this!
Oath Keepers founder and Head Oaf Elmer Stewart Rhodes — he loves being called "Elmer" — was found GUILTY GUILTY GUILTY of seditious conspiracy for his role in the January 6 attack on the US Capitol; one other Oaf was also found guilty on that charge, because it would be darned silly to have just one guy in a conspiracy. Three of their co-defendants were acquitted of the seditious conspiracy charge, but all five of them were found guilty of obstruction of an official proceeding; i.e., the certification of the 2020 election. [ Reuters ]
The US Senate finally passed the Respect for Marriage Act, protecting same sex marriage rights in case the Supremes listen to Clarence Thomas and overturn Obergefell v. Hodges . Following the 61-36 vote, with 12 Republicans joining all Democrats present, the bill now goes back to the House for a final vote, and then to Joe Biden's desk to be signed into law. [ NBC News ]
Marco Rubio finally got around to cautiously condemning White Power bigot Nick Fuentes, calling him an "assclown," or possibly an "ass clown," and adding that he hoped Trump would condemn Fuentes, because Rubio knows that Trump "is not an antisemite. I can tell you that for a fact that Trump is not but this guy [Fuentes] is evil. And that guy's just a nasty, disgusting person. He's an ass clown." Remember: Trump not antisemite, Fuentes very bad antisemite. Shame on him! No, Rubio didn't criticize Trump for the dinner, why would he do that? [ CNN ]
The mother of the alleged gunman who killed five people at Club Q in Colorado Springs was also arrested for disorderly conduct and resisting arrest shortly after the massacre, according to police records dredged up by the Daily Beast. At about 3: 30 AM on November 20, roughly three hours after the shootings, Laura Lee Voepel had a meltdown when police arrived at her apartment to question her. She wouldn't stop yelling at police, and, according to an officer's affidavit,
Subject continued to make unreasonable noise directly next to multiple apartments [...] While I attempted to place subject into custody, she became combative by physically resisting officers' control by force.
Also, the story points out, she and her son the eventual alleged murderer were "reportedly filmed in July hurling racial slurs at airline passengers," so that's some family values for you. [ Daily Beast ]
Jesus Christ, this ProPublica- New York Times Magazine story about a Texas 17-year-old who in 2020 was forced to carry a pregnancy to term because a judge found she was too immature to decide to have an abortion, but not to be a parent. It's horrifying, you probably shouldn't read it. 22 states that still allow some abortions require parental permission or "involvement" in abortions performed for minors. [ ProPublica (no paywall)]
At this point you probably need a cat video. I know I do.
"pay attention to MEEEEEE"

— cats being weird little guys (@cats being weird little guys) 1669212180 
Protests in China over COVID lockdowns — and by extension, the Chinese government — are still going; since China's government tightly controls the internet, protest organizers are getting creative and using dating apps and connecting to social media outside China to evade censorship. Fine, but if they start complaining about critical race theory we're not backing them. [ Reuters ]
Oh, and Twitter has stopped enforcing its rules against COVID misinformation, so good luck everyone. Sure, people will die, but FREEDOM. [ Guardian ]
President Biden is calling on Congress to step in to block a potential railroad strike, but not everybody loves the idea: Rep. Mary Peltola, who was just reelected to a full term, says she'll vote no because rail workers want paid sick leave, and the earlier agreement that Biden helped broker doesn't include that. [ NBC News] 
Also too, here's actor Danny DeVito going full Karl Marx in an effort to persuade Biden to widen up the agreement: "No Joe, you're supposed to help the railroad workers… you got it backwards. A handful of sick days c'mon! Workers of the world unite!"
"No Joe, you're supposed to help the railroad workers… you got it backwards. A handful of sick days c'mon! Workers of the world unite!"

— Danny DeVito (@Danny DeVito) 1669757138 
The US has pledged $53 million to buy parts and equipment to help Ukraine rebuild its electrical grid, which has been repeatedly attacked by Russia with winter coming on. NATO foreign ministers are also discussing new air-defense systems as well as materials to help Ukrainian civilians make it through the winter. [ AP ]
Some cool climate news: In September, Oxford University's Institute for New Economic Thinking released a study finding that a rapid transition to renewable energy will actually cost far less than going slowly, because greater deployment of renewables will drive down the price of electricity enough to save the world $12 trillion, compared to continuing to use fossil fuels. It's simply not true that the clean energy transition would be too costly to pursue: if anything, not transitioning quickly will cost far more. Also too, you energy nerdy-birdies should give a listen to this interview with Dr. Doyne Farmer, one of the study's co-authors. Damn right it's by independent energy journalist Dave Roberts. [ Oxford University / Volts ]
And while we're at it, how about another Dave Roberts joint (yes, I am catching up on my podcasts), an interview with Hal Harvey and Justin Gillis, authors of the new book  The Big Fix: 7 Practical Steps to Save Our Planet.  Cool cool: they talk about policy changes that can help move us closer to a survivable climate situation, and they offer suggestions for You The American Citizen to take action — not so much by consumer choices, but by getting involved, like just showing up at mandatory public meetings on utility policies. Get yourself heard! [ Volts ]
And finally, FX and Hulu are releasing a TV adaptation of Octavia Butler's indispensable 1979 novel  Kindred,   which might just be her best book (in close competition with 1993's Parable of the Sower  ). It looks like it might actually be pretty good, since the showrunner/executive producer/writer is Branden Jacob-Jenkins, a MacArthur fellow and playwright who previously worked on HBO's brilliant Watchmen adaptation. He's been wanting to do this since at least 2010.

If you somehow haven't read Kindred, you need to correct that lapse in your reading ; it's a story of a modern Black woman, Dana, who finds herself transported from the present (1976 in the novel, 2016 in the TV series) to 1815 and the plantation where her ancestors were enslaved. Dana — played by Mallori Johnson in a first starring role right out of Julliard has to make sense of living in enslavement, but periodically — and with no warning — she zaps back to her present and her loving husband, a white guy named Kevin, not knowing when she'll be torn away again back into the past.
I like that Butler doesn't bother with making up science-fictiony explanations of why Dana comes unstuck in time. It just happens, and that makes it all the more terrifying — and not that different from the precarious hold on home and life that enslaved people had. Or that any Black person today might experience when they see flashing lights in the rearview mirror.
 Here's a trailer; the eight-part adaptation of Butler's time-travel story will be released all at once on December 13 on Hulu. [ Vanity Fair ]
Did you think I'd forget the obligatory Thornton photo? Have a comfy lummox: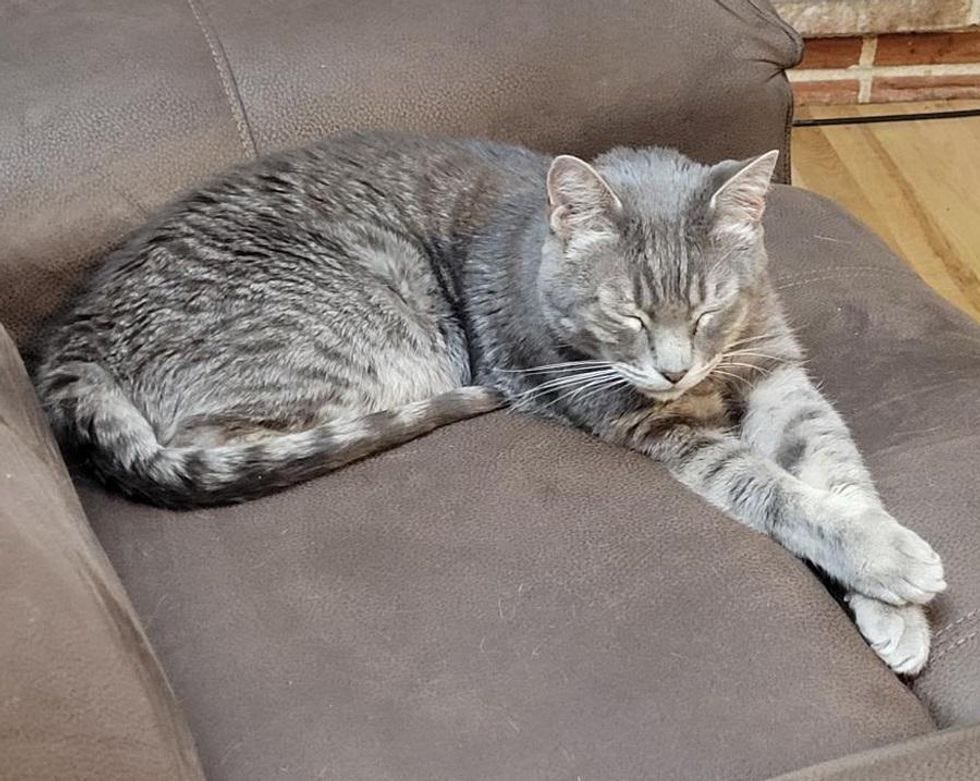 Yr Wonkette is funded entirely by reader donations. If you can, please help us keep this little mommyblog rolling with a monthly donation of $5 or $10! 

 Do your Amazon shopping through this link, because reasons .