Discover more from Wonkette
Wonkette is filthy, hilarious, liberal news. YOU CAN HANDLE THE TRUTH!
Over 18,000 subscribers
Winner Winner Slow Cooked Chicken And Dumplings Dinner
Looking for a great Sunday dinner, or something easy to prep for Election Day? Welcome to the part of our program when we leap and launch ourselves at Chicken and Dumplings, slow cooked in a crock-pot. Hot gravy. You want?
This is for-real Chicken and Dumplings, from scratch, unless you want to use rotisserie chicken (to make your life easier). That's…okay. I prefer to fry chicken at home, because it tastes better and doesn't take a load of time. Pick a side and you do you.
This recipe has three easy steps. Still, there are no pre-packaged mixes or biscuit tubes involved, and no condensed soup to be found. Shredded chicken, thick and creamy broth, melt-in-your-mouth dumplings -- this is how we win. Chicken and Dumplings cures what ails you, instigates second helpings, and leftovers make a brilliant lunch.
PART ONE
4 Chicken breasts (or 1 rotisserie chicken, plus extra breasts or thighs)
1 c. Flour
Salt and pepper
Oil and butter for frying
* If opting for rotisserie chicken, cut it into pieces and skip to Part Two.
Heat the butter and oil in a pan, and season the chicken breasts with salt and plenty of pepper. Dredge in flour, shake off the access, and fry until the chicken skin is brown and crispy. It doesn't matter if the chicken is not completely done in the middle, because it's going to slow cook for several hours in broth. Do these in batches of two.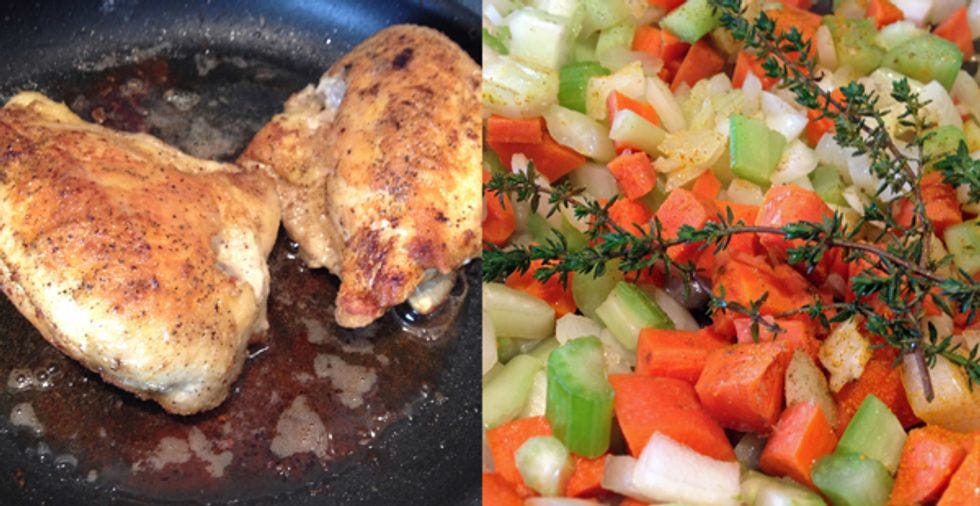 PART TWO
Oil, for sautéing
2 Celery ribs, sliced and cubed
2 Carrots, sliced and cubed
1 Onion
2 Garlic cloves
Thyme, fresh (about 5 stems)
Sage, about four leaves, fresh and minced
Parsley, half a handful, fresh and minced
Turmeric, dried, a few dashes
1 Bay leaf
6 c. Chicken broth, low sodium
¾ c. Apple cider
1 tbs. Chicken Better Than Bouillon
½ lemon, squeezed
2 tsp. honey
In a little bit of oil, cook the celery, carrots, onion and garlic until translucent. Add the herbs, and transfer everything to a large crock-pot. Pour in the broth, lemon juice, cider, and honey. Stir in BTB, and place the chicken on top of the vegetables. Cover and cook for about 9-12 hours on low heat.
PART THREE
An hour before you want to eat, bump the heat to "high" and carefully remove the chicken from the pot. Separate the meat from the bones. Shred the chicken (I include the browned skin) in a bowl, using two forks. Return the meat to the pot. Discard bones, along with the bay leaf and thyme stems. Adjust seasonings now -- you can't stir the pot after dumplings are added. Is it OK? Cool! Prepare the dumpling dough.
½ c. Heavy cream
1 ½ c. All-purpose flour
½ c. Cornmeal (yellow)
1 tbs. Baking powder, heaping
1 tsp. Salt
1 ½ c. Heavy cream
2 tsp. Parsley, minced fine (optional)
Add a half-cup of heavy cream to the pot and stir. In a mixing bowl, combine the dry ingredients with one and a half cups of cream and minced parsley, and mix well. Drop teaspoons of dough into the pot, cover and cook for 45 minutes, or until the dumplings are no longer doughy in the middle.
You can try to keep the balls of dough separate, but they will (inevitably) bump together when they expand as they simmer. You will worry about spillage. It probably will not spill. The ingredients have been properly measured, but if you have some kind of off-sized crock, use a ladle to gently scoop out some liquid and put it back later. If it looks like this, you are doing fine.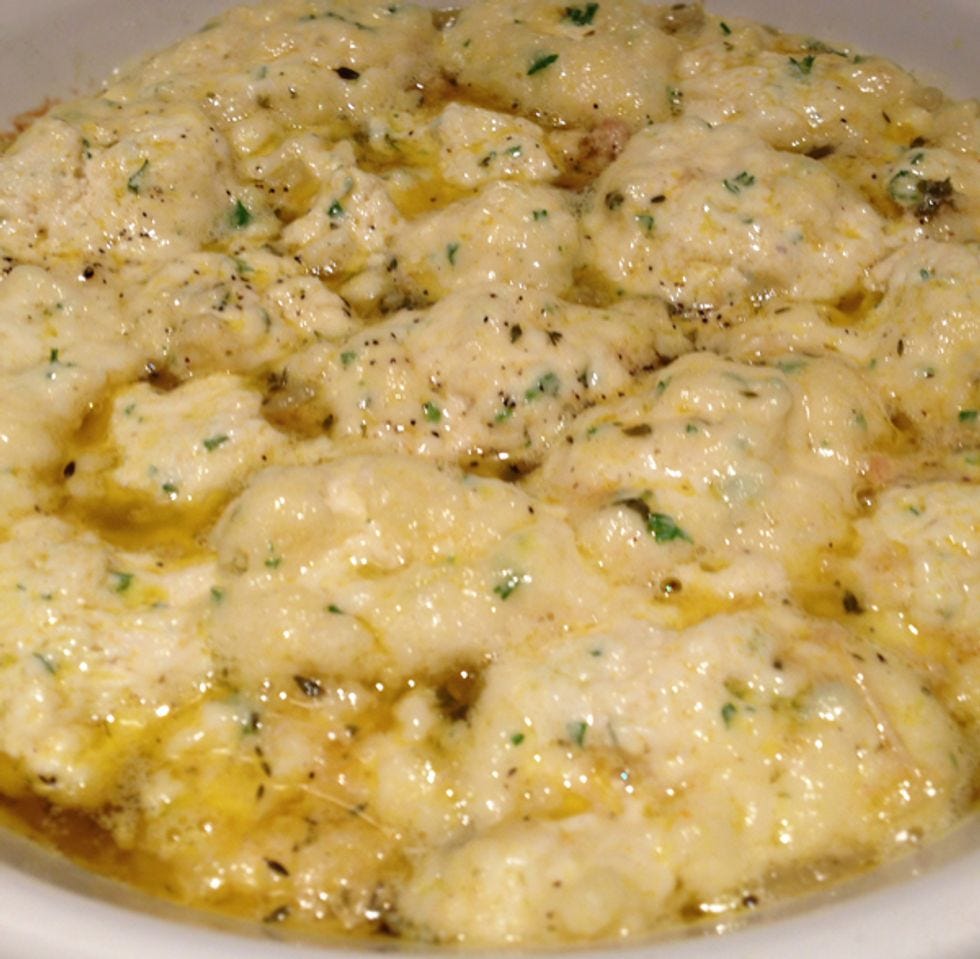 Now what? You dig in. Chicken and Dumplings pairs well with sweet tea or lemon cocktails, and that is something I might know a thing or two about. Check the Recipe Hub on Tuesday to be sure, and buy some lemons and gin at Costco in advance. Enjoy!