Discover more from Wonkette
Wonkette is filthy, hilarious, liberal news. YOU CAN HANDLE THE TRUTH!
Over 18,000 subscribers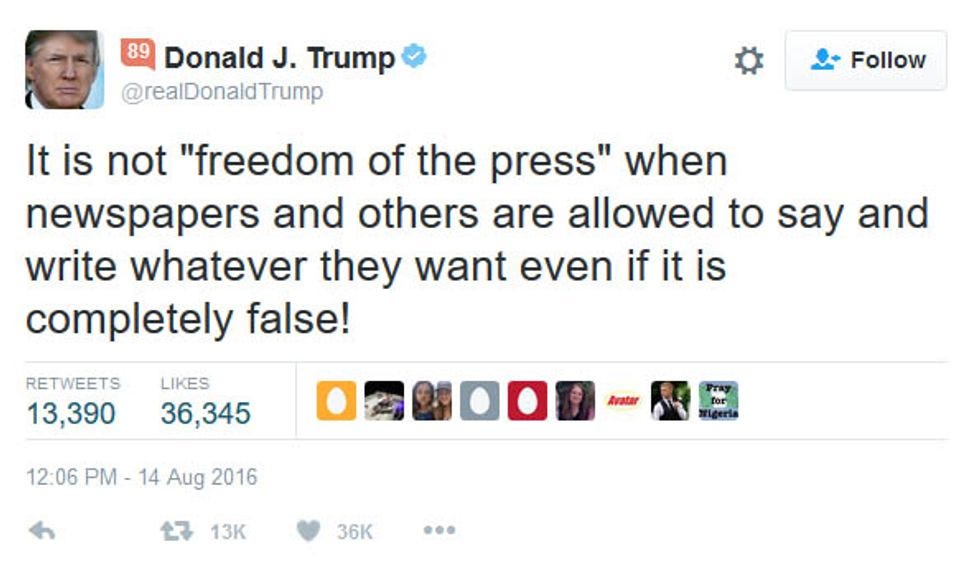 HAHAHAHAHAHAHAHAHAHAHA
Morning, Wonkers! Here's some of the stories that might splatter the pixels of yr Wonkette today!
UH-OH! Paul Manafort might have taken some secret monies for that time he helped Pooty-poot's best Ukrainian bud, Viktor Yanukocych. Manafort's decided to just DENY, DENY, DENY everything.

Trump weighed in on the Tweet machine to remind us he is A Idiot and literally doesn't understand the First Amendment. 

Creepy "NOT RUSSIAN" hackers doxxed more DNC members by releasing documents that contain personal email addresses and cellphone numbers of nearly 200 people.

Wisconsin called in the National Guard after riots erupted in Milwaukee this weekend in response to a police shooting. Good thing the sheriff who spoke at TrumpCon knows a thing or two about law and order.

Katrina Pierson doesn't know how U.S. became embroiled in two wars because Obama is a secret brainwashing Muzzie terrorist!

Jesus freaks are suing to pray out the gay in Illinois because it will prove once and for all that Jesus is a strong, powerful, hippy who don't need no science!

Ex-Bush Commerce secretary thinks Trump's tax plan is a sick joke because he's a secret Messican who LURVS the goddless Cuban commies. 

U.S. Olympian Ryan Lochte got robbed at gunpoint in Rio, but don't worry, the Olympics are TOTALLY safe (aside from all the poo water, and political corruption).

Kentucky's response to Rand Paul is a nice openly gay man with huge balls running for the Senate. KENTUCKY!

Here's some educational Nice Times about how the Fox News media cycle works because knowing is just a specific fraction of the battle!