Discover more from Wonkette
Wonkette is filthy, hilarious, liberal news. YOU CAN HANDLE THE TRUTH!
Over 18,000 subscribers
Well, we covered the books last week, so movies are next. Don't worry, I won't do a science music list next week because that would be just They Might Be Giants and that one Thomas Dolby song that I can't stand anymore. So, you finished the books from last week and you're sunburned to a crisp, so you want to hang out in your living room with the AC on. I get it. You COULD binge watch some Netflix licensed Finnish police procedural , OR, or, or … you could instead pick one or all from the awesome list below that I humbly title:
Five Fanfuckingtastic Movies that Got the Science Right! (Or mostly anyway because we're not life-ruiners like a common Neil deGrasse Tyson. We kid, we kid! We love! OR DO WE.)
1 – 2001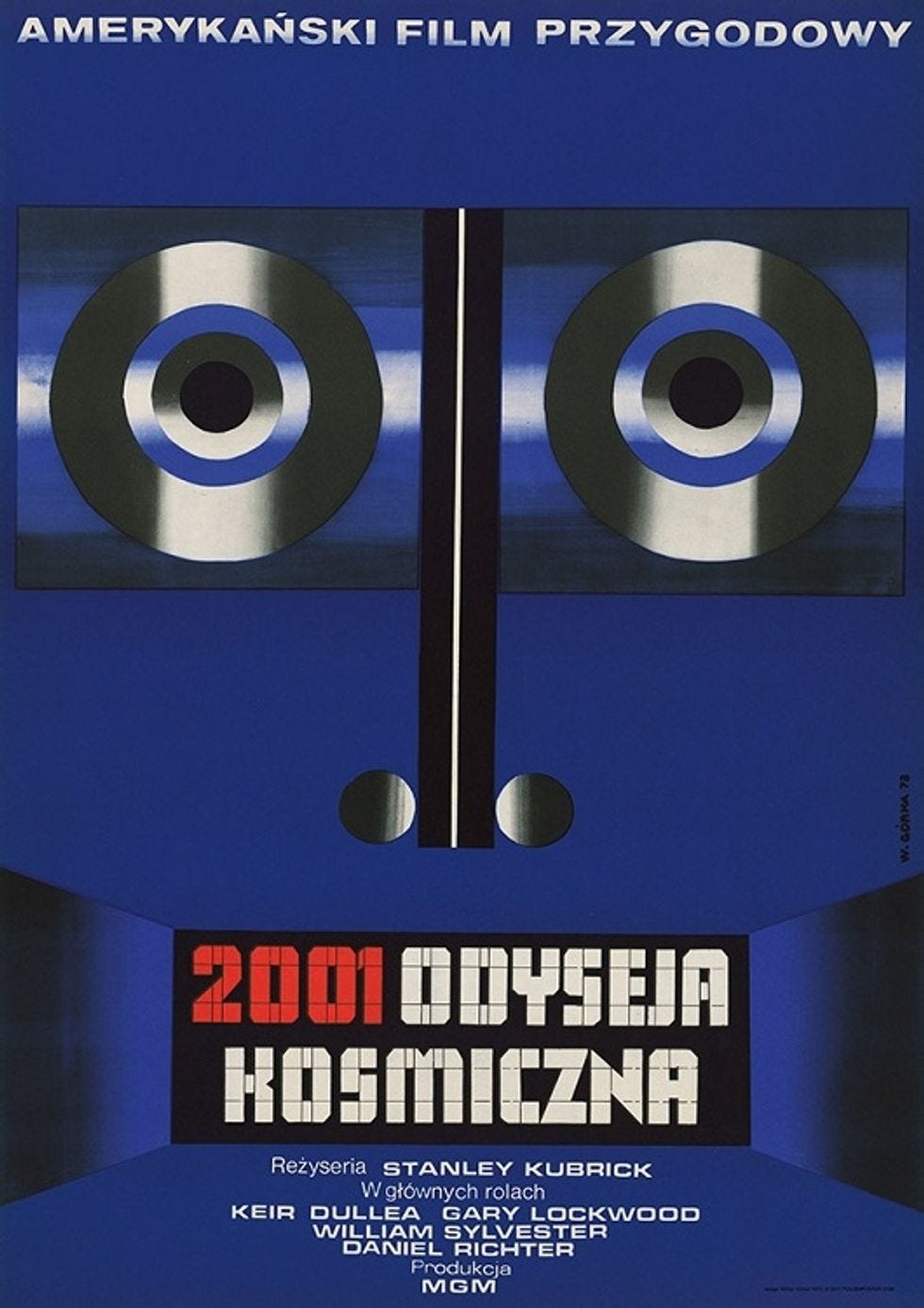 The grand olde dame of sci fi. Love it or hate it, it is incredibly influential. All about inspiration, achievement, exploration, creation, who we are … man alive this movie is crazy deep. Visually stunning even today, but for the sake of this article, truly prescient about the science to come and pretty damn accurate as well. Here's a quick list:
No sound in space! Unless you count the Blue Danube playing during the flight to the space station, but unlike almost every other space movie, there are no sounds of explosions, thrusters, etc. Nice job, Mr. Kubrick.

Videochats! Multiple "phone calls" via video which we now take for granted. Why just the other day I interviewed a potential scientist for us who lives in Switzerland while I was in my office in SAN DIEGO!!! Black magic? Science fiction? ScienceFuckingFact! Too bad he wore a sweat suit and not an actual suit for the interview, but I digress.

Accurate portrayal of zero gravity! Remember the floating pen scene and the "grip" shoes the space Pan Am flight attendants wore? Yeah, buddy, that's the science stuff. Bonus fun fact: The floating pen effect is done by a pen sticky taped to a glass sheet that two dudes rotate while off camera. The Pan Am space babe walks up and plucks it off the glass. No CGI back then!

Artificial Intelligence! HAL, that pendejo. You do know, that if you move up each letter by one you get IBM, right?
2 – And the Band Played On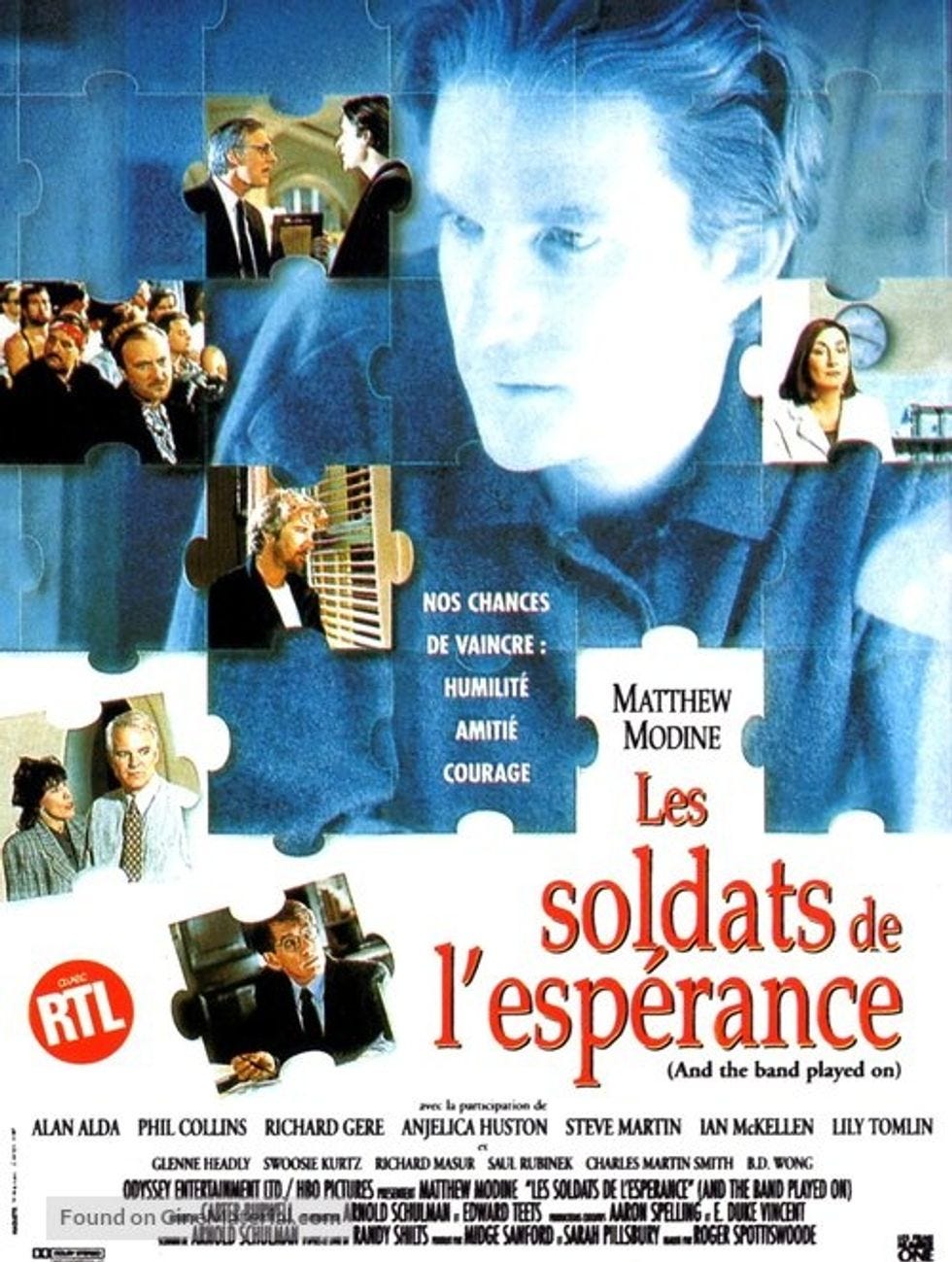 This movie (technically a mini-series) covers all the science but also all the politics of disease and the search for a treatment. It works as a historical piece on the emergence of HIV & AIDS but also chronicles the infighting between scientists ( Robert Gallo is a prick ) for credit, the governmental territoriality and bureaucracy!
It's one of the best portrayals on the screen of how epidemiology works and how we (yeah, "we" because I was still in the lab back then and worked on HIV blood tests) figure out the causative agent of disease. It's also great at showing the drudgery of science along with the "eureka" moments.
The cast is like a cameo salad bar from Steve Martin to Phil Collins to Anjelica Huston.
3 – Apollo 13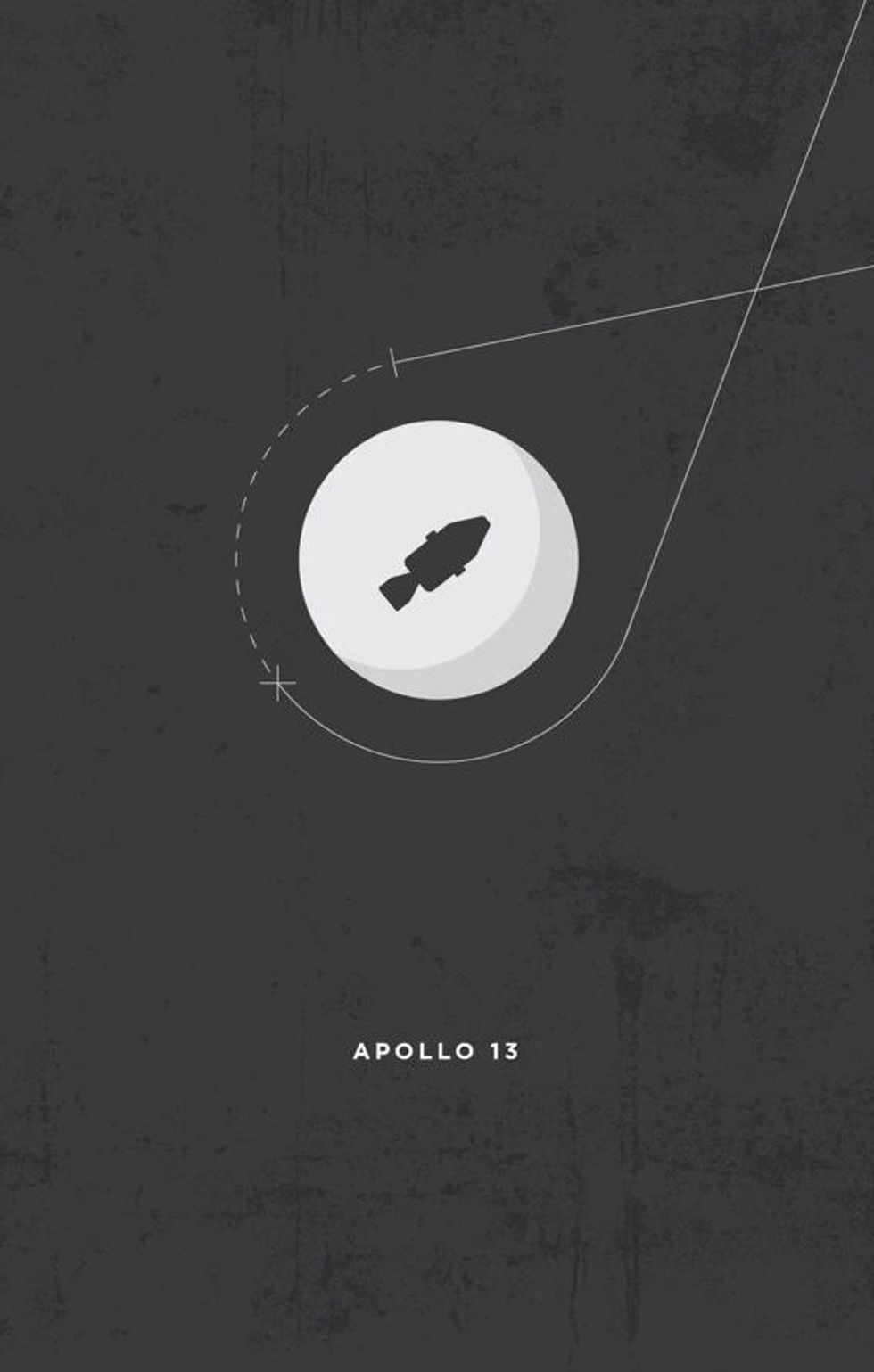 Minimal Movie Poster by Justin Jackson 
I'm always amazed when a movie where I know the outcome can still keep me in suspense. This is one of those little gems. Obviously, there is lots of accuracy in terms of how they calculate orbits, re-entry, all the physics stuff. Ron Howard got NASA to advise all the way through. My favorite science bit though is when the carbon dioxide levels start getting scary, and Ed Harris tells his folks on the ground to literally figure out how to make a square filter fit a round hole to save some astronaut ass. Pretty sure it only worked because if Ed Harris was yelling at me, I'd engineer whatever the hell was needed so he'd stop yelling at me.
4 - Gravity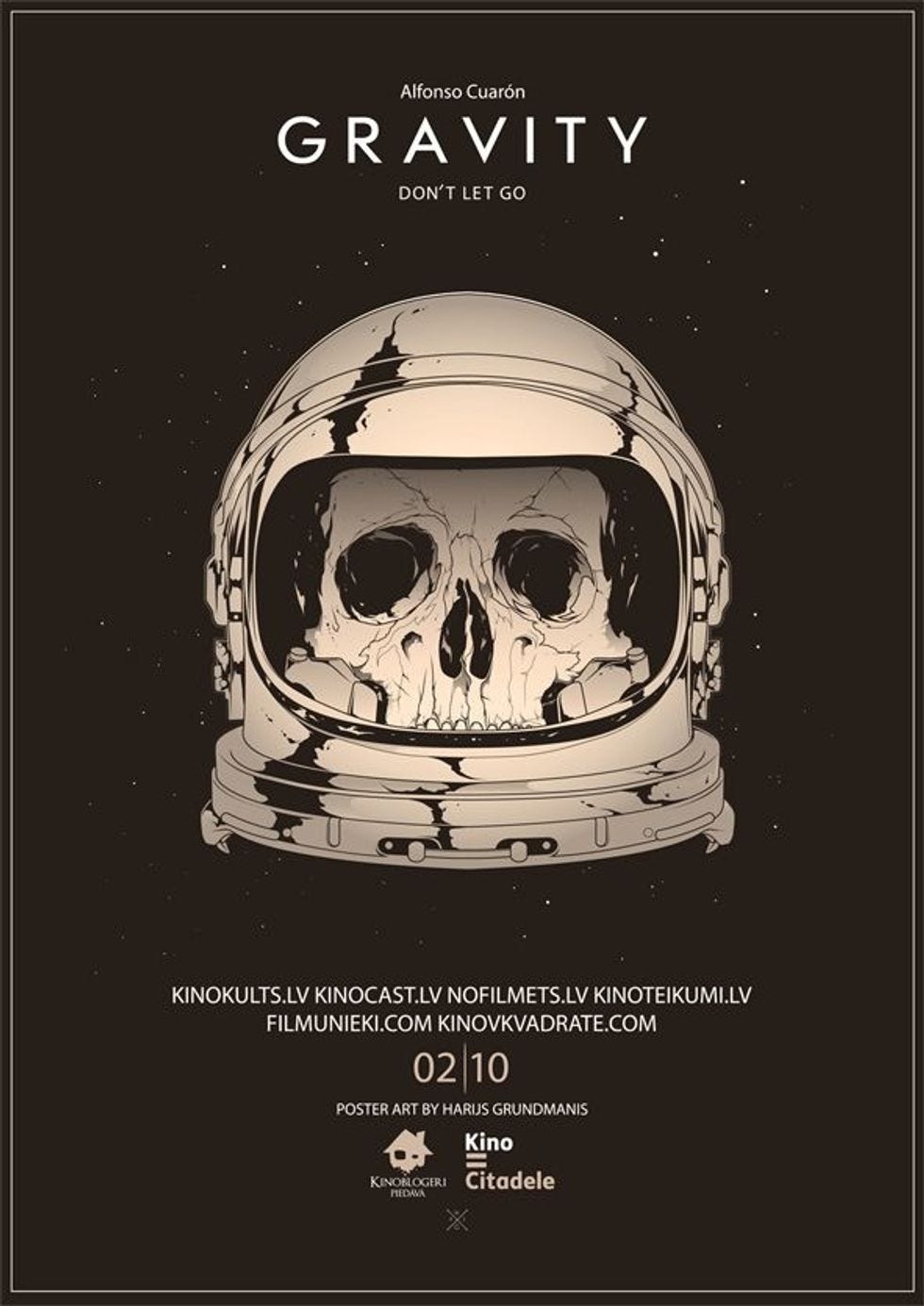 I thought about not throwing up a third space movie here. Then I said, fuck it. Mexico is out of the World Cup and I'm sad so I'm going to honor a Mexican movie director who really went all out to be realistic in another tense space disaster flick.
No sound in space!

Tiny debris going really fast WOULD cause that damage!

Fire extinguisher as thruster? You betcha, carbon!
5 – Fantastic Voyage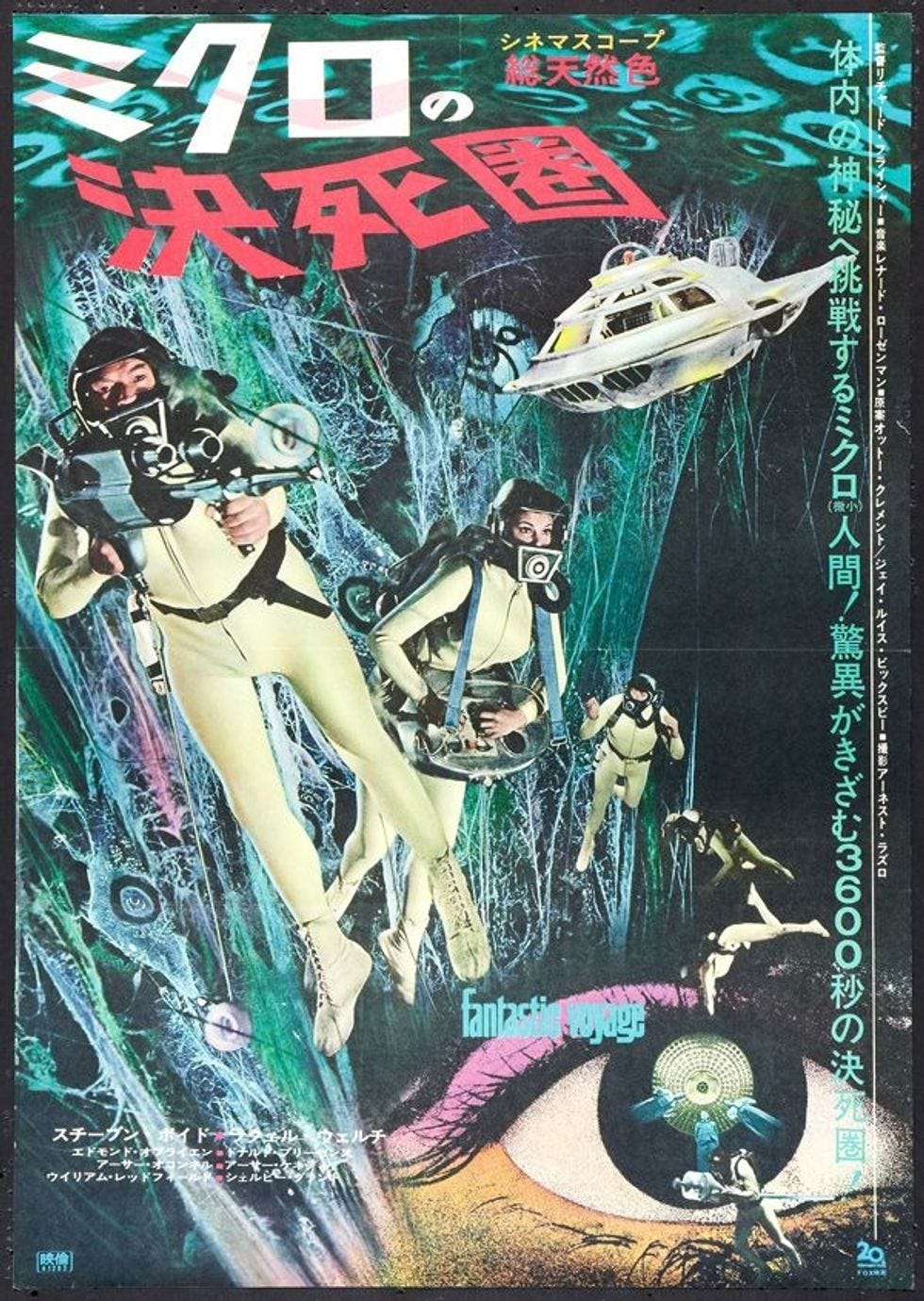 You did NOT expect this to be on my list, did you? Don't lie. Scientists are shrunken down along with a submarine and inserted into ANOTHER scientist with only an hour to get to an inoperable clot inside him and save his life! I admit, the miniaturization stuff is pure bullshit. That's not what I'm talking about. Like a hot little ticket in a swimsuit (you pick the gender you want to visualize), it's all about anatomy. Well, also physiology, like when they take a detour through the heart, the life-size peeps monitoring the patient have to stop his heart to avoid turbulence for the passing sub. There's pretty decent immunology with antibodies working with T-cells to try and kill our heroes when they venture out in scuba gear. Even the miniature sub and crew could be thought of as predicting where we're headed with nanobots and the like. Pretty good for 1966.
Those are my five. What would you add? Here's some that didn't make the cut.
Interstellar: Some good stuff that ultimately goes too metaphysical and speculative.

Contact: See "Interstellar."

The Martian: Probably some of the best representation of science on film, but I mentioned it last week in the books article so didn't want to double up. Apollo 13 took its place.

Pretty much any movie with a virus outbreak where they have to find the "anti-serum" (I'm looking at you "Outbreak"!) because if it was that fucking easy we would have cured HIV by now!!
Because I can, I will also say that John Carpenter'sthe Thingis my all-time favorite movie. The science is pretty shitty, but the movie can't be beat for tension, one-liners, memorable characters and pre-CGI special effects that still hold up today. See you kids next week when I return to something topical and not so upbeat.
And with that, stick around, because it is your OPEN THREAD.