Papa John's Founder Would Like To Offer You Some Shitty Pizza With Extra Racist Toppings
Post-Racial America
July 11, 2018 01:37 PM
I was just about to head out for a late lunch at Papa John's when I stumbled upon this shocking news that upset all my fine-dining plans. No, I'm just kidding: Papa John's pizza is garbage-flavored garbage topped with garbage. However, Papa John's founder and chairman John Schnatter is also a big greasy, fake Italian racist.
According to Forbes, Schnatter was on a conference call with some of his pizza-defiling executives and the Laundry Service, which is actually a marketing agency so who the hell knows what's going on with the name of their company. The goal was to strategize ways to avoid the sort of public relations "snafus" that naturally occur when the public face of your company is both aesthetically and politically grotesque. So, naturally, during the brainstorming session, Schnatter just dropped the "n-word" as you do when you're an asshole whose pizza tastes like you smeared your own ass over it.
---
Schnatter caused an uproar in November 2017 when he waded into the debate over national anthem protests in the NFL and partly blamed the league for slowing sales at Papa John's.

On the May call, Schnatter was asked how he would distance himself from racist groups online. He responded by downplaying the significance of his NFL statement. "Colonel Sanders called blacks n-----s," Schnatter allegedly said, before complaining that Sanders never faced public backlash.
How did I not hear that KFC's spokesperson recently referred to my brothers and sisters in melanin as "n---s"? I hope it wasn't the country music singing lady one. She's my favorite of the bunch. Wait ... is he actually talking about the original Colonel Sanders who is 1,000 years old and dead? Sanders sold Kentucky Fried Chicken in 1964, the same year of the Civil Rights Act, so things might have been a little different in his day. Unlike Papa John's, the Colonel used -- what's the word? -- ingredients in the food he served people, but if Schnatter prefers to take inspiration instead from Sanders's alleged casual use of racial epithets, that's his (now failing) business.
This year, Schnatter stepped down as CEO because of his moronic statements about NFL players peacefully protesting, which eventually led to a "mutual decision" for the NFL's "official pizza" to perhaps be real pizza and not a sugary imitation pizza-like product. New CEO Steve Ritchie's sole 2018 objective should've been preventing Schnatter from saying (most likely racist) stuff out loud. He probably had his phone muted while he took his call at a noisy Starbucks. We've all been there, but it leads to incidents like this:
Schnatter also reflected on his early life in Indiana, where, he said, people used to drag African-Americans from trucks until they died. He apparently intended for the remarks to convey his antipathy to racism, but multiple individuals on the call found them to be offensive, the source said. After learning about the incident, Laundry Service owner Casey Wasserman moved to terminate the company's contract with Papa John's.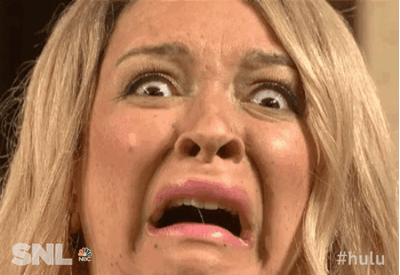 media.giphy.com
Schnatter was born in 1961, so what the hell was going on in 1970s Indiana? Can someone please look into these potentially unsolved murders that Schnatter describes like they took place every Saturday afternoon before college football? What is even his point here? How was this supposed to prove his un-racist-ness? Papa John's, after all, ranks at around "gruesome death by truck-dragging" on my personal scale of pizza edibility. However, I still very much enjoy pizza.
I don't have an MBA, but I'm reasonably confident that when the conference call focused on rehabilitating your corporate image results in your marketing agency wanting nothing more to do with you, it was not successful. How do you screw up a relationship with an agency called "Laundry Service"? It's like they're designed for you: "We'll clean up your valuable pizza chain after any accidental spills of racism. Same day service available."
Looks like Pizza Hut will continue dancing on Papa John's grave. Their non-racist bad pizza is more profitable business model.
You love Wonkette very much, yes? Please DONATE to keep us in non-shitty pizza.
From Your Site Articles
Related Articles Around the Web
Stephen Robinson
Stephen Robinson is a writer and social kibbitzer based in Portland, Oregon. He writes reviews for the A.V. Club and make believe for Cafe Nordo, an immersive theatre space in Seattle. He's also on the board of the Portland Playhouse theatre. His son describes him as a "play typer guy."