WTF Do The Parnas Texts Show, And Can We Splain Them You? YES!
Impeachment
January 15, 2020 02:04 PM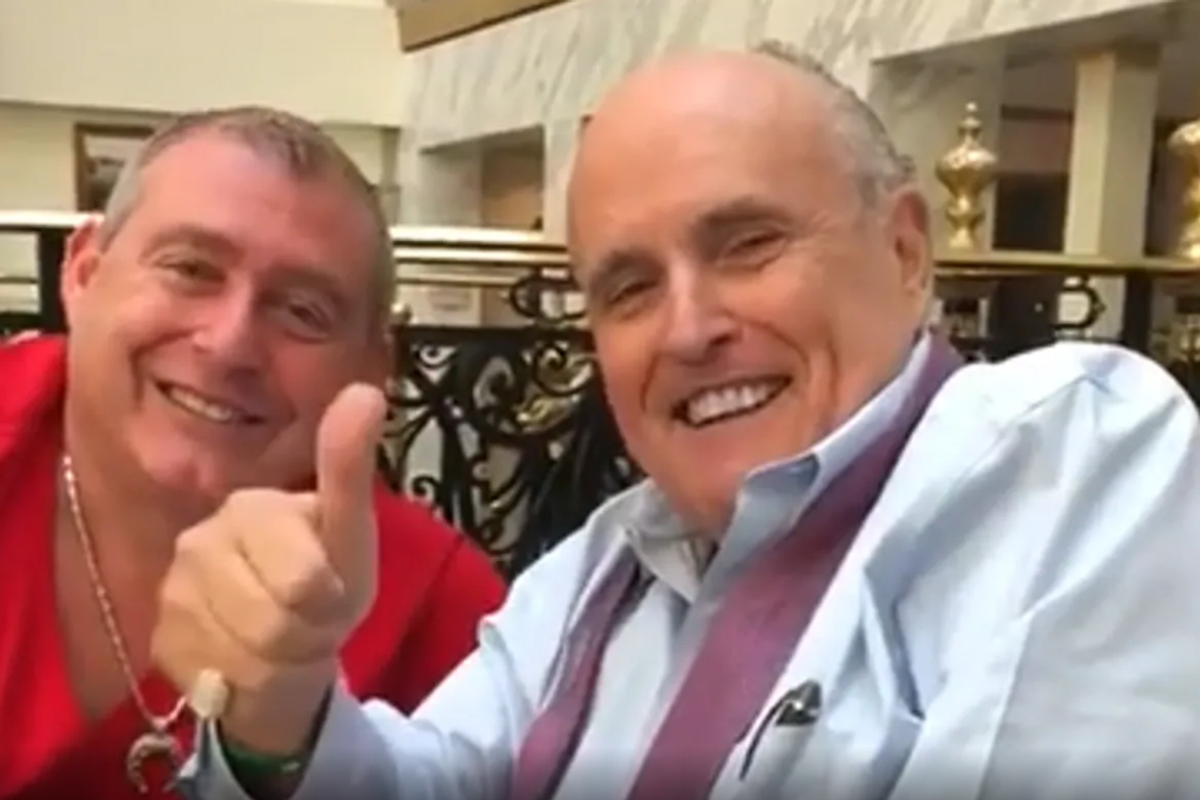 This Trump Ukraine stuff is batshit crazy. Even if you spend all day staring at it -- and we do! -- it's easy to lose the plot. The best way to keep all these characters straight is to sort them by their goals. Ask yourself, "What does this particular cartoon villain want, and how the hell did the president of the goddamn US of A get involved with him?" So, with that in mind, let's read the second tranche of Parnas texts released yesterday by the House Intelligence Committee. Because this right here from Ukrainian prosecutor Yuriy Lutsenko looks suspicious AF: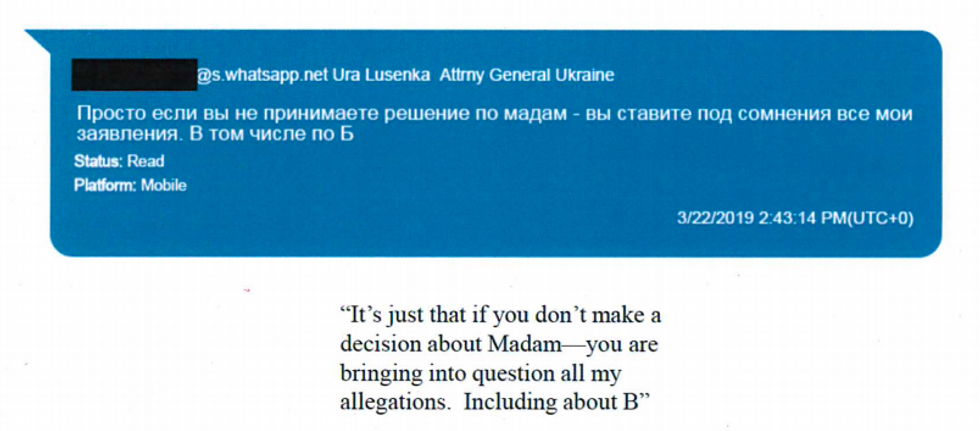 ---
Rudy and Lev Wanted to Cripple Joe Biden Before the Election
When last we left that little chucklefucker (it was last night), he was takin' alllll the notes on a criminal fuckin' conspiracy. In brief, Ukrainian natural gas oligarch Dmitry Firtash financed a campaign to trade dirt on Joe Biden to the Justice Department in hopes of getting bribery charges against him dropped.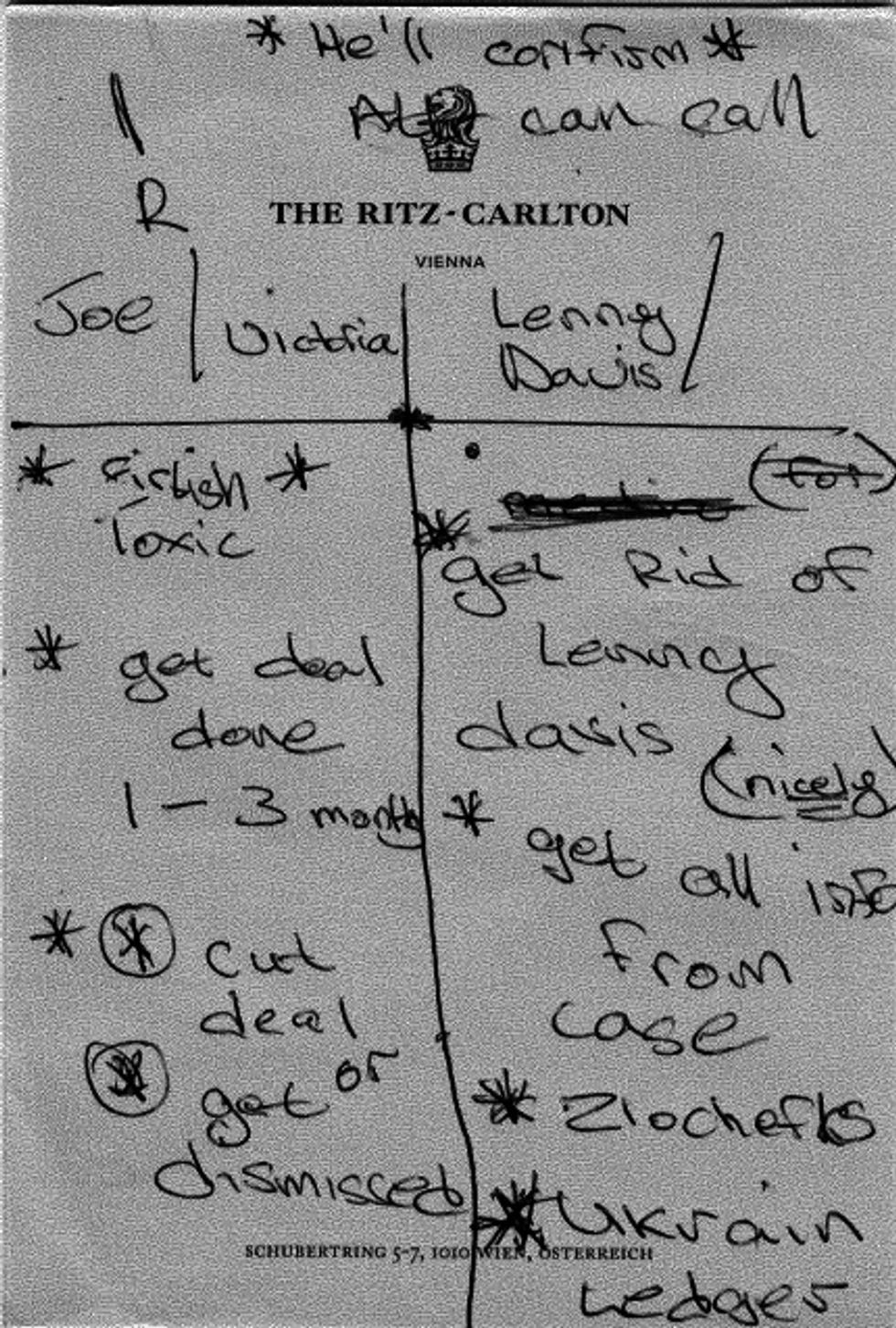 Giuliani worked as Trump's personal lawyer to pressure the Ukrainian government to open an investigation of Trump's likely 2020 rival. Hairball lawyers Victoria Toensing and Joe diGenova represented Firtash to the Justice Department. Disgraced Hill reporter John Solomon ran their media ops. Parnas was the all-around fixer, who could communicate with guys on the ground in Ukraine. And he may or may not have been involved in a plot to surveil the Ukrainian ambassador Marie Yovanovitch with a lunatic GOP congressional candidate from Connecticut.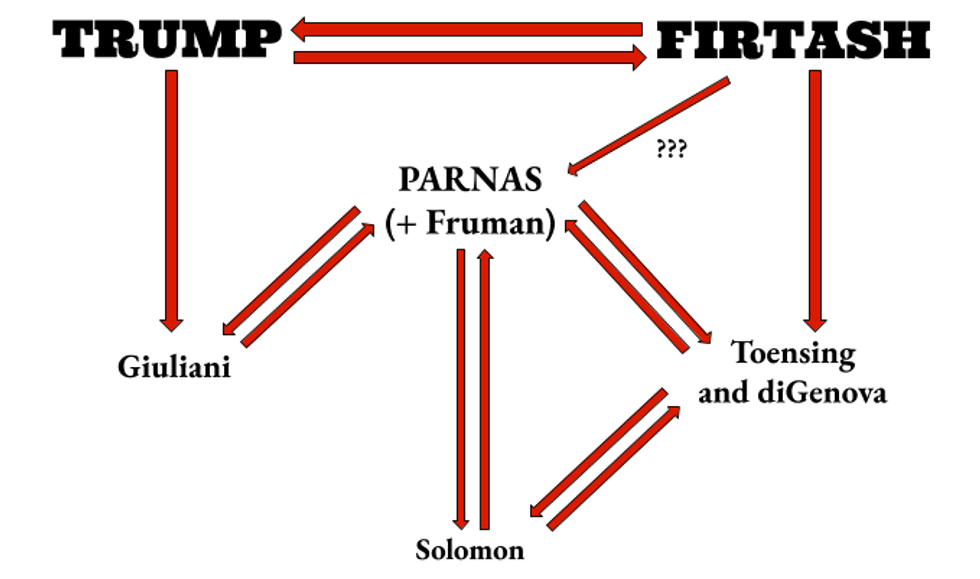 Got it? Cool. So now let's talk about what happened in Ukraine.
Prosecutor Yuriy Lutsenko Wanted to Get Rid of Marie Yovanovitch
Yuriy Lutsenko was less corrupt than Viktor Shokin, the fantastically corrupt prosecutor forced out by a coalition of the EU, IMF, and US in 2016. But he wasn't not corrupt, which is why he's currently under investigation for abuse of power. So Lutsenko was deeply threatened by the independent anti-corruption prosecutor's office, NABU, and the anti-corruption NGO Ant-Ac.
The American ambassador, Marie Yovanovitch, was a strong proponent of both NABU and Ant-Ac, and that's why Lutsenko wanted her out of the way. Which suited Ukrainian oligarch Dmitry Firtash just fine, since Yovanovitch's anti-corruption allies were blocking him from reasserting control over Ukraine's state-owned natural gas company, Naftogaz.
So Lutsenko set about ginning up the evidence against Joe Biden's son, Hunter, and Giuliani and Parnas worked on their end to get Yovanovitch fired. Here's Lutsenko (in blue) promising dirt on payments from Burisma owner Mykola Zlochevsky to Hunter Biden, while complaining that Parnas (in green) can't even get rid of one foolish woman.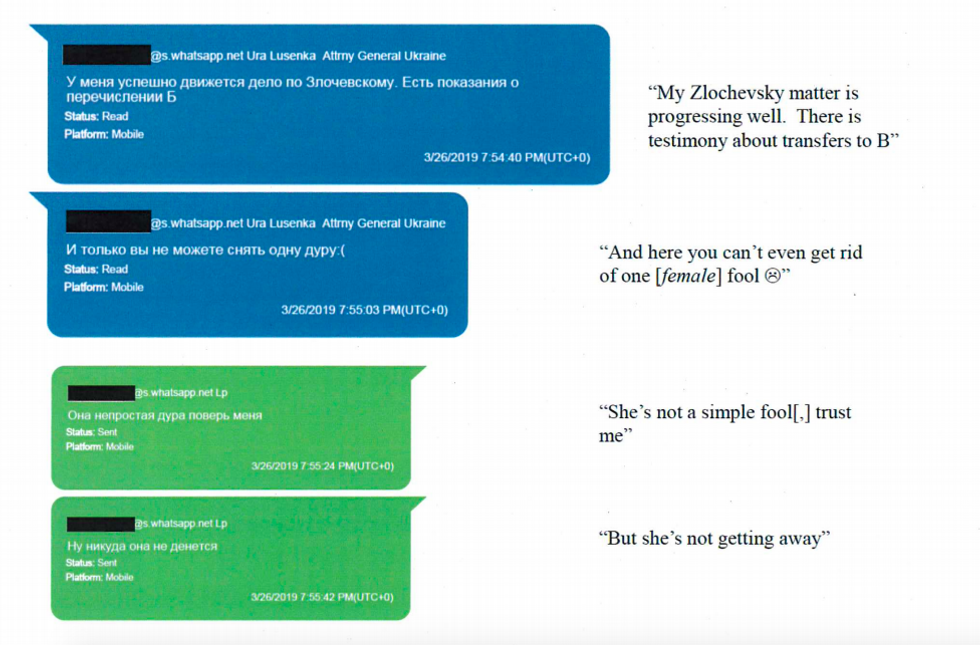 On March 20, the same day that Lutsenko complained to Parnas that Yovanovitch warned him not to round up Ant-Ac activists on bogus charges, he did an interview with John Solomon accusing the ambassador of giving him a Do Not Prosecute list of protected people. He later retracted those charges, but Solomon's article remains up at the Hill. Of course.

Two days later, Lutsenko explicitly connected the Biden dirt to Yovanovitch's ouster, saying, "It's just that if you don't make a decision about Madam -- you are bringing into question all my allegations. Including about B"

The following week, Parnas engaged in that menacing back and forth with lunatic Robert Hyde about Marie Yovanovitch's physical location. On the 25th, Hyde wrote, "What should I do with this? ... They are moving her tomorrow ... The guys over they [sic] asked me what I would like to do and what is in it for them," and later, "They are willing to help if we/you would like a price ... Guess you can do anything in Ukraine with money." The next day he texted, "If you want her out, you need to make contact with security forces ... From Ukrainians."
Clearly Parnas knew he had to get rid of Marie Yovanovitch by whatever means necessary, or else Lutsenko wasn't going to deliver the dirt on Biden. Whether that included violence or intimidation isn't clear -- but it doesn't look good.
Giuliani Wants Sexxxxxyyyy Biden Dirts, and He's Leaning on the State Department to Get It
Way back in January, when Giuliani first hatched this plot to frame Joe Biden, he thought he could do it from the comfort of his own Manhattan cigar bar. All he'd have to do was fly in Shokin to go on Hannity and smear Biden, and it would be a done deal. Only Shokin couldn't get a visa to the US on account of being such a corrupt bastard. Here's Rudy promising on January 10 that the visa will come through because "no 1" is on it.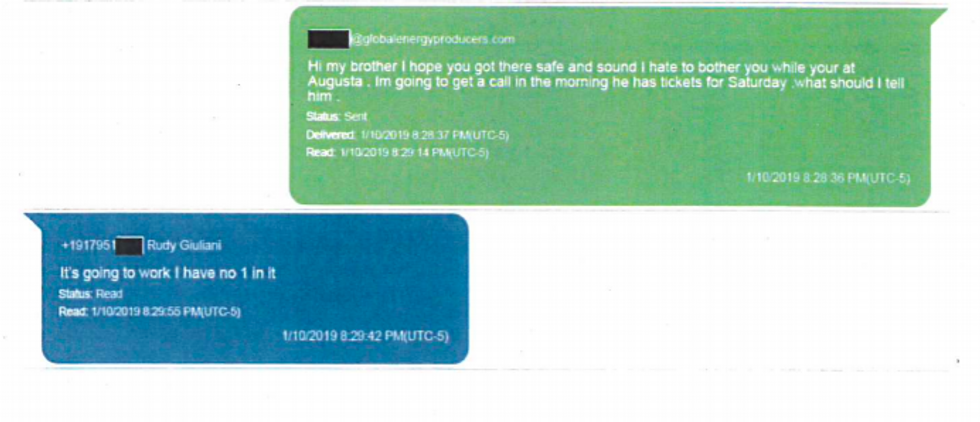 The next day, Rudy put Parnas in touch with the president's other personal attorney, Jay Sekulow. How Sekulow, who is not a government employee, could get Shokin a visa is not clear. But Sekulow is slated to represent Trump in the impeachment hearings. So ... that's cool.
The Zelenskyy Government Wants NOTHING TO DO WITH THIS SHITSHOW
After Volodymr Zelenskyy won his landslide victory in April 2019, Giuliani and Parnas knew they had to shift gears. They frantically started reaching out to members of Zelenskyy's transition group, only to find themselves blown off after a few texts.
Here's Parnas getting ghosted by Zelenskyy aide Ivan Bakanov, now the head of Ukraine's secret service.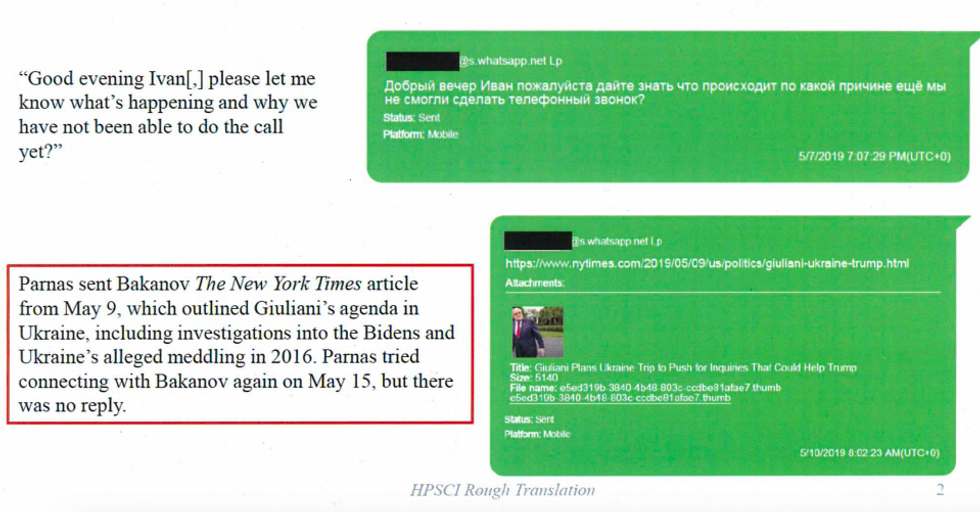 And frozen out by Serhiy Shefir, Zelenskyy's principal advisor.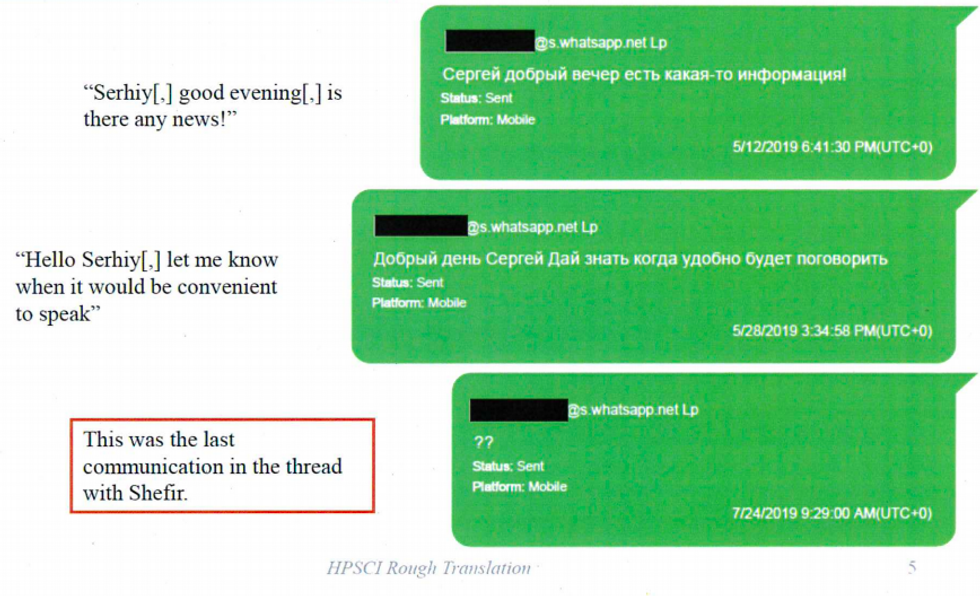 And ignored by Ukraine's Minister of Interior Arsen Avakov.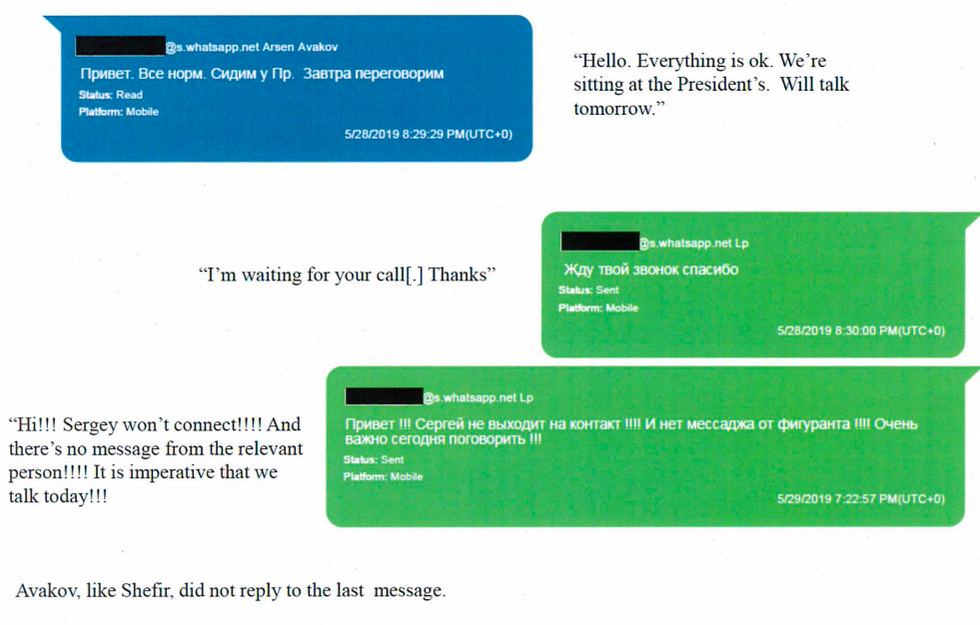 That same month, May 2019, Ukrainians canceled a meeting with Giuliani. So he released a statement saying that he was canceling on them, because the Zelenskyy government was full of Trump haters. Which is something to keep in mind when assessing the credibility of absolutely anything that dribbles out of Rudy's mouth.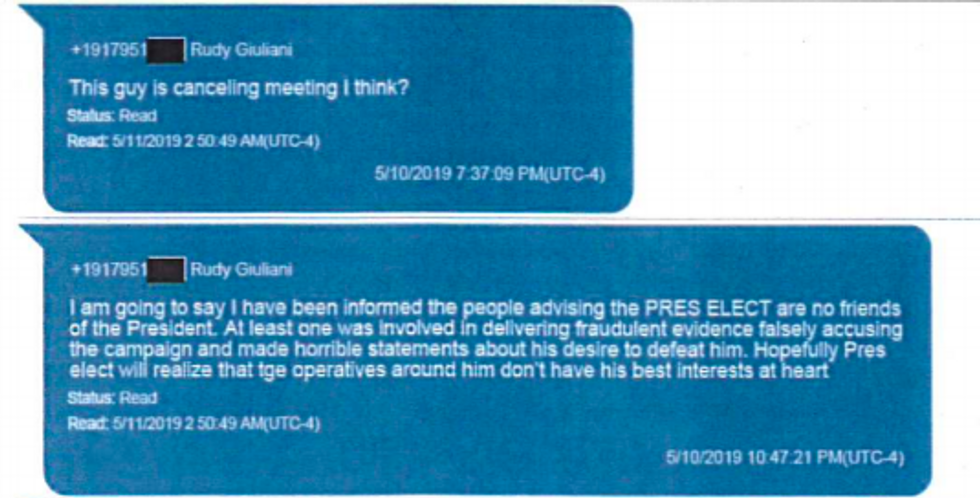 In fact the only member of the government who did want to talk to Parnas and Giuliani after the election was Yuriy Lutsenko, who knew he was about to be fired and wanted to engineer a soft landing for himself.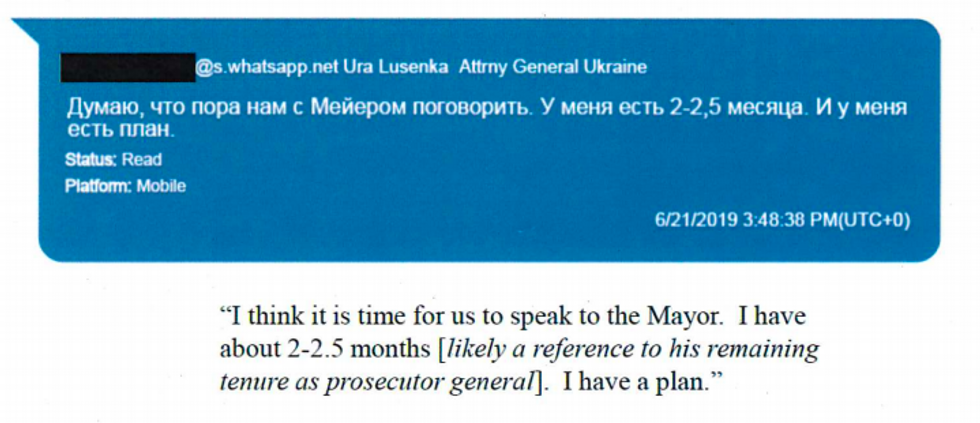 Which is how Rudy and Yuriy wound up making that "documentary" on OANN with the cast of shady-ass characters waving bogus affidavits at the camera.
TL, DR?
Rudy and Lev promised to get Marie Yovanovitch out of the way if Yuriy Lutsenko would engineer an investigation of Joe Biden and his son. But then Zelenskyy won on an anti-corruption platform, and they were all out in the cold. So after Rudy failed to make it happen, Donald Trump took matters into his own hands and leaned on Zelenskyy himself to "do us a favor, though" at the same time he was withholding desperately needed defense funds for Ukraine. And he would have gotten away with it, too, if it hadn't been for the whistleblower.
IMPEACH THE MOTHERFUCKER.
[Parnas Docs, Tranche 2 / Parnas Docs, Tranche 1]
Follow Liz Dye on Twitter RIGHT HERE!
Also donate us money, so we can write all the breaking newses all the time whenever we want!
Liz Dye
Liz Dye lives in Baltimore with her wonderful husband and a houseful of teenagers. When she isn't being mad about a thing on the internet, she's hiding in plain sight in the carpool line. She's the one wearing yoga pants glaring at her phone.