Paul Manafort: Oh You Mean THOSE Ukrainian Payments! Wonkagenda For Thurs., April 13, 2017
Russia
April 13, 2017 09:17 AM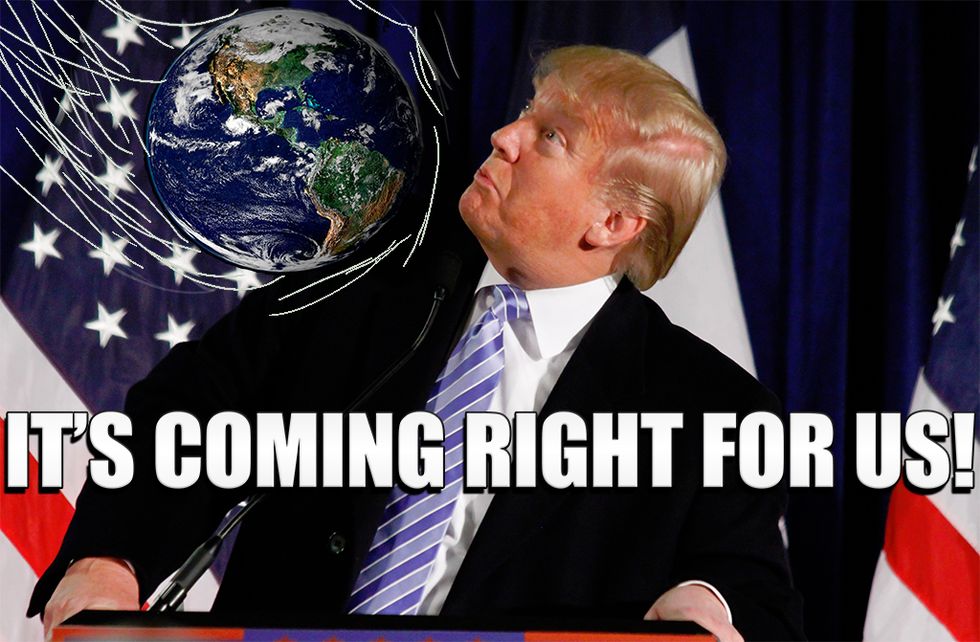 He doesn't have it in his hands....
---
Morning Wonketariat! Here's some of the things we may be talking about today.
After Paul Manafort left Trump's campaign, he began moving around millions of Ameros with SHOCKINGLY strange ties to Ukraine and Russia in order to pay off obscene amounts of mysterious debt. Coincidentally, Manafort will retroactively register as a foreign agent seeing as how he might otherwise be guilty of a felony or two.
Looks like Trump has dumped Putin after meeting his new boyfriend in NATO, Jens Stoltenberg, who says NATO is bigly gooder at doing the terrorism fighting now.
Trump is also apparently dating Chinese President Xi Xinping after they had some serious sexytimes in the sand traps of Mar-a-Lago where President Xi 'splainered North Korea over chocolate cake, and how Trump can't bitch about the value of the Renminbi (AKA China's Amero).
Trump's flipped the script (again) and is decreeing that his administration shall no longer seek tax reform, but instead it will (again) try to repeal and replace Obamacare since it's easier to rob from the sick AND poor, and then give to the rich.
Trump LLOOVEESS Fed Chair Janet Yellen, saying he both likes and respects her, leading some to believe he may keep Yellen around for another term.
Larry Pittman, a Republican General Assemblyman from North Carolina, REALLY hates all the gay-married people, and he got into a BookFace argument with someone where he compared Lincoln to Hitler for all that aggressive slave emancipation. Bless his heart.
China and Japan are trying to calm itchy trigger fingers of the U.S. and North Korea, with the Japanese fearing Sarin-tipped missiles striking their cities as North Korea prepares to celebrate the 105th birthday of the late Kim Il Sung. However, Chinese weapons manufacturers don't seem to have gotten that memo.
Rex Tillerson went to Moscow and NOBODY wanted to talk to him about the dead baby Syrian elephant in the room. The whole thing was like watching two divorcees try to eat a dinner together without launching into an argument over pee hookers.
Ethics groups are STILL bitching about Trump's Mar-a-Lago trips (which are now up to 20), because they're expensive and sketchy, and health inspectors recently found 13 violations in the club kitchen.
The GAO is investigating whether or not Trump and Co. followed federal ethics rules during the transition seeing as how they sure seemed to be using public money to for their own personal interests. (Spoiler: LOL.)
Take the kids to the discount department store and play Ivanka Trump Hunt, as retailers are hiding their Ivanka Trump crap in their stores, while scrubbing adverts and online listings.
You might think journalism is doing OK, but it's important to know that the U.S. is now treating its reporters like common garbage in front of foreign dignitaries. That makes us no better than the countries where reporters are being arrested or murdered for trying to hold the powerful accountable.

And here's your morning Nice Time! Rodrigues flying foxes! Did you know that they're actually bats from Africa!?
Hey! We're supported by readers like you, so donate today and we'll keep fighting the good fight!
Dominic Gwinn
Dominic is a broke journalist in Chicago. You can find him in a dirty bar talking to weirdos, or in a gutter taking photos.