Paul Ryan Whispers From Beyond Political Grave: Trump Bad Maybe, Is That Okay?
Media/Entertainment
July 11, 2019 01:14 PM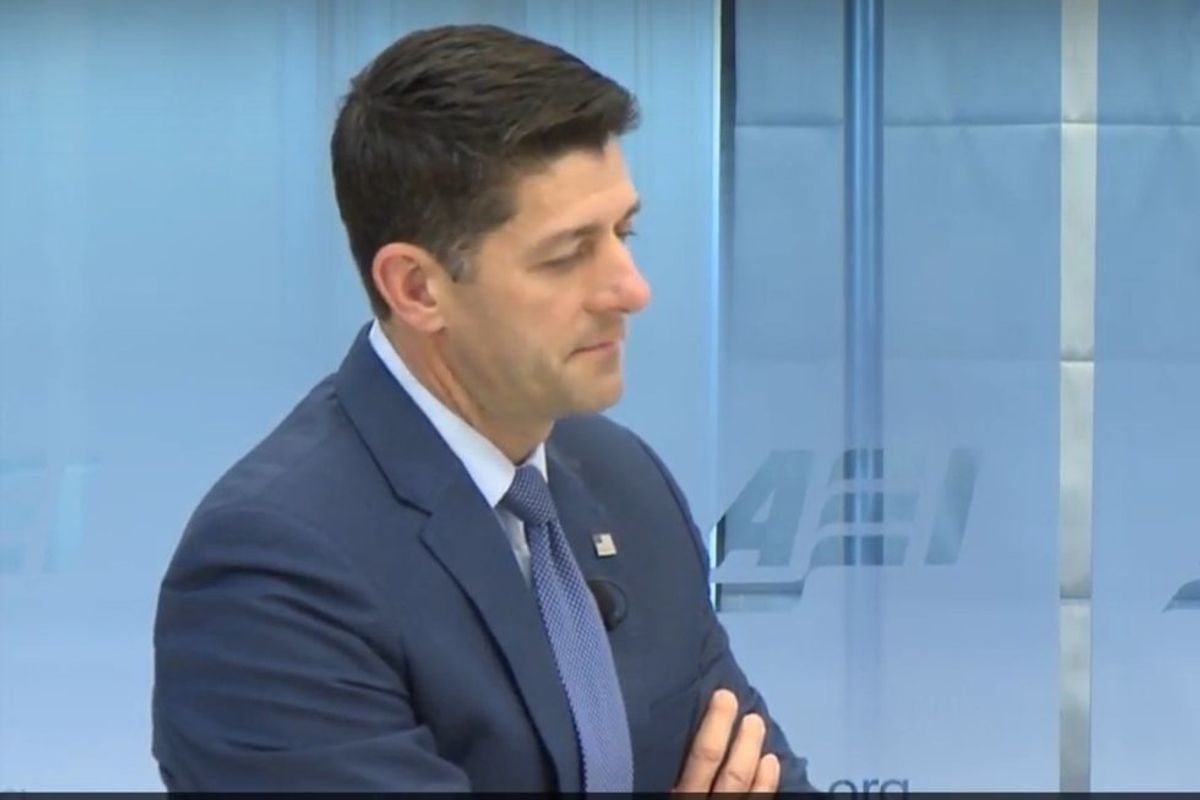 Now that Paul Ryan has crawled out of Congress like an invertebrate abandoning its shell, he feels fully empowered to say slightly mean things about Donald Trump. Ryan got down and dirty with Tim Alberta for his new book American Carnage, the latest in a series of books that reveal nothing we couldn't already guess: The president is a deranged gangster and the Republican Party is a bunch of spineless sycophants.
Ryan told Alberta how happy he is to have traded his "power suits for a blue vest." He couldn't bear the idea of another two years with Trump and considered retirement -- that thing rich people get to do -- his "escape hatch." Ayn Rand's boy toy is a real profile in courage: He was set to lose his gavel in 2019 anyway. But grab some tissues. Here's Ryan on the current state of thenation.
GUTLESS COWARD: We've gotten so numbed by it all. Not in government, but where we live our lives, we have a responsibility to try and rebuild. Don't call a woman a 'horse face.' Don't cheat on your wife. Don't cheat on anything. Be a good person. Set a good example.
Zzzzzzzz.... sorry, we dozed off there. Can we skip to the part where Ryan's evil? The former House speaker wasn't a passive participant in 2016's Election Day horror show. He did everything in his power to help Trump win. Ryan might've laughed behind closed doors over how Trump was on Putin's payroll, but he still publicly endorsed him. He spent the general election bashing Hillary Clinton as a threat to national security with all her commie competence and shrewish mental stability.
---
It is my firm belief that Sec. Clinton should be denied access to classified information. https://t.co/UDv32Zbt0T https://t.co/FhFOYiFgY0

— Paul Ryan (@Paul Ryan) 1467811207.0
Ryan even reached out to the kids to oldsplain how awful the 1990s were under the Clinton regime. (Conservative Gen-Xers like Ryan prefer the '80s to the '90s and thus should never be trusted with power.)
RYAN: The point I keep trying to make to younger voters who did not live through the 1990s is that this is what life with the Clintons looks like: It's always a scandal, one after another. Then there is an investigation. They live beyond the rules, and they live to work the system to help themselves, to help Clinton Inc.
Yeah, we really dodged a bullet there. Hillary would've had us dancing the macarena again. Now, we've got concentration camps. Ryan conjured a false version of the Clinton years -- a time of peace, prosperity, and "Friends" -- that proved an accurate description of any random hour from the Trump administration.
Clinton is often criticized for not campaigning in Wisconsin, but Ryan lived there. Trump won the state by just 22,748 votes. He claimed he wouldn't defend or campaign for Trump after the "Access Hollywood" tape, but dragging Clinton and pretending Trump would somehow be normal as president was what brought rank-and-file Republicans home.
Ryan suggested to Alberta that he rolled up his sleeves and tried to teach the racist monkey how to president. We all know how well that went.
GUTLESS COWARD: I told myself I gotta have a relationship with this guy to help him get his mind right. Because, I'm telling you, he didn't know anything about government . . . I wanted to scold him all the time.
He wanted to "scold" Trump? That sounds kinkier than he probably intended. Trump needed remedial president training, but hey, Clinton would've returned us to a period of plague, famine, and Dave Matthews. What other choice did Ryan have? He laughably thinks he's "telling" us something when he reveals that Trump doesn't know a damn thing about government. Everyone knew that but Republicans didn't care. They just needed someone with functioning fingers to sign their tax scam bills.
Ryan had multiple orgasms while expressing his delight over Trump's tainted victory. He called it the "most incredible political feat" of his lifetime. He knew Donald was a dullard, but like all other Vichy Republicans, Ryan thought he could control Trump like he was a common George W. Bush. His frustration is not that Trump is awful. They knew that going in. They don't care about suffering migrant children. They resent the mean tweets and his consistent refusal to take orders from them.
GUTLESS COWARD: Those of us around him really helped to stop him from making bad decisions. All the time.
Stop it. That shit didn't work at the Nuremberg trials: "Hey, man, it could've been so much worse. I swear he was building a giant robot with laser eyes. I stopped that."
GUTLESS COWARD: We helped him make much better decisions, which were contrary to kind of what his knee-jerk reaction was. Now I think he's making some of these knee-jerk reactions.
Even if this were true -- and it's not -- shouldn't Ryan have remained in Congress so he could help President Monkeybrains make "better decisions"? This is like a "Frankenstein" movie where the doctor sees his godless creation killing half the countryside, so he just shrugs and retires to the lucrative private sector.
Screw you forever, Paul Ryan.
Follow Stephen Robinson on Twitter.
Yr Wonkette is supported by reader donations. Please send us money to keep the writers paid and the servers humming. Thank you, we love you.
Stephen Robinson
Stephen Robinson is a writer and social kibbitzer based in Portland, Oregon. He writes make believe for Cafe Nordo, an immersive theatre space in Seattle. Once, he wrote a novel called "Mahogany Slade," which you should read or at least buy. He's also on the board of the Portland Playhouse theatre. His son describes him as a "play typer guy."