Paul Ryan Said A Bad About President Trump. Wonkagenda For Tues., March 14, 2017
Elections
March 14, 2017 09:17 AM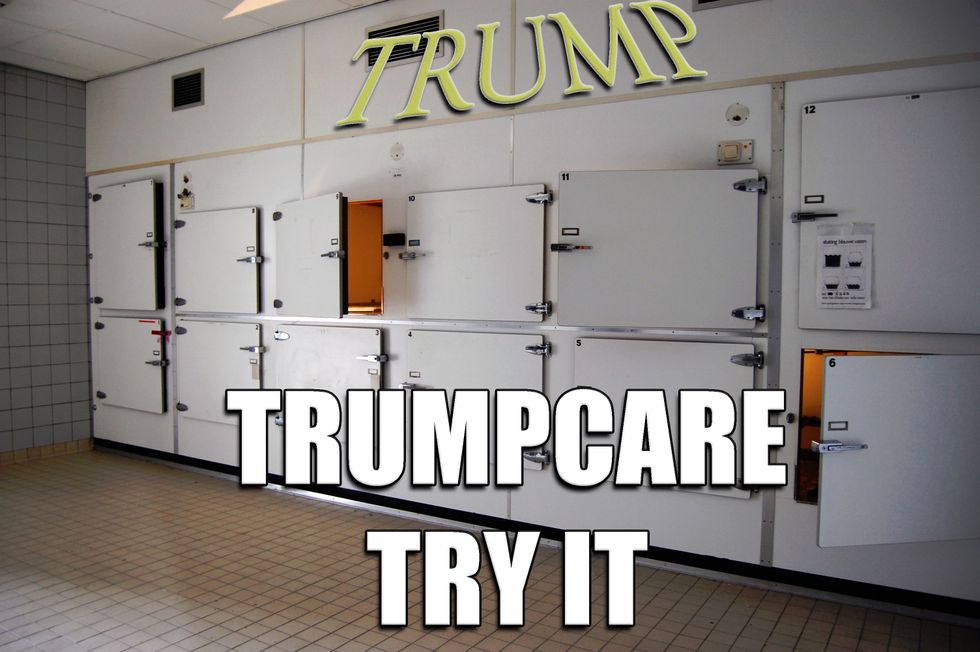 Morning Wonketariat! Those filthy hippy LIBERAL Nor'Easterners are getting a little SNOWFLAKE so governments are shutting down, but that won't stop us! (Because we don't live there.) Here's some of the things we may be talking about today.
---
Republicans are losing their minds this morning trying to convince people that the big, fat mess of TrumpCare/RyanCare is actually a delicious shit sandwich.
Trump's White House made its own analysis of Trump/Ryan Care and, by its estimate, even MORE people will lose health insurance than predicted by the CBO!
Trump's budget is laced with bloated funding for the Tortilla Curtain, golden showers for the military and cuts to Planned Parenthood, prompting Democrats to rip another page out of the Republican playbook and threaten a government shutdown.
The House Intelligence Committee has given Trump more time to find evidence Obama was using microwaves to spy "not spy" on Trump Tower during the election, but Jeff Sessions's Justice Department wants more time to find "evidence."
Rex Tillerson used an alias email address as CEO of ExxonMobil, and is now under investigation by New York A.G. Eric Schneiderman for giving false information.
Jared Kushner is set to make a shitload of money by selling his building at 666 5th Avenue in New York to a Chinese firm that has a history of being involved in some seriously sketchy deals. [MORNING MADDOW!]
Trump has given the CIA the power to launch drone strikes because the Pentagon apparently doesn't know shit about paramilitary operations. [Archive]
The NRA is buying up air time on teevees to run ads in favor of Neil Gorsuch in the hopes he'll defend their right to stand and deliver non-prejudicial, non-racially biased civil justice with assault rifles outfitted with dildo hand grips.
Congressional maps in North Carolina, Maryland, and Texas are being challenged ahead of the 2018 election because they are the textbook definitions of gerrymandering.
Hey guys! Are you a business? Has Donald Trump tweeted how sad and pathetic you are? Then you need to call Corey Lewandowski, a "tweet risk" specialist who can (for a fee) help you finally find peace of mind in these troubling times! After all, you wouldn't want Trump to tweet anything BAD about you, dwouldo you?

WOULD YOU?

Not-American-looking people (who secretly ARE American) are being stopped by border patrol agents when they try to enter the country and having their phones seized and searched because this is 'Murica! FREEDOM! MONSTER TRUCKS! USA! USA!
President Bannon decreed an order from atop his throne for Breitbart to release a super secret phone call of Paul Ryan bailing on support of Trump after PussyGate. LOLOLOL!
Donald Trump wants the LIBERAL White House Press Corps to decide where he sends his presidential paycheck, and I can't think of a better place than Planned Parenthood, or Doctors Without Borders, homeless shelters, Pro Publica, scholarships for immigrants...
Inauguration Day protesters are hoping to have charges dropped because the crimes they may have possibly committed are really vague and full of bad lawyerings.
Newt Gingrich is SO FUCKING BUTTHURT about the CBO that he's demanding the CBO be abolished for trashing Trump/RyanCare.
What's China doing now that Trump has run away from the Asia-Pacific region? Oh, nothing really, just whispering sweet Not-American nothings in the ears of all our friends with benefits.
The U.K. Parliament said "Fuck it," and voted to trigger Article 50, AKA sleeping in their dirty, nationalist Brexit beds. So long, and thanks for all the fish!
Here's your Late Night Wrap-Up! Seth Meyers took A Closer Look at TrumpCare's promise-filled Abbot and Costello routine; and then got a special gift from Glenn Close for his dog; Colbertused his microwave to talk to B. Barry Bamz, then he spoke with NOT RUSSIAN hacker Guccifer 2.0;Jimmy Kimmel wondered what your microwave actually sees; and Trevor Noah 'splainered how South Korea's political collapse has given us the best teevee EVER.
And here's your morning Nice Time! KOALAS!
Wonkette is ad-free, up ass-early, and supported by readers like you.
Dominic Gwinn
Dominic is a broke journalist in Chicago. You can find him in a dirty bar talking to weirdos, or in a gutter taking photos.