Paul Ryan Uses Doublespeak To Explain Obamacare Repeal. Wonkagenda for Friday, January 13, 2017
POTUS
January 13, 2017 09:02 AM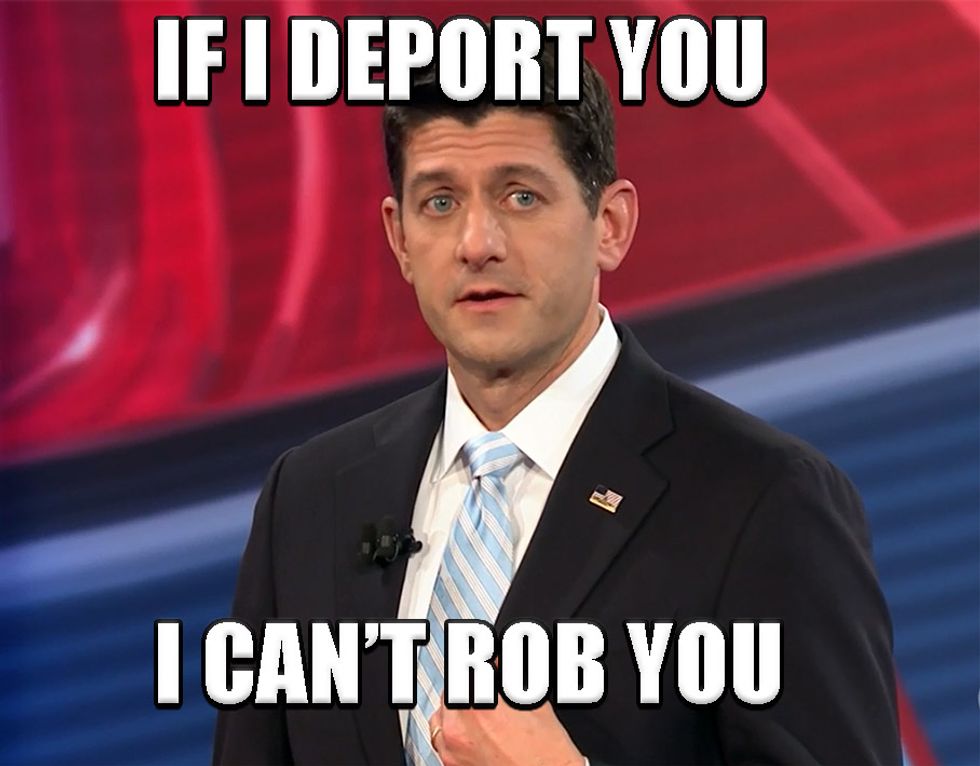 And that's just bad business!
---
Well hello there, Wonketariate! Yr Wonket got sick from watching so much C-SPAN, but we're a lot better now. Here are some of the things we may be talking about today!
Paul Ryan did a talk thing last night where he told all the little children he wouldn't be deporting all their Messican parents with a jack-booted secret police force, but he IS going to take all your Obamacare away as soon as possible. He also said he didn't want to ban lobbyists because of cancer, and olds, and stuff.
Old Handsome Joe Biden says that both he and Obama were briefed on the dossier ALLEGING Trump's warm winter night with Russian pee hookers because top intelligence officials felt they should know before James Comey or the Springfield Shopper spilled the beans to Trump.
Trump's also been a busy Twitter shitter this morning, firing off crap loads of denials and nonsense that we're going to just going to laugh at.
WaPo's reporting that, on the day Obama told a bunch of Russian spies to GTFO, Trump's appointed national security advisor Michael Flynn called Russian ambassador Sergey Kislyak a few times, possibly violating the Logan Act. RUH-ROH, gang, looks like the phantom Russian spaceman was Mike Flynn all along!
C-SPAN's feed was temporarily interrupted by RT, the Russian propaganda channel that stupid people think is real news, while Rep. Maxine Waters was criticizing Republicans for trying to cut the balls off the Securities Exchange Commission. COINCIDENCE?
Rudy Giuliani will act as a cybersecurity adviser in Trump's administration; this way NO ONE will know how much pee hooker porn Trump watches between his Twitter rants
Jason Chaffetz is threatening to Bengazhi-email investigate Walter Shaub, head of the Office of Government Ethics, because Shaub said mean things about Trump's half-assed scam to "divest" himself from his businesses.
Trump loves a clothing company that gave him lots of money so he tweeted an endorsement, which is stupid amounts of illegal for Federal employees, but he's the President so it's not illegal.
As the House gets set to vote on a budget plan that could pick apart Obamacare today, there's a chance it could fail, but you could also call your Congress critter and tell them to vote against the measure.
The House Liberty Caucus is urging a rejection of the Senate-passed budget resolution intended to pick apart Obamacare -- not because they like Obamacare (*wink*), but because the books don't balance, and the debt increases.
Obama just erected his own watery immigration wall and is ending the amnesty program for Cuban migrants in an attempt to further normalize political relations with Cuba. "Wet foot/ dry foot" isn't going to be on the civics test anymore.
Israeli intelligence officials have been warned not to trust a Trump administration because of Trump's fondness for a bunch of Russians who are allied with killing Israel. Oy vey!
The Justice Department is expected to release a report today detailing civil rights violations perpetrated by the Chicago Police Department. There's no joke here: historically speaking, CPD has been very fucked up and that's just sad for those cops that actually try to be decent human beings.
Once upon a time in Las Vegas, Tomi Lahren was once a rational person with a college teevee show where she acknowledged climate change and didn't blame gun control on spooky brown people from Not America. Apparently things don't stay in Vegas once they reach the Internet.
California state legislators are proposing a "media literacy" curriculum to teach kids not to be dicks on the Interwebs, how to spot fake news, and to practice good "digital citizenship," whatever that is.
Alec Baldwin might make his Trump impersonation even more bigly as he is in talks to "further express [his] gratitude and admiration for the Trump administration." INARTICULATE YELLING!
There are 1,000 more buses seeking parking permits for the Women's March than for the inauguration, and the National Park Service is expecting 28 groups and 350,000 protesters, with many D.C. area businesses planning on accommodating more protesters than inaugural attendees. But remember: classy people don't take buses.
After being You're Fired by Trump's inaugural committee for not being a hiked-skirt blonde with big, fake boobs, nice old inaugural parade announcer Charlie Brotman has a new gig with NBC's Washington D.C. affiliate. Yay! Nice times!
Obama made some MORE national monuments in an effort to "preserve critical chapters of our country's history," which is really just secret Muslim code for, "Good luck stopping all the cool shit I've done in the last few weeks." THANKS, OBAMA!
And here's some extra special bonus Nice Time: Samantha Bee talking about Trump's pee hookers!

And now, your morning Nice Time: A spotted deer from the Philippines! Better catch it quick before Duterte accuses it of drug smuggling!
Dominic Gwinn
Dominic is a broke journalist in Chicago. You can find him in a dirty bar talking to weirdos, or in a gutter taking photos.