Paultards Traumatized By Rand Paul's Romney Endorsement
News
June 08, 2012 04:45 PM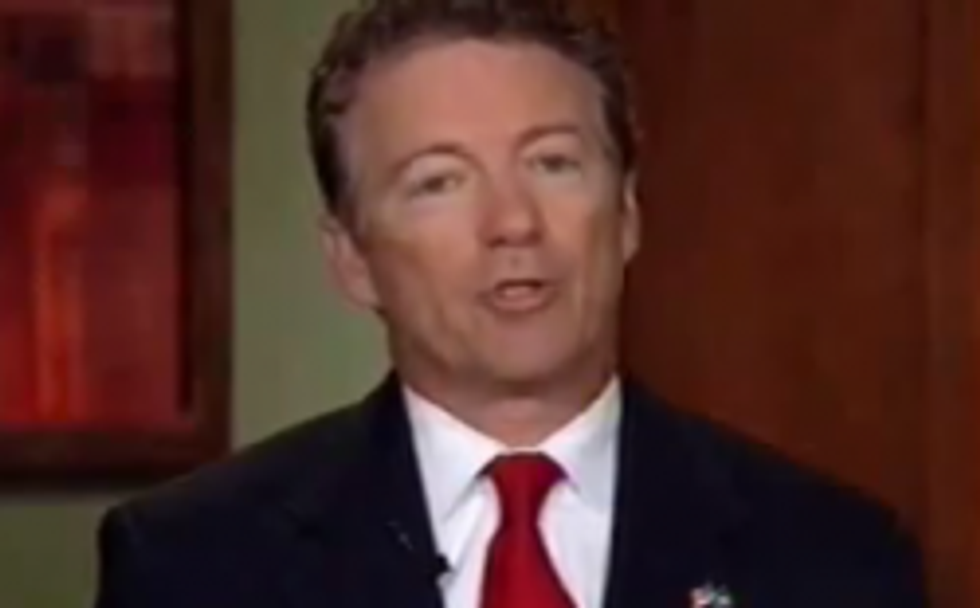 Well, tragedy has struck in Ron Paul's kingdom. Rand Paul endorsed Mitt Romney Thursday night on Sean Hannity's show, presumably because he has been promised some high-profile position in Mitt's Barbie and Ken's Dream House™ cabinet. While those pioneering philosophers over at the Washington Post seriously ponder "what" Rand Paul's endorsement "means" (absolute f#*&-all), other, better people have begun to tentatively trawl The Daily Paul for some commenter takes on what it means for Ron Paul's supporters. The Atlantic Wire's exceedingly polite collection: "Rand Paul is dead to me," "All he had to do was not open his mouth," and "We will never vote for Mitt Romney or your flimsy son." We can and will do better than this.
---
So, here we go:
would ron paul being the vp help.????? they have little power and no influence over policy unless... uh romney were to die.
Rand is a war monger and a neo con. He has betrayed us all.
Romney created a job!!! the one Rand just gave Hannity...of the Blow type...probably created a B job for rand in that 30 minute meeting too.
It's one thing to criticize political candidates, but another to claim apocalypse without the slighest suggestion of a solution: begone, insubstantial coward!
DID IT EVER OCCUR TO YOU THAT THE ESTABLISHMENT COULD BE USING RON PAUL'S SUPPORTERS TO DESTROY RAND PAUL'S CAREER? LOOK AT RAND'S FACE IN THIS SO-CALLED "ENDORSEMENT". HE DOESN'T LOOK HAPPY ABOUT IT TO ME. I'D BET MONEY THEY'VE BEEN THREATENED AND ARE USING THIS ENDORSEMENT TO RUIN RAND'S CAREER.
There's no indication that Dr. Ron did anything wrong here; if anything he likely supported his son's right to be free.
The only way I'd support Romney is if he did the right thing and backed down to make way for President Ron Paul. There's NO other way.
I've officially stopped following the "race"...as I now know, your votes count for nothing...it's all about who licks and kisses the hand of power and Rand has tasted the nectar early and often and cannot help himself...his carnal mind has taken over.
Shove it up your ass, Rand.
Let's shove Mitt up Rand's ass, problem solved.