Pence Summons Republican Swamp Monster. Wonkagenda For Fri., June 16, 2017
Elections
June 16, 2017 09:31 AM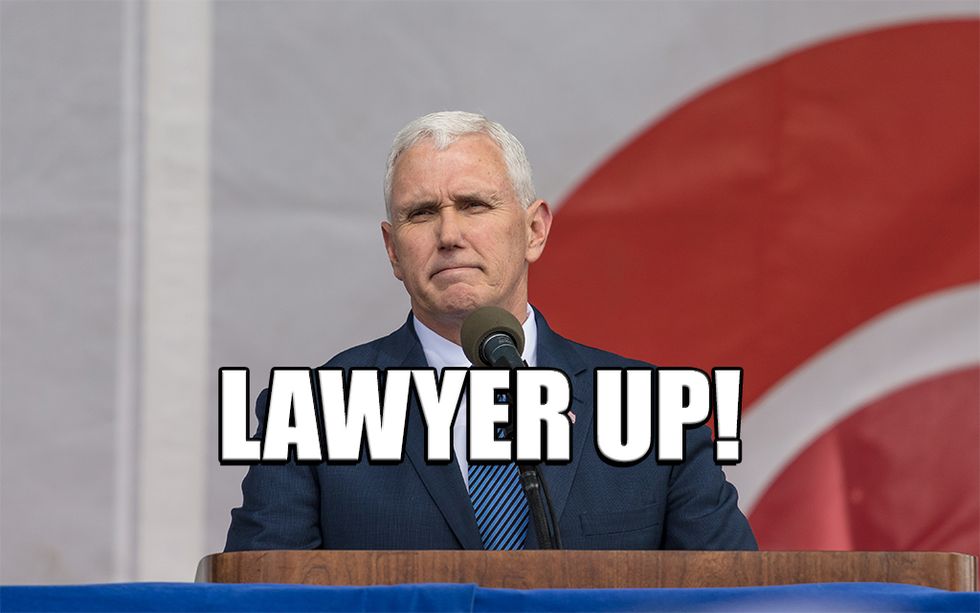 Morning Wonketariat! Here's some of the things we may be talking about today.
---
Buzzfeed has published a massive two-year investigation into over a dozen Russian assassinations in the U.K., and how officials are terrified of pointing fingers at the conjoined forces of the Kremlin and Russian mafia. Go refill your coffee, this is some damn fine journalism.
Robert Mueller may simply just follow the money of ALLEGED Russian mobsters who have had Trump Tower apartments, as many of the people recruited for the investigation specialize in money fraud, banking crimes.
Trump's transition team has been ordered to hang on to documents related to the Trump-Russia investigation, as well as records involving Paul Manafort, Rick Gates, Michael Flynn, Carter Page, and Roger Stone, assuming of course that they haven't already been burning every last scrap of shredded paper.
White House staffers are keeping their heads low as Trump fires off mean tweets and screams at cable news, and randomly reminds everyone that he's totally innocent.
Mike Pence has lawyered up with a guy who has a history of helping Republican leaders under serious criminal investigations, like Nixon, and Reagan, which means he's a hell of a lot better than Trump's lawyer, and way more connected in Washington. [Morning Maddow!]
Prince Kushner is also under investigation by Robert Mueller as the would-be boy king has more than a few sketchy business deals and meetings.
A lobbyist for Russian interests is calling bullshit on Jeff Sessions and is talking about several dinners he attended held by Sessions during the 2016 campaign.
The Senate might miss its July 4th deadline to try and double-secret pass zombie TrumpCare/WealthCare.
Homeland Security Secretary John Kelly has pulled an Obama-era DACA memo that gave cover to the parents of children born in the U.S. from being deported. Thanks, dick.
Trump is appointing his kids' wedding planner to the head of Housing and Urban Development's Region II, presumably because her fake law degree and experience planning golf tournaments have prepared her to manage billions of dollars in federal housing programs for millions of people in New York and New Jersey.
Deputy Attorney General Rod Rosenstein sent out a weird memo last night that says you shouldn't trust anonymous sources releasing things from Not American governments with questionable motives, and that has everyone wondering just how bad the pee pee tape actually is.
Princess Ivanka will be spearheading Trump's Executive Order to cram apprenticeships down the throats of school children. This is ... not necessarily a bad thing???!!! That's weird.
Trump has appointed Kelly Knight Craft as ambassador to Canada. Craft personally donated $265,000 to a Trump campaign group, is a good friend of Mitch McConnell, her husband is a billionaire coal magnate and they've both served as fundraisers for Bush 43 and Mittens presidential campaigns. I wonder if she knows Canadians don't speak American?
UNCONFIRMED reports out of Russia are claiming that a Russian-led air strike has killed Abu Bakr al-Baghdadi, the leader of ISIS/ISL/IS/whatever. WOAH, if true.
MEANWHILE the US is sending 4,000 more troops to Afghanistan to fight terrorists who are fighting the US because we keep sending in soldiers to fight the terrorists.
A US student imprisoned and sentenced to a labor camp by North Korea for attempting to take a propaganda poster was released earlier this week, and (surprise!) he has suffered "extensive loss of brain tissue in all regions of the brain," which may or may not be why he's been in a fucking coma for over a year.
Trump is going to roll back Obama's Cuban policies because the US doesn't do business with terrorists or communists (unless it's conducted inside a shady room deep within the bowels of a Trump property, the Russian embassy, the Seychelles, Ukraine, Saudi Arabia, the UAE, etc.).
Cuban President Raul Castro has decided not to seek a third term, which has political science nerds salivating at the possibilities.
GOOD NEWS, EVERYONE! Serbia has elected its first gay lady prime minister! Hurray!
Albuquerque's mayoral elections have become a hot mess after a mayoral hopeful alleged improper vetting of campaign signatures, leading the city clerk to seek a protective order against the candidate's daughter who has ALLEGEDLY been stalking the clerk like a bad horror movie.
Jon Ossoff is pulling ahead in the polls and raising buttloads of money, and that's making the Democratic party reconsider a few things.
Former DC council member Jim Graham has died at 71. Graham left politics in 2014 during a corruption scandal the saw him officially reprimanded by the City Council, but had a storied history throughout the city. Graham helped combat the AIDS epidemic in DC throughout the '80s and '90s, was the second openly gay council member in DC, and helped revitalize much of the city, while somehow pulling off the snazzy bow-ties and glasses look.
Alex Jones has "leaked" the audio of his pre-interview with Megyn Kelly to protect himself from looking like an asshole.
Ted Nugent appears to have had a "Come to Jeebus" moment after the shooting in Alexandria, telling some folks on the teevee without pictures that he won't say "anything that can be interpreted as condoning or referencing violence." Right. [h/t Raw Story / Audio]
And here's your late night wrap-up! The Daily Showtook a gander at zombie TrumpCare; Seth Meyers took A Closer Look at 'splainering health care too; Stephen Colbertschooled Trump on witch hunts; Jimmy Kimmelasked Andy Samberg if this was the greatest witch hunt ever.
And here's your morning Nice Time! It's ANOTHER adorable Egyptian tortoise!
We love you a lot, but we can't keep expressing it without all your money. GIVE US YOUR MONEY! (Please)
Dominic Gwinn
Dominic is a broke journalist in Chicago. You can find him in a dirty bar talking to weirdos, or in a gutter taking photos.