Person Woman Man Camera TV. Tabs, Thurs., July 23, 2020
News
July 23, 2020 08:00 AM
Tabs gifs by your friend Martini Ambassador!
House votes to remove Confederates from Capitol. (Courthouse News)
Missed one: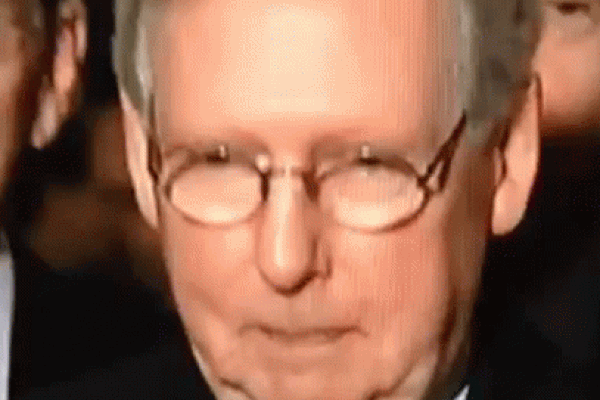 assets.rebelmouse.io
LOL:

Ken Cuccinelli (whose official title is "Senior Official Performing the Duties of the Deputy Secretary for the Department of Homeland Security")
But not LOL:
[Chad] Wolf affirmed [that he would be sending federal troops nationwide], telling Fox News that his agency can act with or without local cooperation. "I don't need invitations by the state, state mayors or state governors to do our job," he said. "We're going to do that, whether they like us there or not." President Trump likewise vowed to send federal law enforcement agents to several more cities, amid reports that a Portland-like force was headed to Chicago.
So, you know, just an invasion of like every American city, it's all fine. — Jamelle Bouie in the New York Times
Lafayette Square was a debacle ... so Trump took it national. Daniel Drezner has some theories on why. (Washington Post)
Wait, Chicago and Albuquerque? — Politico
Kayleigh McEnany briefing transcript. Don't read it, obviously. (White House)
Oh hey, missed this on my pesky Monday off last week (we are doing four long days now, like firepeople!): Apparently the US attorney for Oregon referred the silly li'l "bring in federal law enforcement to shoot protesters in the face" to the DOJ IG. This is why you open *all the tabs*. (US Department of Justice)
I'm sure that will help, as they're now arresting attorney-moms who luckily already know their rights, since they're sure not reading them to them. (OregonLive)
Hey Liz, are "proactive arrests" a thing? No, they're not? Okay thank you. — Liz at Above the Law
---
Ninety-nine percent of Portland moms not angry, just disappointed. — Your friend CripDyke
So's the non-fascist career folks at DHS, now that they think about it. (Buzzfeed)
Let's make it easy on them: Abolish DHS. — Fred Kaplan at Slate
Even Defense Sec Mark Esper is concerned? Yeah, call bullshit on that. (Politico)
Republicans don't know what the fuck with another coronavirus spending bill, because they are bad at "government" and also at "people." — Politico
Same as above, Republicans embarrassing themselves on coronavirus bills, except in Slate. — Slate
Thirty million people unemployed, the GOP meeting to figure out what to do (dick-all) about it, and this is what Ted Cruz says out loud, with his mouth:
Cruz said the GOP should be focused on a safe restart of the economy. He said if the economy remains shuttered in November, Democrats will win both the White House and the Senate and that Republican senators, who usually meet in the ornate Mansfield Room in the Capitol, will "be meeting in a much smaller lunchroom" next year.
No, Twitter's not going to let you harass Chrissy Teigen for QAnon. She's valuable. You're puds. (NBCNews)

Ron Johnson blocked a bill to make Juneteenth a federal holiday because it would "cost too much." — Huffpost
Joni Ernst explains over and over again, like these dummies just can't even understand, that the difference between replacing Ruth Bader Ginsburg in the last year of a term, or even in a lameduck session after the election, and replacing Antonin Scalia in the last year of a term, is they are very different things: In one case, the president is a Republican. And in the other case, the president is not a Republican.
The Joni Ernst SCOTUS comments are much more stunning in the actual video. Watch the 2 minutes. Ernst's reasoning f… https://t.co/q9peBnjAkp

— Iowa Starting Line (@Iowa Starting Line)1595024765.0
Judge won't let South Carolina gov spend $32 million in coronavirus money on private school vouchers? RUDE. — Post and Courier
I ... okay CNN. "Trump's pick to head Office of Personnel Management spread 'satanic' conspiracy theory, called Democrats party of 'Islam' and 'gender-bending'"
Chris Frantz and Tina Weymouth "Remain in Love," GET IT GET IT you get it, you are old like me. (Salon)
That's hott.
Today is the feast day of Mary Magdalene. This is said to be her skull, which is kept in a glass dome in a crypt ou… https://t.co/PIV3jJBWhW

— Mark Rees (@Mark Rees)1595408162.0
Here's some more gross shit, like her flap of skin! — Magdalene Publishing
Also fuck it, let's re-create her face.
Is This the Face of Mary Magdalene? | National Geographic www.youtube.com
Okay thanks Buzzfeed: Here's the Deal With the Baby Witches Who Are Trying to Hex the Moon.
OH MY GOD DO NOT LISTEN TO THESE LUNATICS ON HOW TO MAKE POPSICLES YOU DON'T NEED FIFTY DIFFERENT PURCHASED ITEMS AND A FUCKING OSTERIZER BLENDER YOUR POPSICLES DON'T NEED TO BE ADORABLE AND CREATIVE THEY'RE GODDAMN POPSICLES FUCK IT SHOULD NEVER BE THAT HARD. (CNN)
Do your Amazon shopping through this link, because reasons.
Wonkette is ad-free and funded ONLY by YOU. I'm serious about those goddamn popsicles.
Rebecca Schoenkopf
Rebecca Schoenkopf is the owner, publisher, and editrix of Wonkette. She is a nice lady, SHUT UP YUH HUH. She is very tired with this fucking nonsense all of the time, and it would be terrific if you sent money to keep this bitch afloat. She is on maternity leave until 2033.