Person. Woman. Man. DEMOCRATS ARE GOING TO STEAL ALL THE ANIMALS ... TV!
Trump
August 13, 2020 04:24 PM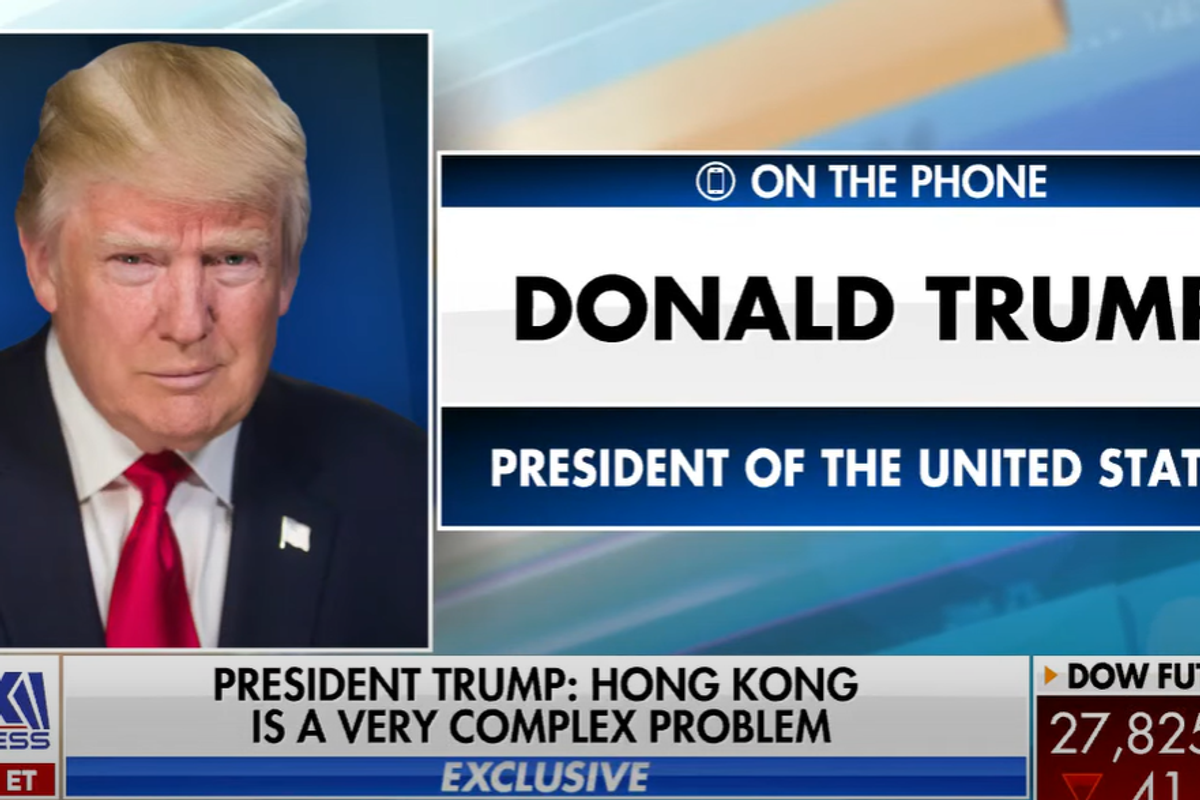 One of the big headlines from Donald Trump's therapy session with Maria Bartiromo on Fox Business this morning was when he admitted out loud that yes, he's fucking with and withholding funding from the post office in order to prevent people from voting, like had he not been clear about that? He also admitted it during his "coronavirus" press conference Wednesday. Trump does like to say the quiet part loud.
Trump explained some other important things to Bartiromo, though, on top of calling Kamala Harris a "mad woman" because she was TOO MEAN to noted beer-lover Brett Kavanaugh. Like, did you know that because of the "New Green Deal," which is what he called it, they are going to TEAR DOWN THE WHOLE EMPIRE STATE BUILDING? Because "too much light gets through the windows," he said, they're going to have to do a new Empire State Building with no windows, obviously! And did you know that also because of the "New Green Deal," all animals will be banned?
Let President Word-Understander tell you:
---
[ia_video https://s3.amazonaws.com/roar-assets-auto.rbl.ms/runner%2F19102-trumpcows.mp4 source="https://s3.amazonaws.com/roar-assets-auto.rbl.ms/runner%2F19102-trumpcows.mp4" autoplay=true feedbacks=true shortcode_id=1597347174803 expand=1 ]
"They don't want to have cows, they don't want to have any form of animals."
That's right. They're going to take the cows, and they are also going to take away "any form of animals." For the "New Green Deal."
Look, it is easy to laugh at this stuff, because Trump is so functionally illiterate and doesn't even try to understand things. For God's sake, he's still bitching about how toilets no longer flush and he can't even wash the syphilitic wombat he calls his hair, because of how showerheads just don't get his P-word wet enough these days.
But this is VERY SRS BSNS from a VERY SRS PRESIDENT. He knows that the Democrats and AOC are going to steal all the woodland creatures, and that Joe Biden wants to hurt God and also hurt the Bible. And if you are stupid enough to believe him, well, then we guess you are just part of the bottomfeeder 30 percent of Americans he counts as his functionally illiterate deplorable base. Congratulations! Please pick up your door prize on your way out, spoiler, it's a new strain of coronavirus.
Elsewhere in the interview, Maria Bartiromo, who is just absolutely vile because she pretends to be a real news person, goosed Trump right in his authoritarian asscrack, as she shouted at Trump that "there was still a coup against you!" and yelled more things about "criminality." "Where is John Durham, Mr. President, where is John Durham!"
This led Trump off into a fantasy-fapping-land where he whined that he hopes Durham, who is leading Attorney General Bill Barr's Kremlin-style investigation into the investigation of the Russian attack on the 2016 election for Trump's benefit, does not end up being "politically correct." He said "President Obama knew everything" and "Vice President Biden, as dumb as he may be, knew everything."
And in case we are not sure what Trump wants, he went and issued a shouty mafia-licious threat to Bill Barr, encouraging him not to just go after the "lower guys." He continued:
TRUMP: Bill Barr can go down as the greatest attorney general in the history of our country, or he can go down as just an average guy. It depends on what's going to happen!
You know, in case Bill Barr wasn't sure what Trump Jong-Un wants him to do. (He wants him to prosecute Barack Obama and Joe Biden, the way his KGB handler Putin does, in Russia.)
"Barr has a chance to be the greatest of all time. But if he wants to be politically correct, he'll be just another… https://t.co/0xjmndZm14

— Aaron Rupar (@Aaron Rupar) 1597328849.0
In the same interview, Trump called Alexandria Ocasio-Cortez a "poor student." Yes, the man who reportedly made his sister do his homework and paid a guy to take his SATs and brags incessantly about how he got a perfect score on a dementia test — probably paid a guy to take that one too — thinks AOC is very dumb. The guy who has been hellbent on hiding his college records for almost a decade now.That guy.

To which she replied:
Let's make a deal, Mr. President: You release your college transcript, I'll release mine, and we'll see who was th… https://t.co/gPJzNpAcfe

— Alexandria Ocasio-Cortez (@Alexandria Ocasio-Cortez) 1597328139.0
In summary and in conclusion, America: Do you want to live in a world where BARACK OBAMA WALKS FREE AND THERE ARE NO ANIMALS AND THE EMPIRE STATE BUILDING HAS NO WINDOWS AND JOE BIDEN MURDERS GOD ALL DAY?
Or do you want to just die painfully and alone of coronavirus in Trump's shithole Kremlin-ized version of America?
YOUR CHOICE, but we should let you know that the Democrats are not going to ban animals or tear down the Empire State Building, and if Joe Biden tries any malarkey with the baby Jesus, well then, we'll just have to give him a talking-to about that.
OPEN THREAD.
Follow Evan Hurst on Twitter RIGHT HERE, DO IT RIGHT HERE!
Wonkette is fully funded by readers like YOU. If you love Wonkette, WE NEED YOUR LOVE GIFTS TO KEEP US GOING.

Evan Hurst
Evan Hurst is the managing editor of Wonkette, which means he is the boss of you, unless you are Rebecca, who is boss of him. His dog Lula is judging you right now.
Follow him on Twitter RIGHT HERE.