Playboy To Go Never-Nude In 2016. We'll Be Grieving In Our Bunk
News
October 13, 2015 04:05 PM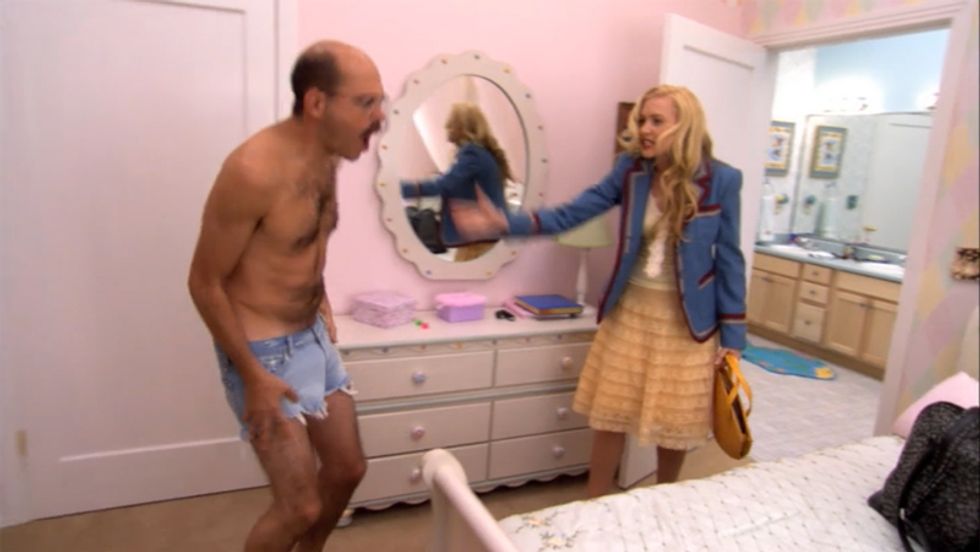 When did Tobias Fünke become a publishing consultant?
---
When we saw the headline "Playboy says it will no longer print images of nude women" in our newsfeed Tuesday, we were pretty sure it had to be from one of those dollar-store imitations of The Onion, not the real Boston Globe. And yet, it is true: An era of publishing and American Culture is coming to an end, with a focus-group-driven whimper and no more banging at all. As of March 2016, Playboy will stop running naked lady pictures. This is even sadder than the near-death of Blingee, which never allowed sparkly nudes anyway.
[contextly_sidebar id="m8rnaIkB7DixBkJUg6lsk6XAnLT5WQ0A"]
According to the Globe's reporting (HA-HA, "globes!"), the decision was all about trying to keep a men's magazine afloat when what had been its chief attraction, nekkid ladies, are now available for at a million porn sites, making the very concept of a stroke magazine superfluous. Or as the Globe (snerk!) puts it in business terms:
Its executives admit that Playboy has been overtaken by the changes it pioneered. "That battle has been fought and won," said Scott Flanders, the company's chief executive. "You're now one click away from every sex act imaginable for free. And so it's just passé at this juncture."
There's simply no money in glossy dead-trees soft porn anymore, it seems, and Playboy now makes most of its money from licensing its name and logo anyway, not selling magazines. But the magazine's sales have dropped from a 1975 circulation of 5.6 million to a pathetic 800,000 today. And Norman Mailer isn't doing any more interviews. The article notes that "Penthouse, perhaps the most famous Playboy competitor, responded to the threat from digital pornography by turning even more explicit. It never recovered."
So now Playboy is going to "feature women in provocative poses. But they will no longer be fully nude," plus a lot more stuff about cars, liquor, and "lifestyle." And it will still feature interviews and, as one commenter on the Globe story put it, "second rate fiction from first rate authors." You'll have no choice but to read it for the articles.
Weirdly enough, getting rid of the nudity, so the magazine can be sold out in the open on the magazine counter, may actually help the magazine survive. Dropping nudity from Playboy's website last year made it no longer Not Safe For Work and increased readership:
As a result, Playboy executives said, the average age of its reader dropped from 47 to just over 30, and its Web traffic jumped to about 16 million from about 4 million unique users per month.
And what will be in this Brave New Playboy, in addition to the PG-13 Playmates?
Its sex columnist, [editor Cory] Jones said, will be a "sex-positive female," writing enthusiastically about sex. And Playboy will continue its tradition of investigative journalism, in-depth interviews and fiction. The target audience, Flanders said, is young men who live in cities. "The difference between us and Vice," he said, "is that we're going after the guy with a job."
Yr Wonkette thinks of exactly three things when we think of Playboy:
A kid we knew who told us that he knew a place in the woods where some older kids had hidden some "naked lady books," and even at the tender age of nine or so, we wanted to correct him and point out that Playboy was a magazine, not a "book."

A guy hired by a neighbor's friend to cut up their lawn, roll up the sod, and install a new lawn had a covered trailer to carry off the sod rolls, and the inside of the trailer was papered with scores of Playboy centerfolds. Anyone driving down North 20th Street in Reedsport, Oregon, that summer afternoon would have wondered what on earth could possibly be so fascinating about yard work that a crowd of preadolescent boys would be crowded around a trailer, staring inside.

Our high school A.P. English teacher, Mrs. Foster, who had a whole file cabinet stuffed with Playboy interviews with authors and newsmakers, going back to the mid-1960, for students to use for research papers. The Joseph Heller, John Updike, and Kurt Vonnegut interviews might have helped us survive high school, geek that we were. Mrs. Foster was careful, in the rare cases where the opposite side of an interview page included a nude pic, to paste the potentially parent-offending page securely to a piece of black construction paper, darn her commitment to academic priorities. Somehow, we have a feeling that no teacher would dare keep a resource like that in her classroom anymore, and that makes us a little sad for kids who can find more information  -- not to mention porn -- more quickly and easily, but will miss out on the sense of being very grown up and using a Playboy (!!!) interview in a research paper.
The Globe points out that the company is doing OK but not great, even though its money isn't coming from magazine sales in the U.S.:
The magazine is profitable if money from licensed editions around the world is taken into account, Flanders said, but the US edition loses about $3 million a year. He sees it, he said, as a marketing expense. "It is our Fifth Avenue storefront," he said.
So pour out a 40 for all the nudes of yesteryear. Playboy's going respectable, because that's the only way to make a buck anymore. What a world, what a world.