Please Run For President, Mr. Santorum. Your Country's Mommy Blogs Need You
News
April 01, 2014 04:00 PM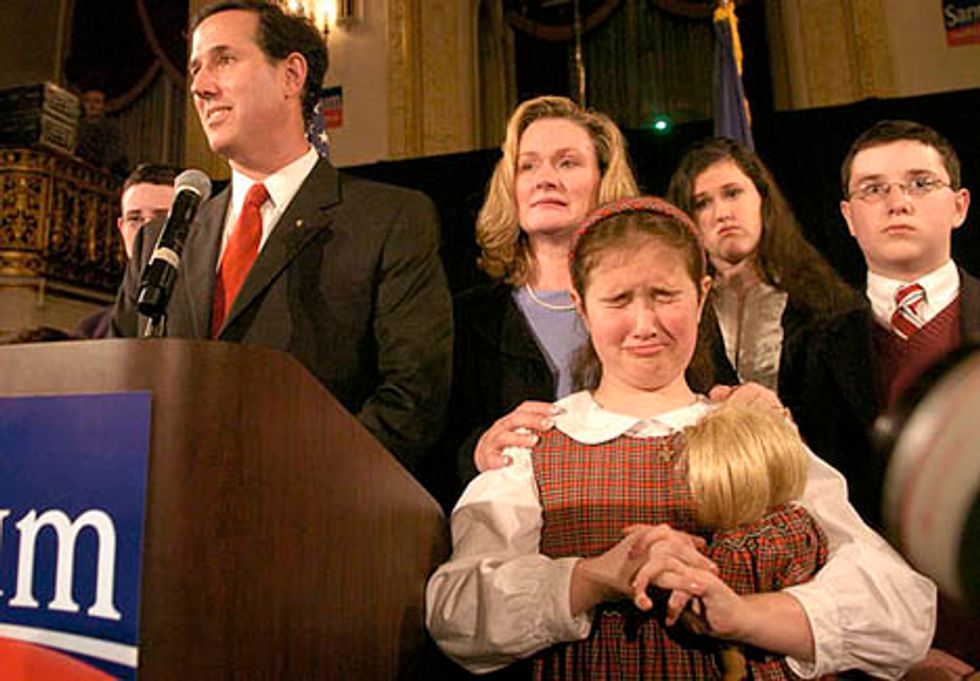 Rick Santorum, we need to talk about your future. We know you're having funplaying at being a movie producer, and apparently you like that part-time job enough that you mention it during your trips to Iowa. We don't know how great that studio of yours is doing, since you still seem to be talking about the one movie you've released as if it were still on the way, at least if this WaPo profile is accurate, and the other movie that you keep talking about went straight to the Hallmark Channel, not theaters. So we're not sure if film-making is in your blood, is what we're saying.
---
But being the most sanctimonious douchebag in a gaggle of sanctimonious douchebags? That, sir, is what you're good at. So stop the tease already and declare, will you?
The Washington Post's Ben Terris had the thankless job of following Rick Santorum around an Iowa appearance recently, and reports that he's at least going through the motions of preparing for a run -- visiting Iowa, mostly, and talking to the Washington Post about the machinery of making a decision. What do we learn about Our FrothFather this time around? For starters, even though in the last few elections, the Republicans have nominated the guy who was the runner-up two years previously, Santorum doesn't seem to have any such momentum, despite his status as 2012's Number Two.
But that's OK, because he likes being an underdog. Just not under or behind a dog, if you know what we mean (and we think you do). On the other hand, having finished as well as he did last time has made speaking fees on the Rightwing Grievance Circuit pretty attractive, so even if he doesn't run again, he's got a reliable brand, having elevated himself, as Terris says, from "a nobody to an almost somebody." And indeed, America is almost familiar with Rick Santorum ths time around, so he won't have to call too much attention to his belief that contraception gives people -- including married people, who should know better -- "a license to do things in a sexual realm that is counter to how things are supposed to be." We know him already, so we don't need to go on and on about how he literally said that tolerance of gay people is just about the same as endorsing the idea of men fucking dogs. He's a known quantity, so no one will have to remind people of his contempt for education, or point out his hypocrisy for trying to whip up resentment of people with college degrees, despite his having a BA, an MBA and a JD. we don't need to mention any of that, since he's a known quantity with a frothy consistency.
Plus, he's pretty sure that since he last ran, way back in 2012, "the culture has changed ... That's why I talk about those things differently." We aren't sure if he means "the culture" is friendlier to his views now, or less friendly, but either way, he thinks the smart money is in just being a regular blue collar guy wearing sweater vests and just being an ordinary dude who makes Christmas movies where everyone ends up pregnant at the end. In a regular-guy way.
What we are getting at, Rick Santorum, is that we don't care whether you feel called to run for President again. We're calling right now. We know that you have vast reserves of bullshit and sniveling that are just crying out to be put to use in your natural habitat: in the harsh glow of TV lights, surrounded by other people who are just as mean as you, but who you want to prove you are even meaner than. There are still several segments of the population you haven't alienated yet. You have work to do, Rick Santorum, and this little mommy blog wants to see you do it.
Just don't splash any on us, OK?
[WaPo]
Follow Doktor Zoom on Twitter. He promises he'll never let himself be photographed eating a corndog. Did he say "never? He meant "always."