POLITICO: Chamber Of Commerce Says Chamber Of Commerce Winning Everything
News
October 26, 2009 12:35 PM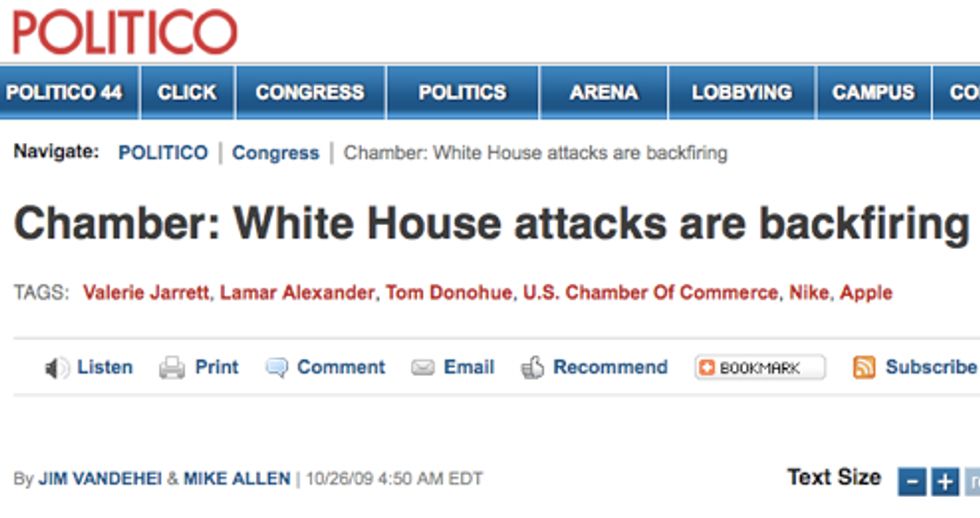 Today'sbig story from local acid rain compound Politico: the U.S. Chamber of Commerce declares itself immune to attacks from the liberal Apple Company and its "White House." And just when we were expecting CoC President Tom Donohue to declare "We are not worthy" and close his shop down permanently!
---
Tom Donohue also thinks that Obama is Richard Nixon, the reporting outlet Politico reports in its report:
POLITICO reported last week the White House wants to neuter the Chamber after clashes over health care, energy and financial regulation. Obama aides have been dealing directly with corporations and their CEOs rather than going through the Chamber, which has the slogan "Fighting for Your Business."

Senior White House adviser Valerie Jarrett has made clear to reporters that the West Wing is displeased with the Chamber. But pressed on Jarrett's comments, Donohue said: "Look, I am not getting in a fight with those guys." He did, however, go out of his way to highlight a speech on the Senate floor by Sen. Lamar Alexander (R-Tenn.), who warned Obama against brandishing a Nixon-style "enemies list."

"I thought it was a good piece of advice," Donohue added.
LEAVE THE INSANE LYING BUSINESS LOBBY ALONE, OBAMA!
Key Politico follow-up sentence of great importance, also, and also: "The White House is also trying to marginalize others, including Fox News, in addition to the Chamber."
It is clearly time to form another Church Committee.
Chamber: White House Attacks Are Backfiring [Politico]