Pompeo Denies Employees Were 'Walking My Dog To Sell Arms To My Dry Cleaner,' So It's Cool, Right?
White House
May 20, 2020 12:10 PM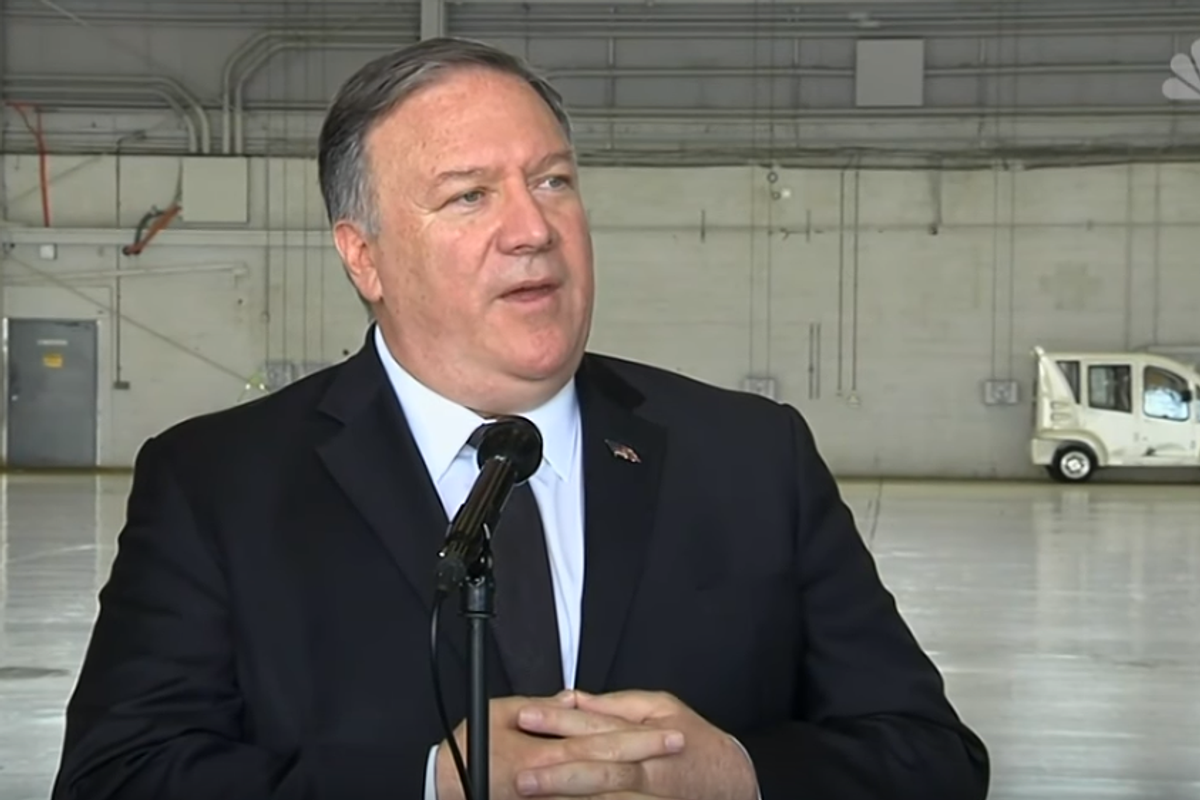 The Griftapalooza continues apace! Today's hog at the trough is Secretary of State Mike Pompeo, who was apparently using the State Department as a venue for a series of fancy dinner parties. Were you hoping to subsidize Mike Pompeo's political ambitions by hosting rich and powerful people for a little face time over cocktails and dinner at hundreds of taxpayer dollars a plate? Then today is your lucky day!
NBC reports that Pompeo and his wife, Susan, regularly hosted what they called "Madison Dinners" at the State Department, named for James Madison, the fourth president and fifth secretary of State. Subtle, huh?
Luminaries arrive at 6 to be escorted via private elevator for a guided tour of Diplomatic Reception Rooms, described as "a museum of U.S. diplomacy that includes the Benjamin Franklin State Dining Room, the Martha Washington Ladies' Lounge and the John Quincy Adams State Drawing Room." Then a photographer captures a commemorative photo in front of the fire as a harpist tinkles out background music during half an hour of cocktails curated to reflect the evening's theme, perhaps a drink "paying homage to the time of James and Dolley Madison, or French 75 cocktails might be served up in honor of Mardi Gras." Then the secretary and his wife start the sit-down dinner with a toast, because, after all, it's all about them.
---
After an hour or two of "building relationships and sharing intellectual thought to enrich our country and to further our diplomatic goals," the VIP guests are sent home with parting gifts of a journal and a pen, both emblazoned with the Madison Dinner logos. Just $41.75 in taxpayer money for the pair. What a deal!
And who are those VIPs? According to Department spokesliar Morgan Ortagus, "Invited guests have included many foreign diplomats, thought leaders, academics, government leaders at many levels, business leaders, Members of Congress and the media — each of whom has a stake in America and its leadership in the world."
Which is a weird way to to describe Dale Earnhardt, Jr., Reba McEntire, Brian Kilmeade, Karl Rove, and Chik-Fil-A CEO Dan Cathy. To be fair, Reba has a far better shot at solving middle east peace than Jared Kushner, on her worst day. But this Dan Cathy: Wasn't he, a major donor to anti-gay marriage initiatives, involved in one of former EPA head Scott Pruitt's crappy little grifts? He was. Welcome back, Dan!
NBC, which got the guest lists for the almost two dozen dinners already hosted plus events planned through October, reports that the vast majority of attendees were Republican donors or media figures who might be helpful to Pompeo's future political ambitions. Good thing those RSVPs and guest plans were routed through Susan Pompeo's personal Gmail, ensuring that she knows how to get in touch with all those VIPs later on, huh?
Twenty-three percent of invitees have been associated with media or entertainment, and another 30 percent are government types: current or former officials, members of Congress and judges and their spouses. Media figures skew heavily toward conservative TV personalities, with 39 percent of them from Fox News.

Only 14 percent are diplomats or foreign officials. More than 50 ambassadors show up on the guest list, with nearly two-thirds from countries in Europe and the Middle East and smaller numbers from Asia, Latin America and Africa.
What does this have to do with the mission of the State Department? Precious little! Which is why career employees and the Department's legal team were unhappy, and multiple congressional committees are currently investigating it. It's not clear whether State Department Inspector General Steve Linick, whom Pompeo pushed out last week, was also investigating it. We know that Linick was looking into possible illegal arms sales to Saudi Arabia and Pompeo's use of Department employees to run personal errands.
Or, as Pompeo put it at a press conference this morning, "I've seen the various stories that someone was walking my dog to sell arms to my dry cleaner. It's all just crazy." Which is not a denial that he stole government services by using taxpayer-funded employees to walk his dog when Mrs. Pompeo wasn't around to do the dishes, or that he contravened congressional authority to greenlight forbidden arms sales.
As for the so-called Madison dinners, NBC reports that last week Linick made a call to the Office of Protocol, which arranged them, and Pompeo demanded his ouster within two days. Post hoc does not ergo propter hoc, but it's not exactly a good look, either.
Pompeo refused to say whether he'll comply with congressional demands for information on the Linick firing by Friday. Spoiler alert ...
And, PS, mad props to NBC for the single funniest sentence we've read this week.
In the opinion of a senior Trump administration official who requested anonymity out of concern for retribution, "if the president knew about any of this, he would have fired Pompeo months ago."
Because if there's anyone who hates corruption, it's Donald Trump, right?
[NBC]
Follow Liz Dye on Twitter RIGHT HERE!

Please click here to support your Wonkette. And if you're ordering your quarantine goods on Amazon, this is the link to do it.
Liz Dye
Liz Dye lives in Baltimore with her wonderful husband and a houseful of teenagers. When she isn't being mad about a thing on the internet, she's hiding in plain sight in the carpool line. She's the one wearing yoga pants glaring at her phone.