Poor People Eat Regular Donuts, Rich People Brunch On Gourmet Doughnuts
October 08, 2010 03:08 PM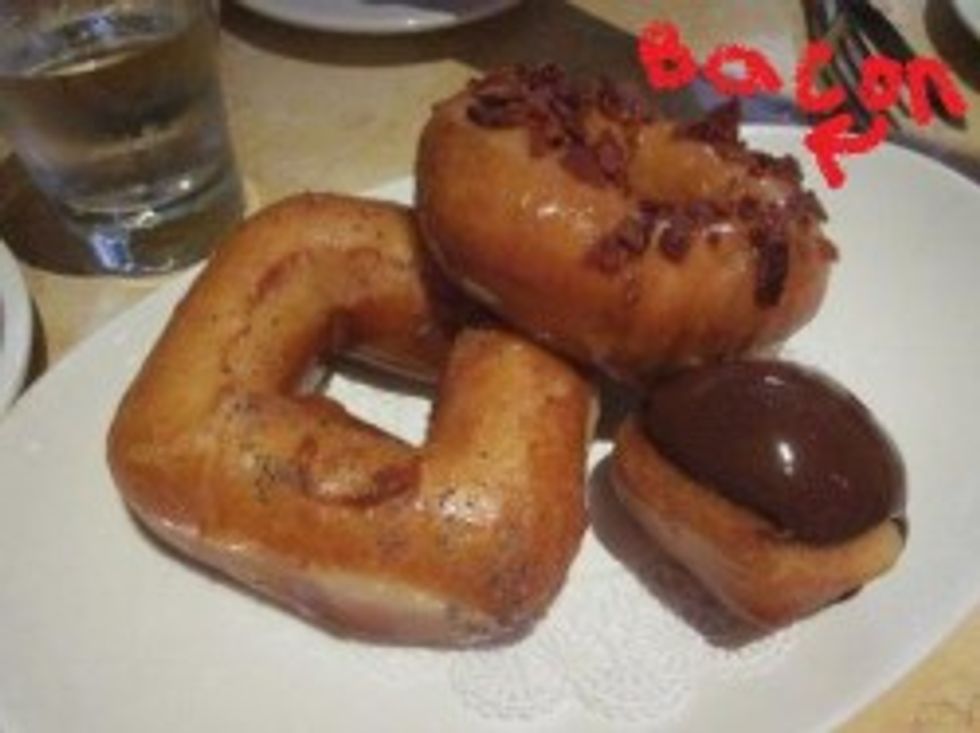 While our FLOTUS would surely order the hanging of fat slobs who eat donuts from gross chains such as Krispy Kreme and Dunkin' Donuts, those who feast upon Gourmet Doughnuts -- perhaps topped with artisanal bacon -- are (like the rich) different. True, fancy doughnuts are still fried in grease and packed with sugar, but they're served as part of a square meal known as brunch andbrunch changes everything. You do know that, right?
---
Gourmet doughnuts are everywhere in DC. Some come topped with pork product or toffee or chocolate, some have citrus flavoring, and almost all of them come with some sort of sugary dipping sauce. They're all served hot and no one seems to be the least bit concerned about just how ridiculously unhealthy these doughnuts must be. They also all happen to taste delicious.
Where to find gourmet doughnuts in DC:
Birch and Barley: They serve toffee-bacon, lemon-poppy glazed and bittersweet chocolate doughnuts (pictured above). $6 for all three.

Darlington House: Their doughnut holes are dipped in cinnamon and sugar and are served warm with chocolate and caramel dipping sauces (pictured at right). $7 for about a dozen.
2 Amy's: Their fresh, handmade doughnuts are only available at lunch on Saturdays and Sundays. The doughnuts are "Italian style," and have a light orange scent! $1.50 each.

Tabard Inn: Tabard Inn serves easily some of the best gourmet doughnuts in the city. Their doughnuts are fried to order, and dipped in cinnamon and sugar. They're served with whipped cream. $1.50 each.

Poste: The doughnuts at Poste have such delightful fillings as chocolate ganache, lemon curd, and jam. They're served warm and come with a warm chocolate sauce. $13.

A.M. Wine Shoppe: These ecstasy-producing doughnuts (they are that good) are sprinkled with cinnamon and sugar and are only available on Saturday mornings. $3 each or four for $10.

Eola: [PDF] Simple glazed doughnuts. $2 each.

Founding Farmers: Perhaps the most decadent of all the doughnuts in DC, the doughnuts at Founding Farmers are fried-to-order and glazed with either Vanilla Rum, Semi-Sweet Chocolate or Caramel Bacon. $8 for about a dozen.