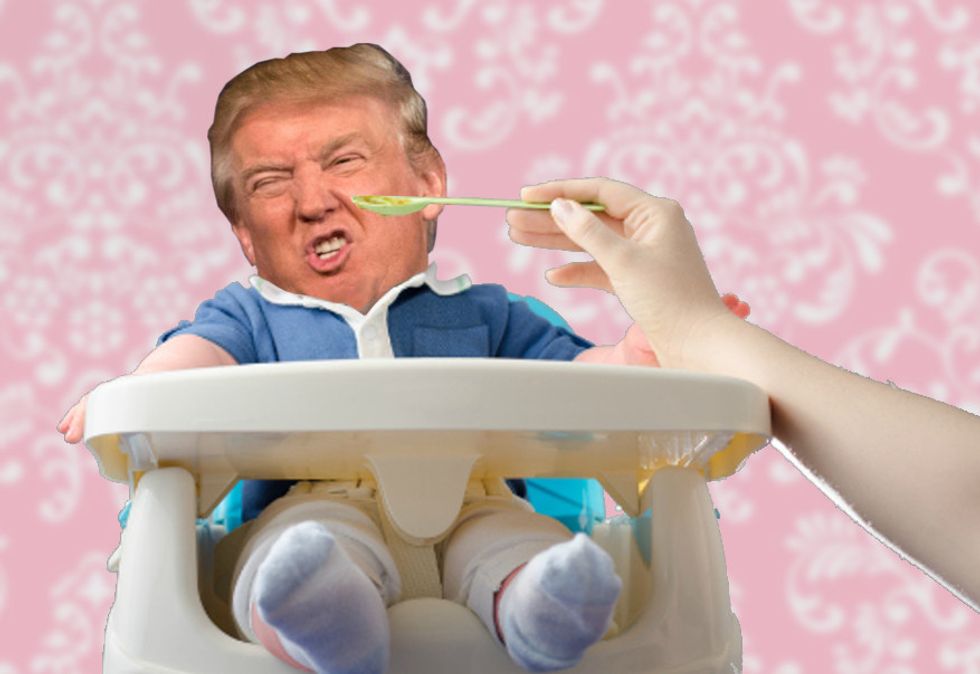 Donald Trump, the morning after.
---
Whatcha doin' this morning, Donald J. Trump? Eatin' your Frosted Flakes and whining about how the only reason you suck so hard in every single aspect of your life, including Wednesday night's debate, is that everything is #rigged against you?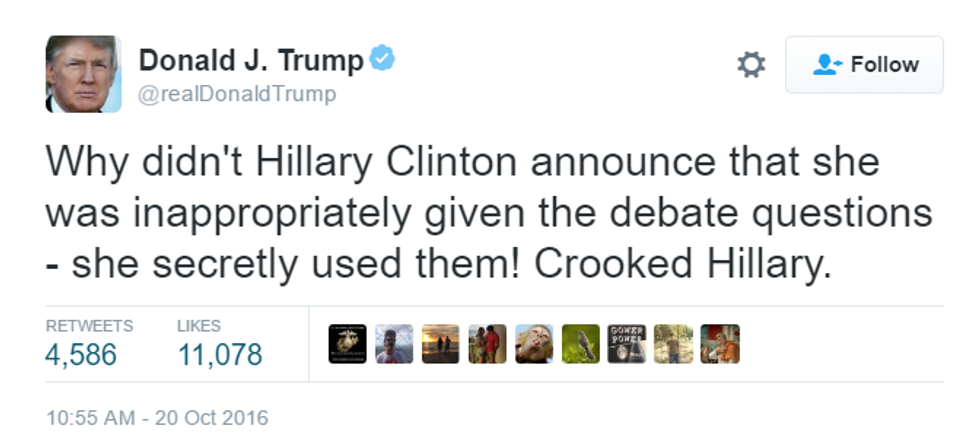 Well that took literally hours.
Moderator Chris Wallace of Fox News (who is a registered Democrat, CONSPIRACY!!!!111!!) said at the beginning of the debate that neither the Commission on Presidential Debates nor the candidates had seen the questions, but he probably only said that because the Global Elite New World Order International Banker Beyoncé Jews made him say it.
Remember what Hillary Clinton said during the debate, about how the whiny ass titty baby Trump complains everything is #rigged every single time he's losing? We shared the video this morning, but we didn't share the transcript. Let's take another look!
You know, every time Donald thinks things aren't going in his direction, he claims whatever it is, is rigged against him. The FBI conducted a yearlong investigation into my e-mails. They concluded there was no case. He said the FBI was rigged. He lost the Iowa caucus, he lost the Wisconsin primary, he said the Republican primary was rigged against him. Then, Trump University gets sued for fraud and racketeering. He claims the court system and the federal judge is rigged against him. There was even a time when he didn't get an Emmy for his TV program three years in a row and he started tweeting that the Emmys were rigged against him.
And even in that moment, Little Trump couldn't help but interject, "Should have gotten it!" about the Emmy award he will never win, because lots of other people are better at TV than he is.
The audience was laughing, and Hillary continued:
This is a mind-set. This is how Donald thinks, and it's funny, but it's also really troubling.
And sad and gross and tiny and pitiful and OMG LOL and all the other adjectives that point to the fact that, at heart, Donald J. Trump is a loser.
That's right, Donald. Hillary cheated at the debate. It can't be that she, Hillary, a woman, is better than you, and you lost fair and square.
Nah.
Evan Hurst
Evan Hurst is the managing editor of Wonkette, which means he is the boss of you, unless you are Rebecca, who is boss of him. His dog Lula is judging you right now.
Follow him on Twitter RIGHT HERE.