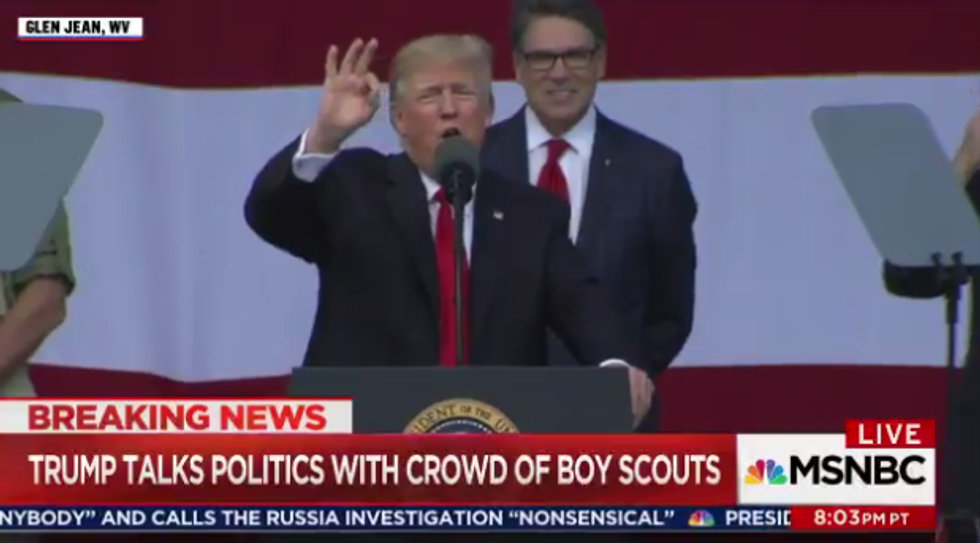 Donald Trump, but less fat.
---
Donald Trump, the man who brags about grabbing women by the pussy, the man a minority of voters and the Russian government got drunk and elected president of the United States in November, participated in a longstanding presidential tradition Monday night, addressing the quadrennial Boy Scouts Jamboree in West Virginia. Since the American president is also the honorary president of the Boy Scouts of America, this is a totally normal thing for Trump to be allowed to do. As you will see, despite being normal, it was clearly not advisable, because Trump is not a man who knows how to behave around children. Instead of delivering a presidential message, Trump used Jamboree to whine and bitch and complain, and also to try to indoctrinate the kids there, because his flaccid ego is so weak and sad he needs the approval of 10-year-olds.
Oh, and he got them to boo former President Barack Obama, because that's how American presidents are supposed to act.
Instead of subjecting you to a full video, because watching the president for too many minutes in a row makes people stupider, NBC's Bradd Jaffy helpfully tweeted a compilation of the best moments of Trump's speech:
Some things Trump told thousands of kids at the Boy Scouts National Jamboree pic.twitter.com/iSJiPpsIVu

— Bradd Jaffy (@BraddJaffy) July 25, 2017
TRUMP: By the way, just a question. Did President Obama ever come to a Jamboree?

KIDS: Boooooooooooooo!
For the record, Obama did address the Jamboree in a videotaped message in 2010 for the Boy Scouts' 100th anniversary. Somehow his presidential dick was big enough not to criticize his predecessor during the message.
Of course, Donald Trump was never a Boy Scout. Barack Obama was. (In Indonesia, so it probably doesn't count because all the knots he was learning to tie were Muslim and also Michelle Obama told kids to exercise and eat vegetables, so #BothSidesDoIt.)
Trump told the kids he wasn't going to talk about politics:
"Tonight we put aside all of the policy fights in Washington, D.C., you've been hearing about with the fake news," the president told the crowd of Scouts and volunteers gathered in Glen Jean, W.Va. "Who the hell wants to speak about politics when I'm in front of the Boy Scouts?"
But then he couldn't keep his pussy ass from talking about politics, bragging about his Electoral College victory, and bellyaching about Hillary Clinton. Some of the little Hitler-Youth-In-Training (#NotAllBoyScoutsObviously) booed when they heard her name. Trump reassured the Boy Scouts that this Christmas, they will finally be able to say "Merry Christmas" again, a healing moment since we all still remember Barack Obama's annual tradition of executing Boy Scouts on Santa's lap every December 24.
Secretary of Health and Human Services Tom Price was there, so Trump threatened to YOU'RE FIRED! him if the Senate doesn't vote to kill healthcare for millions of people:
By the way, you're going to get the votes? He better get 'em. He better get 'em! Ahhhhhh! Otherwise I'll say, "Tom, YOU'RE FIRED." I'll get somebody ...
Totally normal. It was also totally normal when Trump told the kids a great story about his racist buddy William Levitt, who worked hard and applied himself so much that he became a very successful man who bought a yacht and got to have constant fuck orgies on his yacht. Pretty sure that's not a BSA merit badge, but maybe in the Age of Trump, it can be:
Trump as he considers telling a bawdy anecdote to 12-year-olds: "Ah, you Boy Scouts. You know life, you know life ..." pic.twitter.com/7cOh2uhRQr

— Graeme Demianyk (@GraemeDemianyk) July 24, 2017
[He] sold his company for a tremendous amount of money, and he went out and bought a big yacht, and he had a very interesting life. I won't go anymore than that because you're Boy Scouts, so I'm not going to tell you what he did. Should I tell you? Should I tell you? Ahhhhh, you're Boy Scouts, but you know life. You know life.
SHOULD HE TELL THEM? SHOULD HE DRAW A DIAGRAM WITH HIS TINY MEAT FINGERS OF HIS RACIST PAL DOING FUCK ORGIES ON THE WIDE OPEN SEA?
As you can imagine, people (many of them parents of Boy Scouts!) are outraged. Uproxx collected a bunch of comments from the BSA's Facebook page, which is good, because they report that the BSA is actually deleting comments. Here's a sample, from Chicago Tribune columnist Rex Huppke's Tweeter: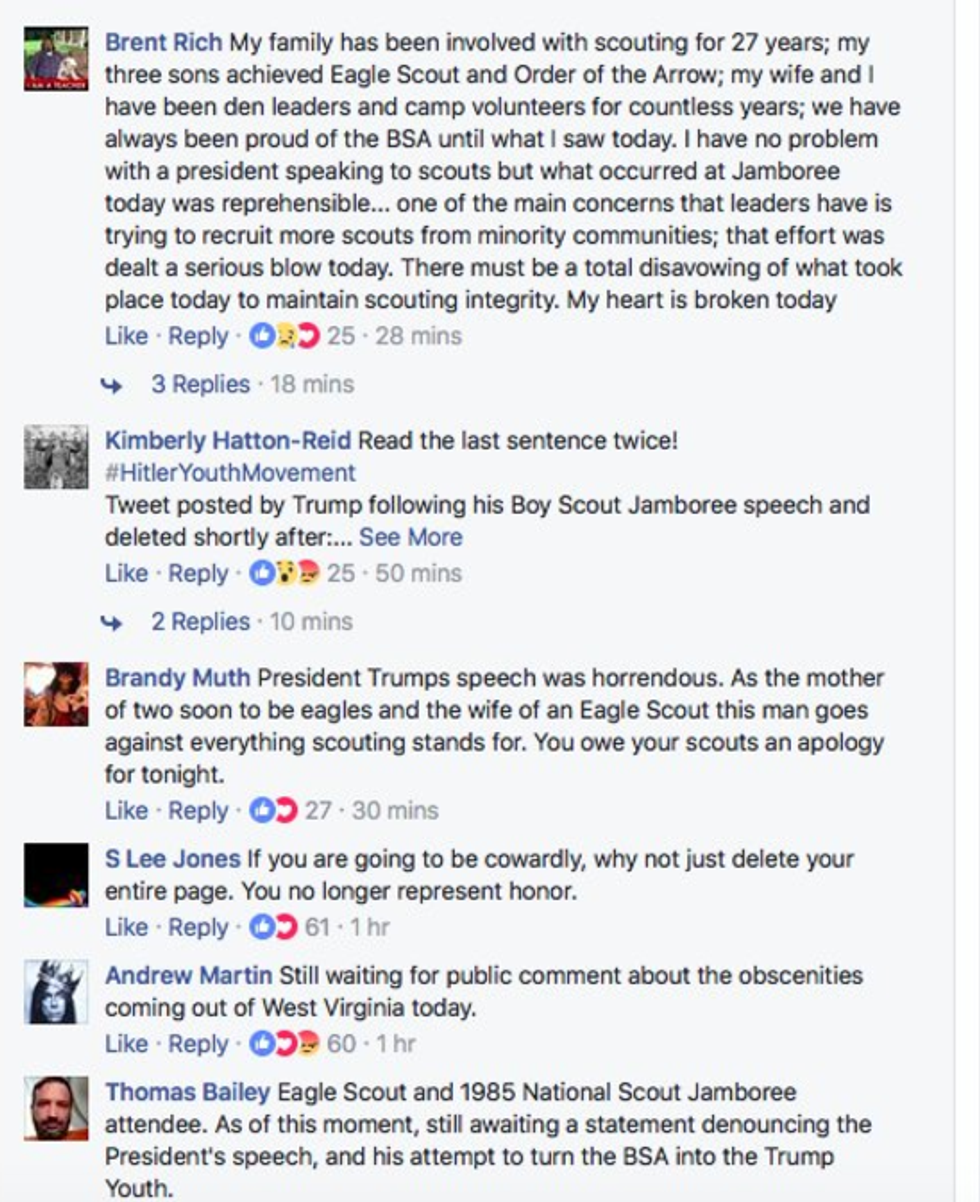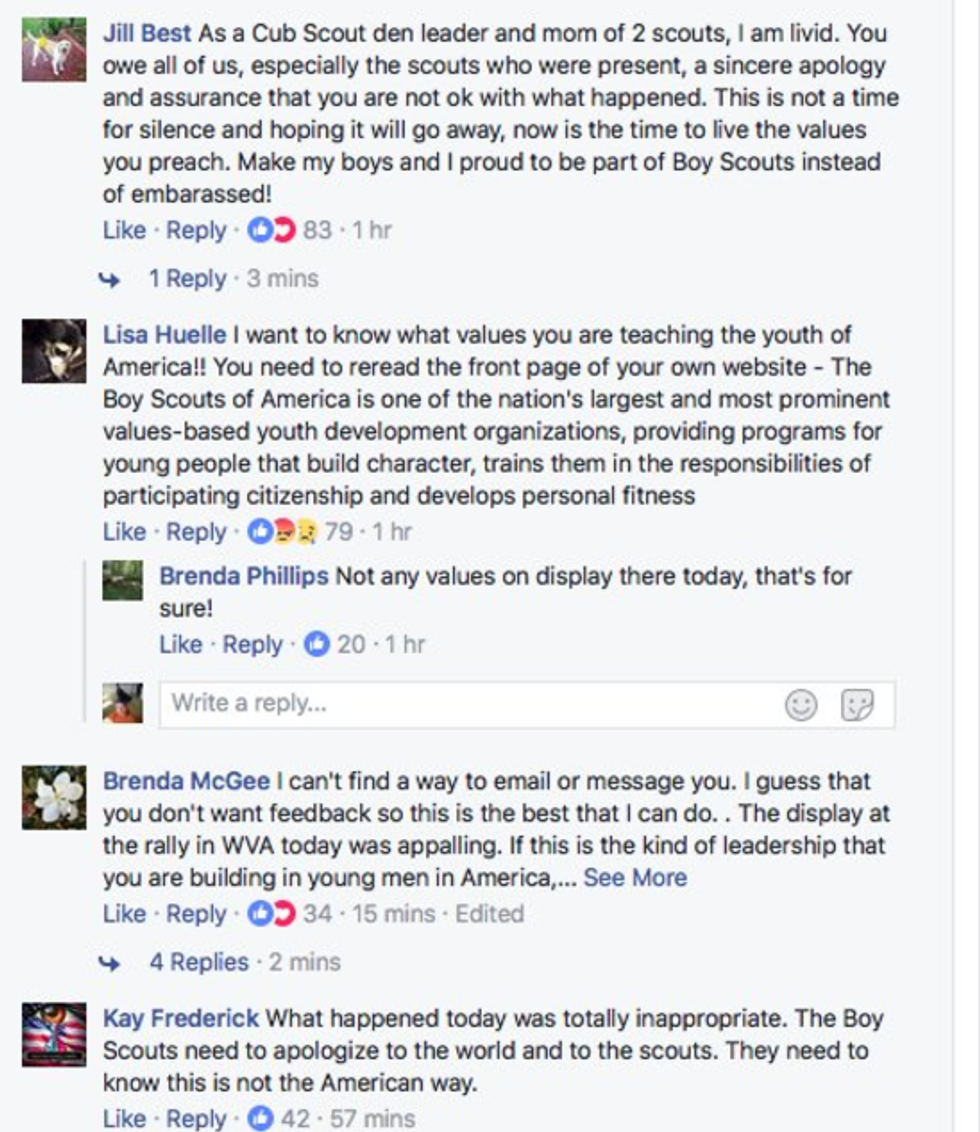 Here's Democratic Senator Chris Murphy of Connecticut, a guy who actually is a Scout leader and a role model, as opposed to whatever the fuck thing Trump is: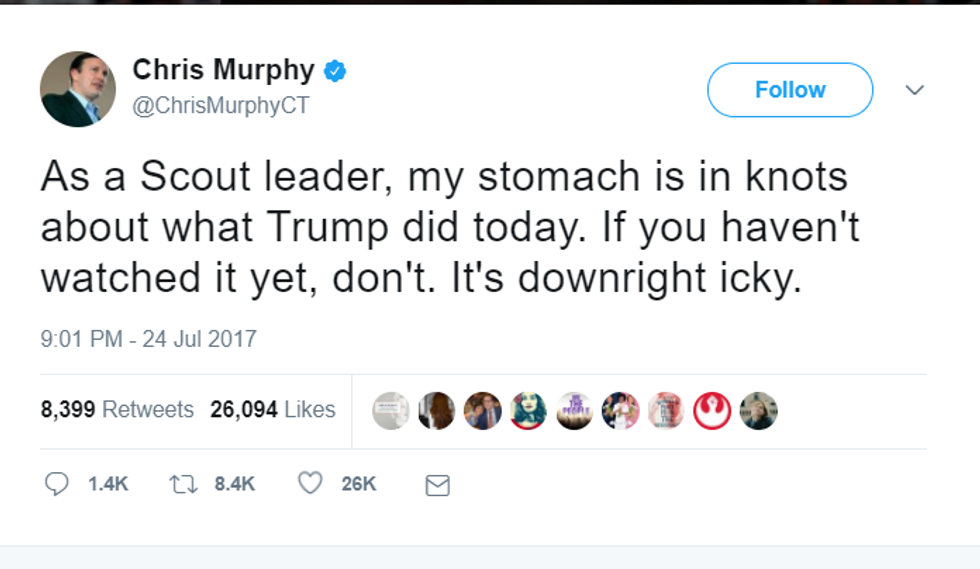 The BSA has heard the criticism from decent human beings all across this country, and from concerned parents who don't want their kids trying to emulate human trash like Donald Trump, and released a bold statement condemning President Rage Diaper, hahahahahaha just kidding:
"The Boy Scouts of America is wholly non-partisan and does not promote any one position, product, service, political candidate or philosophy. The invitation for the sitting U.S. President to visit the National Jamboree is a long-standing tradition and is in no way an endorsement of any political party or specific policies," the organization said in a Monday night statement.

"The sitting U.S. President serves as the BSA's honorary president. It is our long-standing custom to invite the U.S. President to the National Jamboree."
Fucking lame.
Let's end this post with a picture of a real president and a real man. Obama White House photographer Pete Souza (who trolls Trump constantly) posted this on Instagram with the caption, "I can assure you, POTUS was not telling this Cub Scout and the Boy Scouts who followed about his electoral college victory."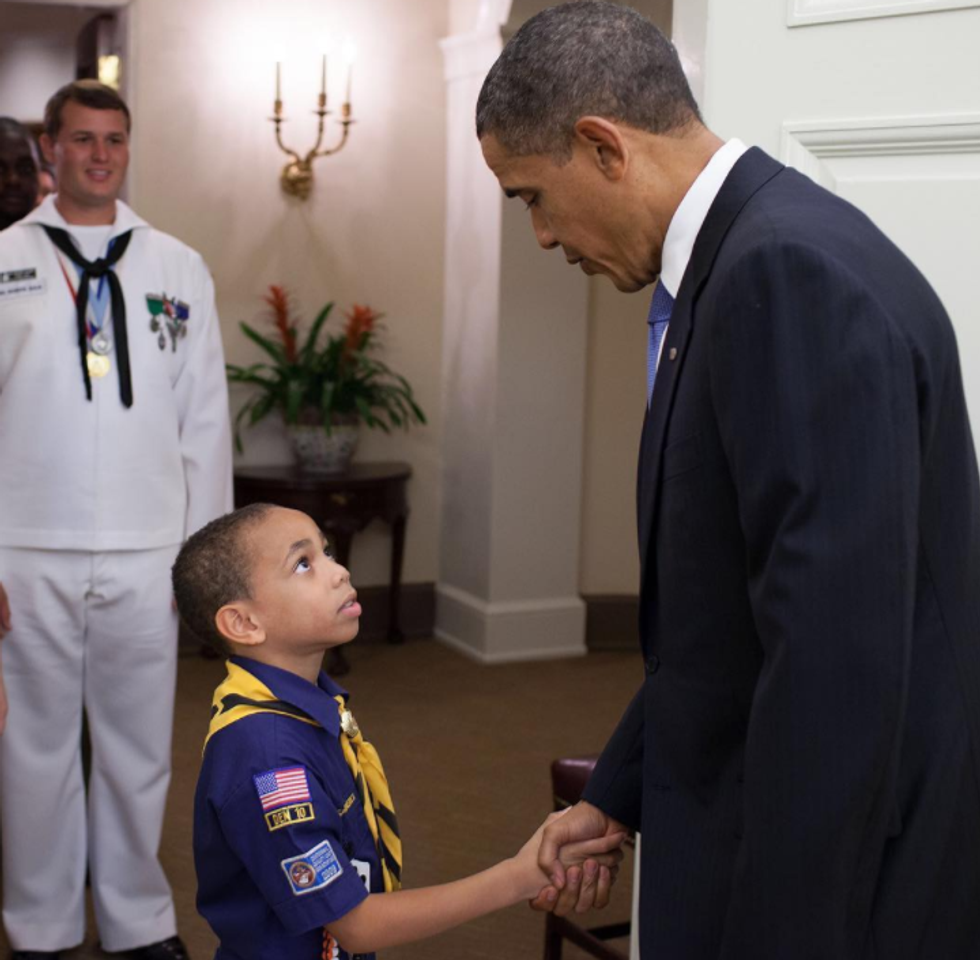 Sorry, we wanted to end this post on a happier note but that picture is just making us sad remembering the nation this was just one year ago.
Wonkette salaries are fully funded by readers like you! If you love us, click below to pay our salaries!
[Washington Post / The Hill / Uproxx]
Evan Hurst
Evan Hurst is the managing editor of Wonkette, which means he is the boss of you, unless you are Rebecca, who is boss of him. His dog Lula is judging you right now.
Follow him on Twitter RIGHT HERE.