Pussy Paul Ryan Rides Horsey, Like Yippie-Ki-Yay You Guys!
Post-Racial America
August 02, 2017 03:49 PM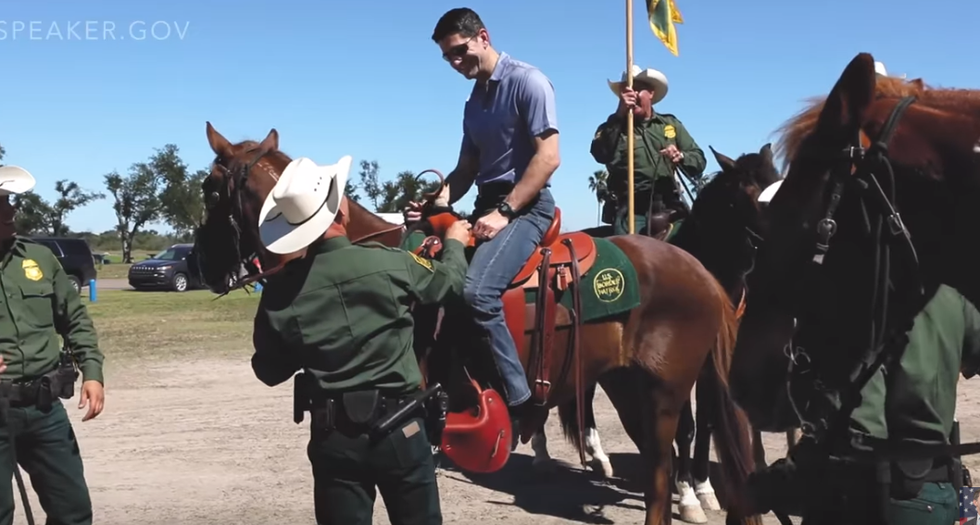 Paul Ryan got up early that day, because he knew he had to make a racist music video about building a Mexico wall while riding a horsey.
---
He pumped his sexxx body in the Congress gym, because OMG can you imagine if Paul Ryan was trying to get on horsey and slipped and fell or couldn't hike his leg over top of horsey because he is a pussy? ALL THE REAL COWBOYS WOULD LAUGH MANY TIMES.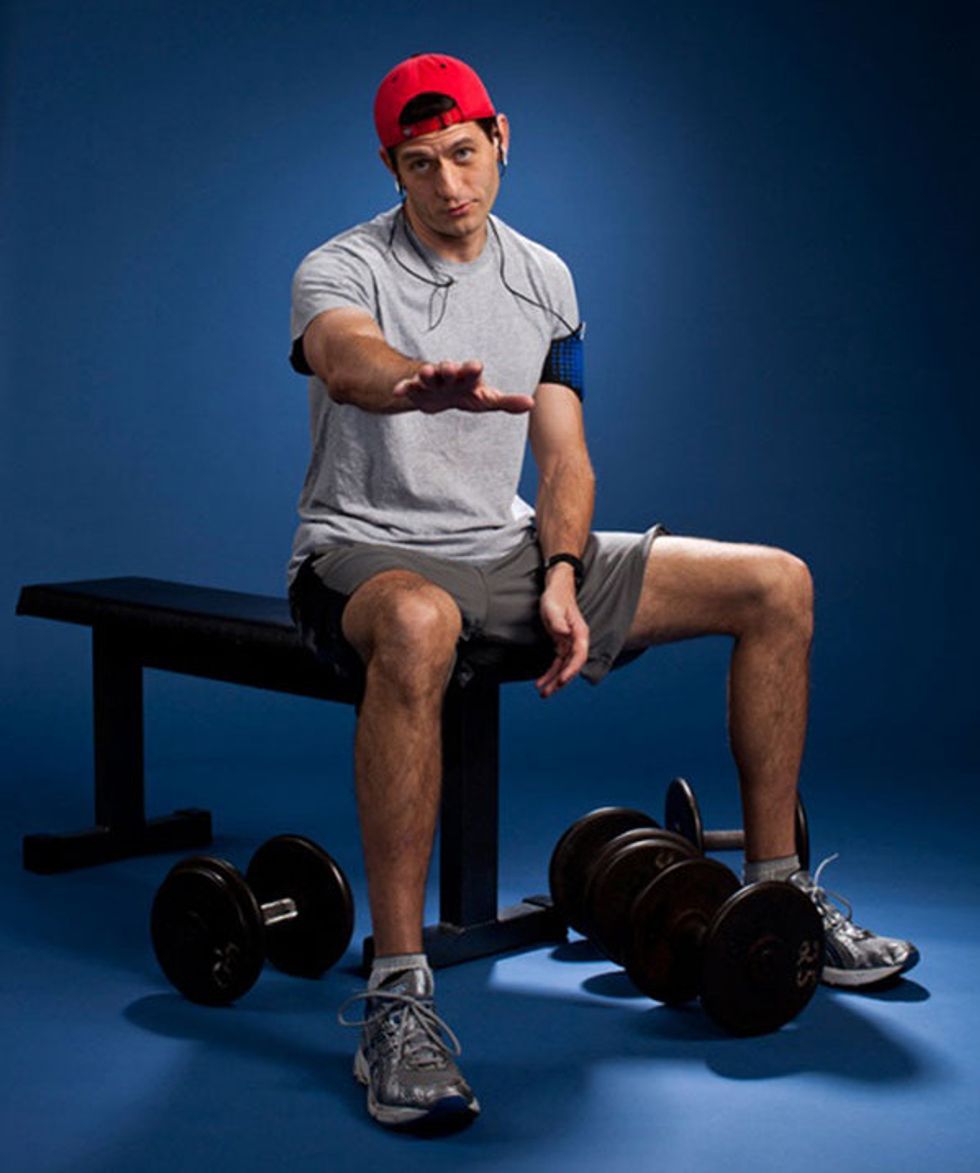 There, that's better. But he still felt like a pussy, because he always does.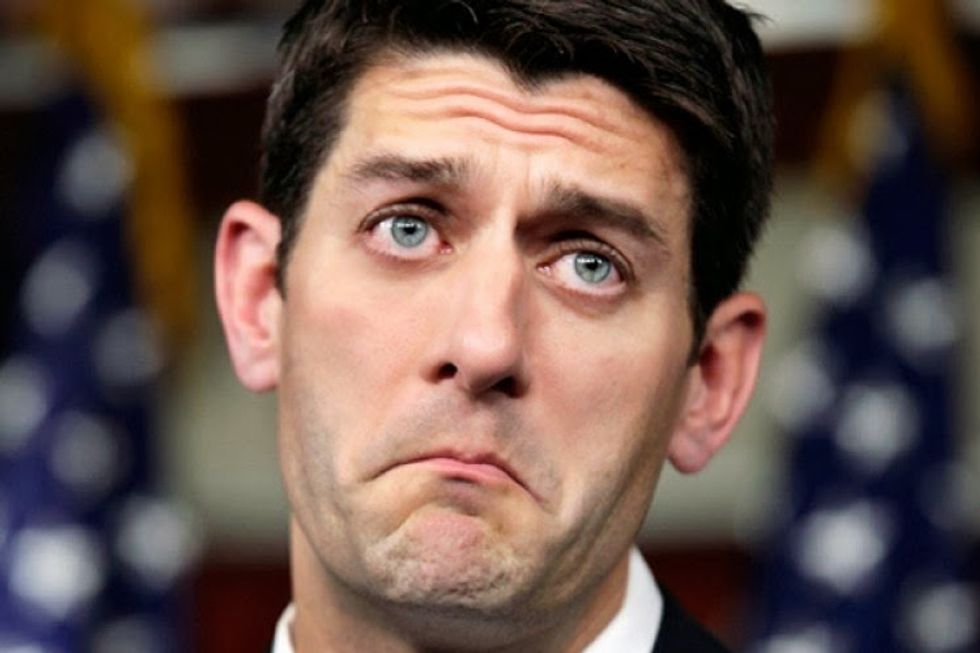 Maybe he would feel more ready to do racist horsey music video if he wore a fancy disguise.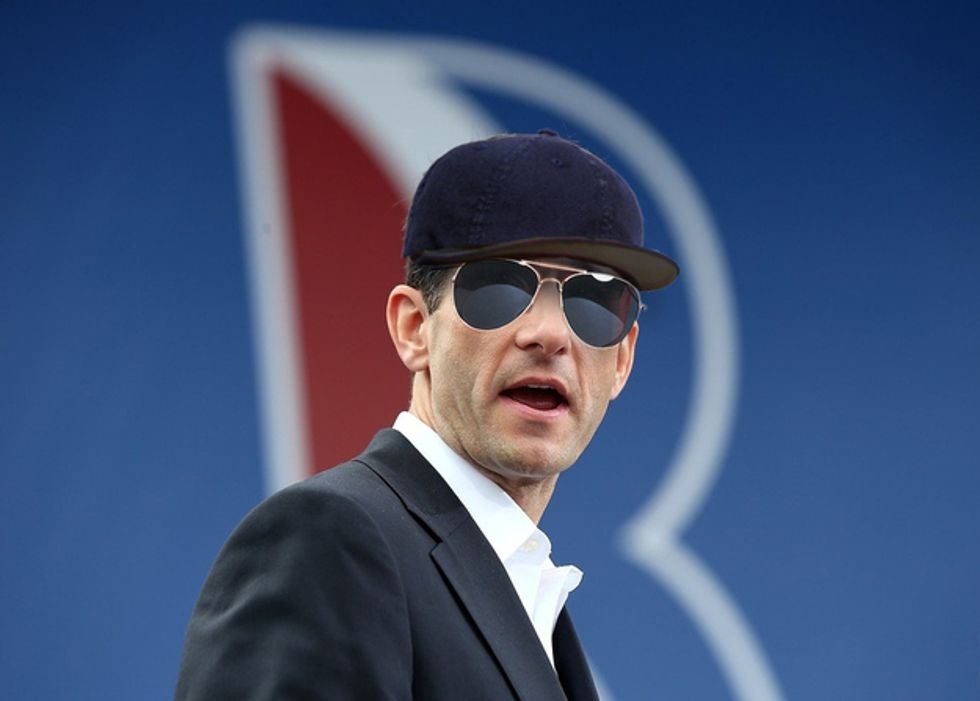 Nope, still a pussy.
Anyway, he took off the disguise, called an Uber and said, "I am the Pussy of the House! No wait I am the Speaker of the Pussy! Whatever, I am Paul Ryan. Take me to the border! I am the man America needs to ride a horsey with musical accompaniment, so that we may build a wall for Donald Trump, a man I hate so much, I hate him, I hate him, just kidding I love him."
He handed his Uber driver, ironically a Messican immigrant, a cassette tape of his hottest jams, and they were off. In order to pass the time, and to make sure his bulge looked vaguely more impressive than usual when he got to Build The Wall Cowboy Town, he fantasized about poor people dying, same as he's done every day since college.
When he arrived in Build The Wall Cowboy Town, which is McAllen, Texas, he was ready for whatever they threw at him, because #FordTough.
As a shitty Muzak version of techno music started playing, he used the strength in his excellent butt muscles to climb inside helicopter: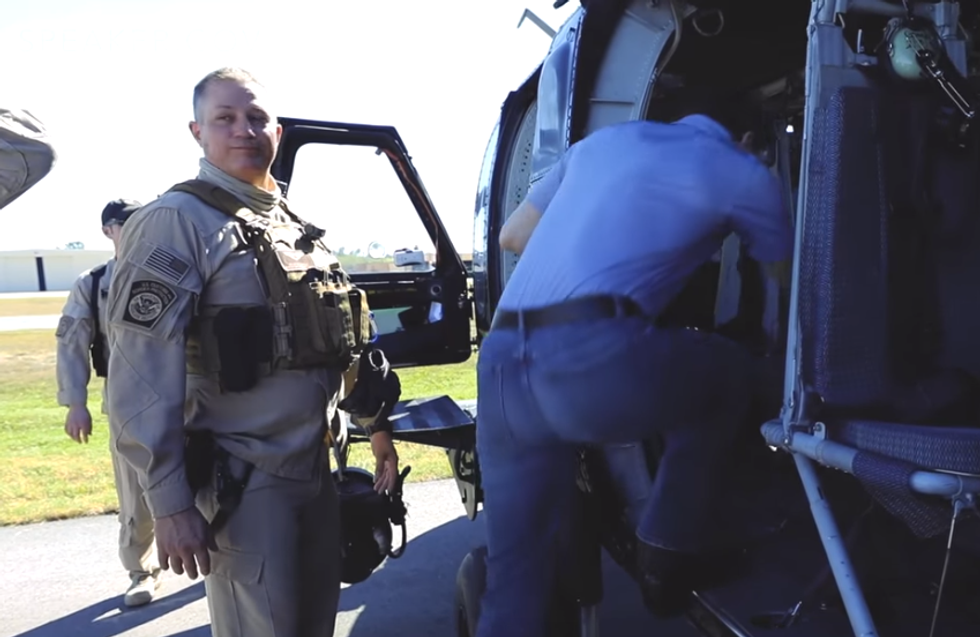 As he flew up and down the border between America and Down There, the music video screen flashed the words, "IT'S TIME FOR THE WALL," as if this whole charade might convince the youngs to get down with the Trump/Ryan Resentful Old White Shitbaby Racism policy of building a wall between America and Mexico.
Would it work? Paul Ryan did not know, but he went ahead and did Thumbs Up inside helicopter, because know what tough guys who have sex sometimes do in helicopters? Thumbs Up.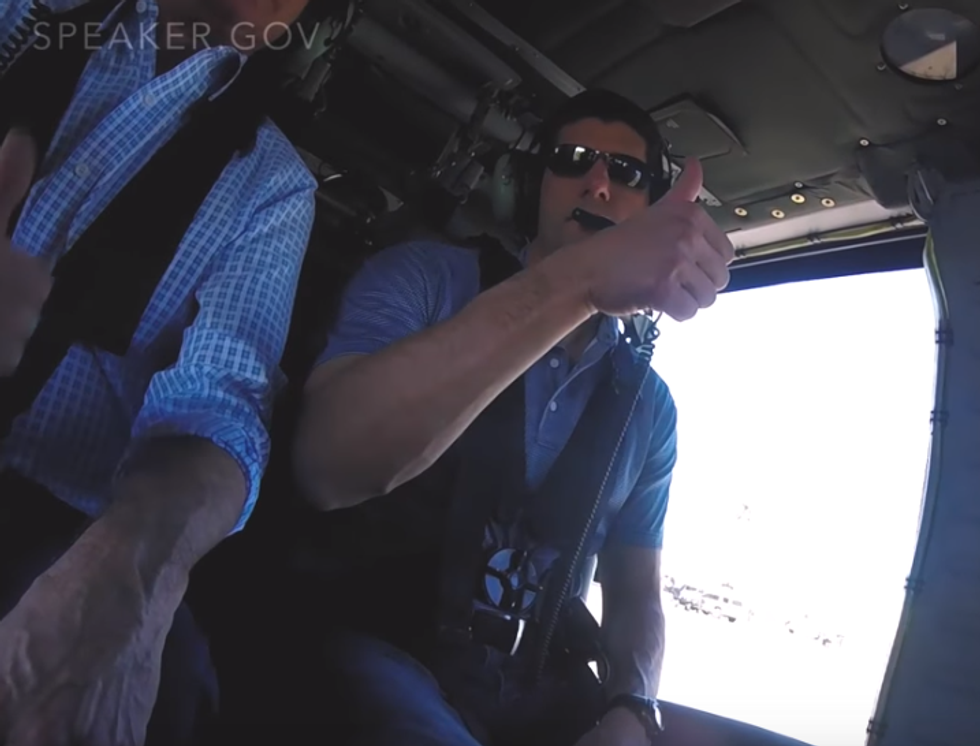 "Look down there!" Ryan shrieked, but in a manly way. "I think I see one!" The macho guys in helicopter were like, "What do you see, a Mexican or a horsey?" Ryan replied, "YES!" He pointed out of helicopter: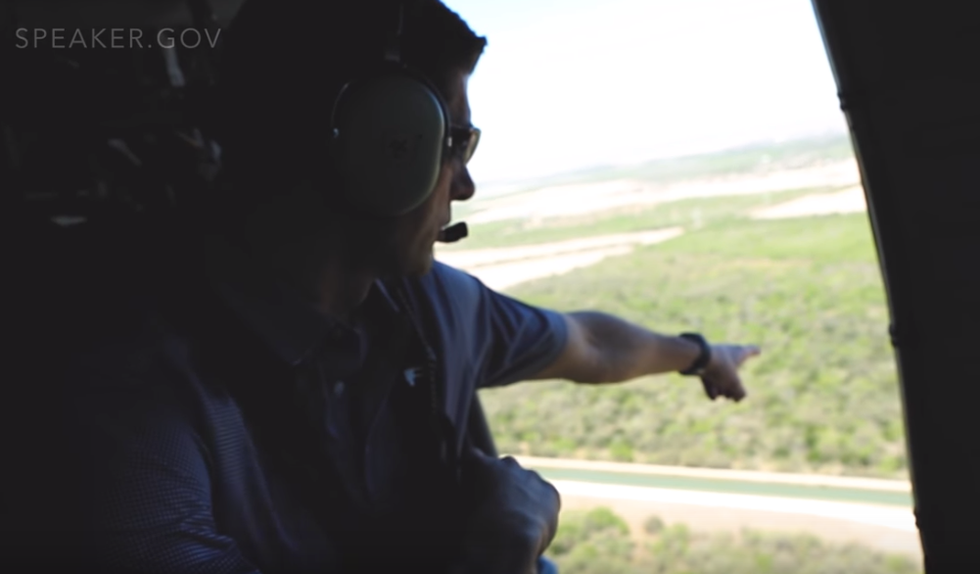 After the helicopter ride, Paul Ryan waddled in his perfectly pressed mom jeans to a border patrol boat, because he ain't afraid of no Messican. Unfortunately, his (ALLEGED!) ass implants seem to have gotten deflated in the helicopter, because where did his ass go? Also is it Horsey Time yet? No, Paul Ryan, we are sorry. It is Boat Time.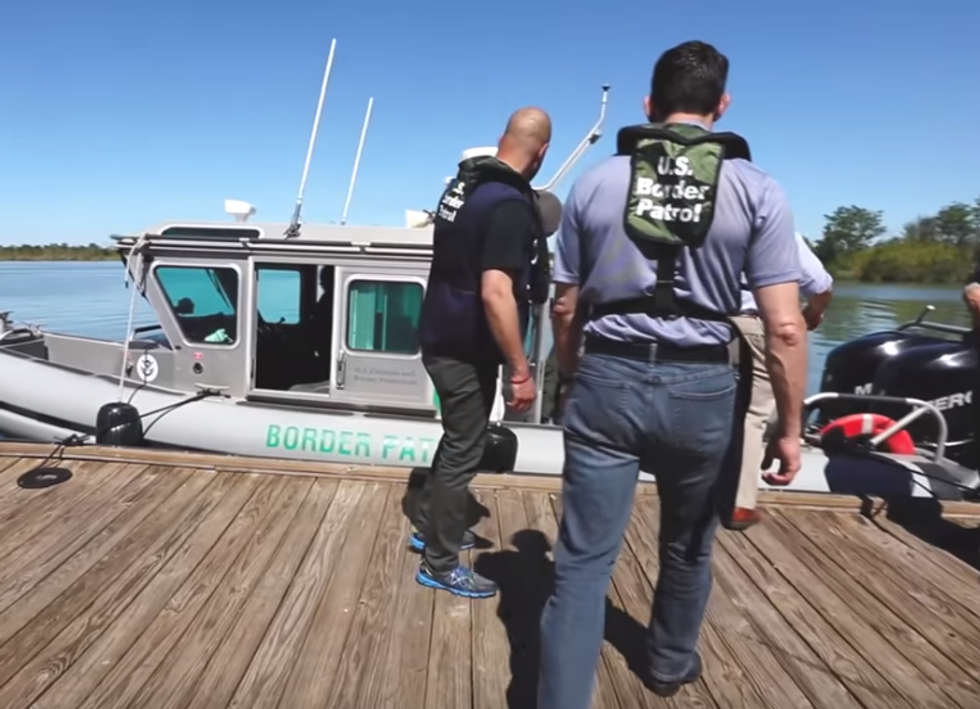 Wow, Boat Time was fun!
FINALLY IT WAS TIME FOR HORSEY.
Paul Ryan greeted a real cowboy border patrol horsey man and they did the traditional do-si-do square dance of masculine dudes who build walls around Messicans. You are not allowed to mount the horsey until you have done this:
NOW YOU CAN MOUNT THE HORSEY!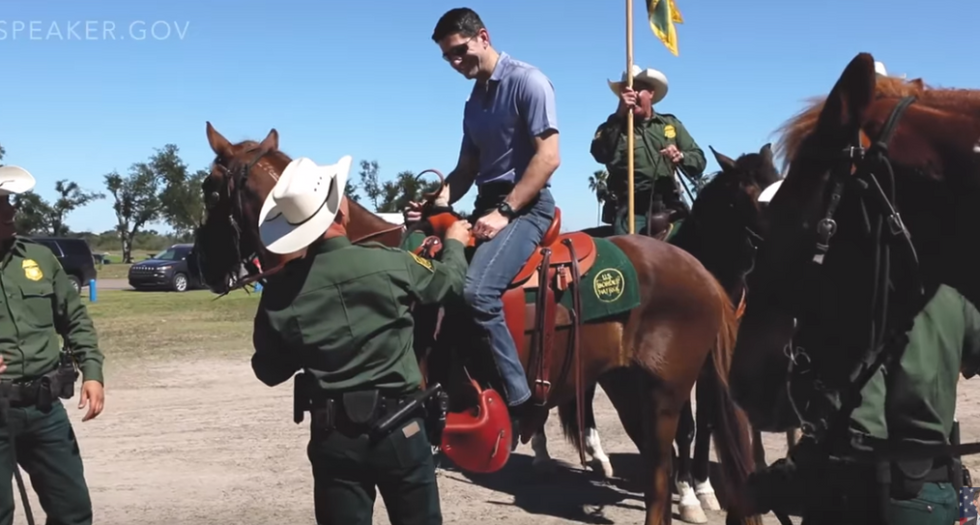 GET 'ER DONE! RIDE HORSEY! BUILD THAT WALL! YIPPIE-KI-YAY!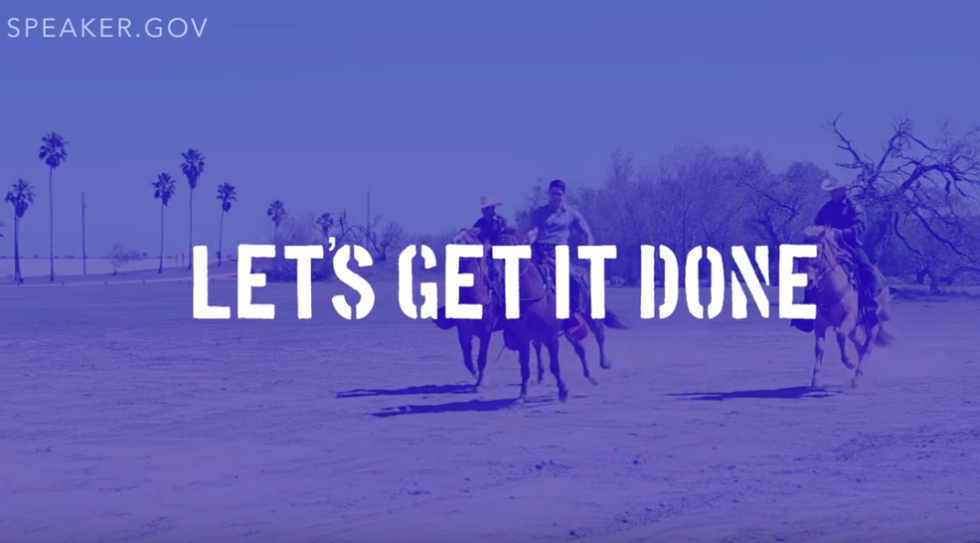 Whatever, dude.
Then Paul Ryan Ubered back to DC and he started being a pussy again, just kidding he never stopped being a pussy, the end.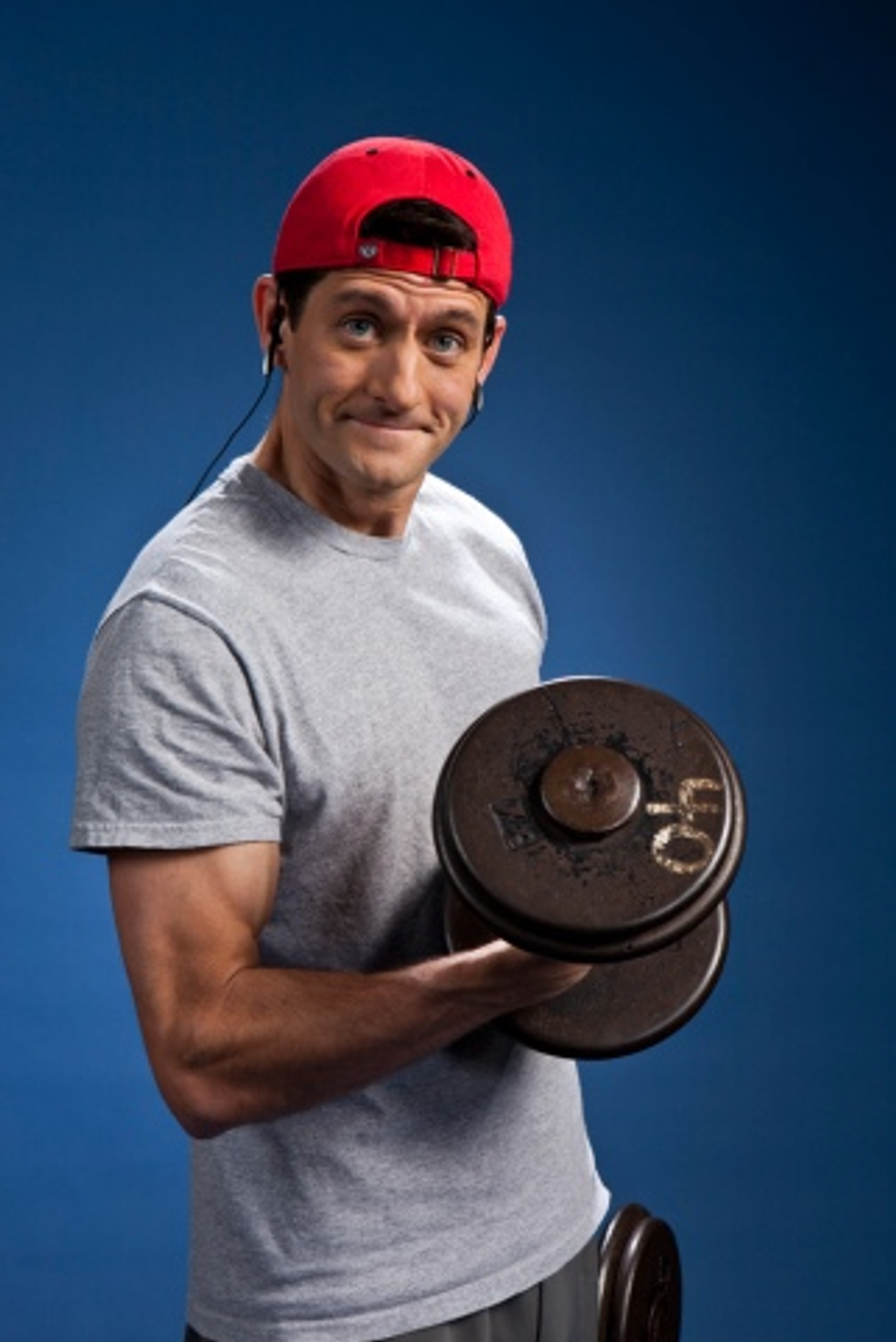 Wonkette salaries are fully funded by people like you! If you love us, click below to pay our salaries!
Evan Hurst
Evan Hurst is the managing editor of Wonkette, which means he is the boss of you, unless you are Rebecca, who is boss of him. His dog Lula is judging you right now.
Follow him on Twitter RIGHT HERE.