Pussy Rush Limbaugh Scared Of Fake 'Hurricane Irma' Hoax Exposed By Rush Limbaugh
Science
September 08, 2017 02:50 PM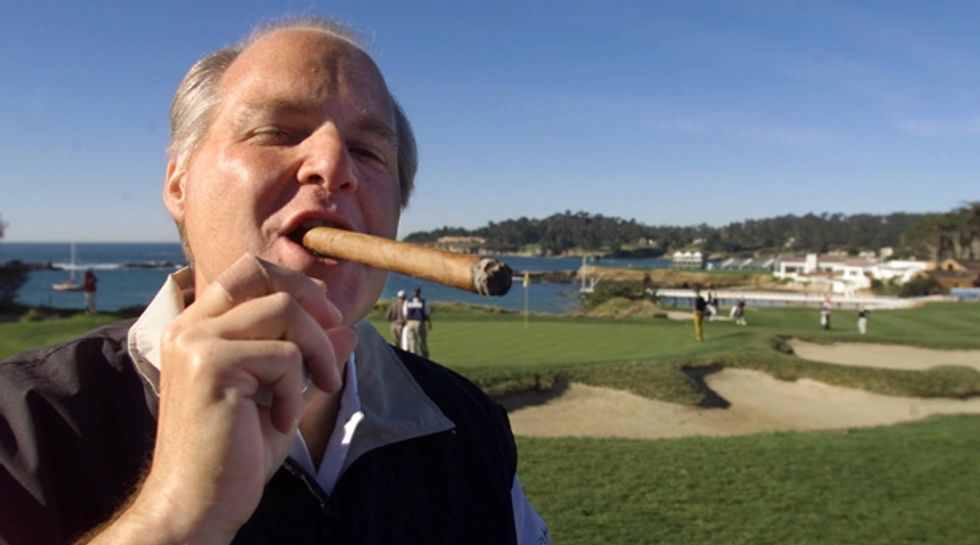 Weather looks fine to us.
---
This ... does not even make sense:
"May as well … announce this. I'm not going to get into details because of the security nature of things, but it turns out that we will not be able to do the program here tomorrow," [Rush] Limbaugh said Thursday. "We'll be on the air next week, folks, from parts unknown."

Limbaugh said the show will be back on the air Monday, but to be on the air Friday would be "legally impossible" for them do to the show out of South Florida.
He said it would just be "problematic" for him to go on the air Friday, and also that he was totally planning to go to the movies but that's "blown to smithereens" now, which just sucks.
But why though? Why is Rush Limbaugh going to "parts unknown," where there may or may not be a swimming pool full of prescription pills? Is there something going on in South Florida right now?
We do remember Limbaugh earlier this week
talking about
some alleged "storm" called "Hurricane Irma," that Al Gore and the Illuminati and its front companies "Aquafina" and "Duracell" have been lying about, that is supposedly going to hit South Florida this weekend, where Limbaugh lives. He said "the system" is #rigged, and that liberal commie-sexuals like Florida GOP Governor Rick Scott are in cahoots with Big Weather Channel and that it's just one big scam to make people buy too much bottled water and batteries, which is stupid because man-made climate change is fake and Al Gore is fat.
????
We are extremely for confuse. Is Rush Limbaugh a hypocrite? Or is he a pussy scared of some alleged #FalseFlag storm? OR IS HE BOTH?
Goddammit. We bet Rush is on his private aero-plane right now going to "parts unknown," viciously gulping down bottled water and stuffing extra batteries in his vibrator, like a common sheeple. WHO GOT TO HIM?
This just goes to show that even patriotic conservatives like Rush Limbaugh aren't safe from George Soros Susan Rice unmasking Vince Foster globalists Bilderberg fake news greedy "scientists" with their so-called "science" Benghazi CONSPIRACY!!!!!!11!
Speaking of cocks who are scared of common hurricanes, here is an adorable picture of a bunch of cocks wrapped in burritos evacuating the storm, because if the cocks aren't burritoed they will fight with each other.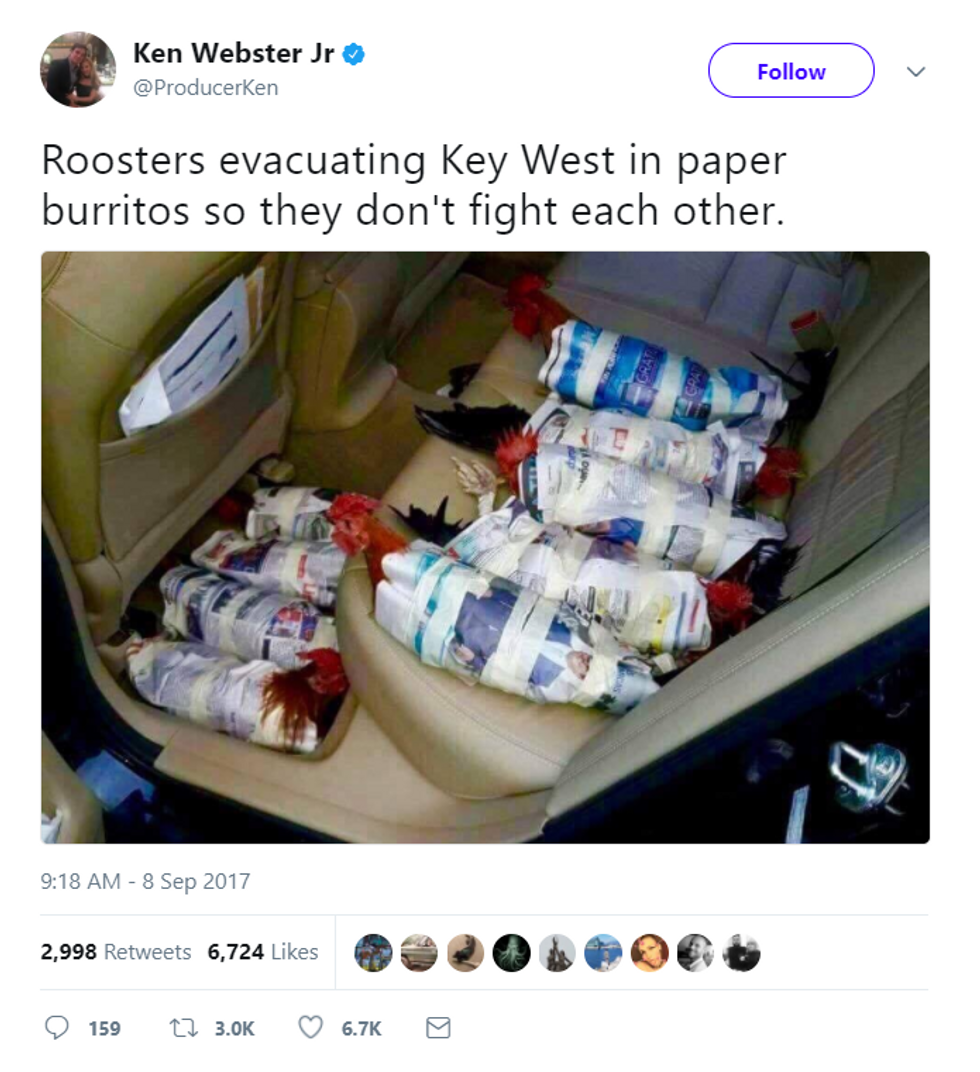 Did they have to wrap Rush Limbaugh up in a burrito for his own evacuation safety too? Magic 8 Ball says "where they get a sheet that big?" because Magic 8 Ball is kind of a dick.
Follow Evan Hurst on Twitter RIGHT HERE.
Wonkette salaries are fully paid by lovely souls like you! If you love us, click below to make sure we get paid!
Evan Hurst
Evan Hurst is the managing editor of Wonkette, which means he is the boss of you, unless you are Rebecca, who is boss of him. His dog Lula is judging you right now.
Follow him on Twitter RIGHT HERE.