Q&A With 'Get Your War On' Guy, David Rees!
News
November 20, 2008 06:07 PM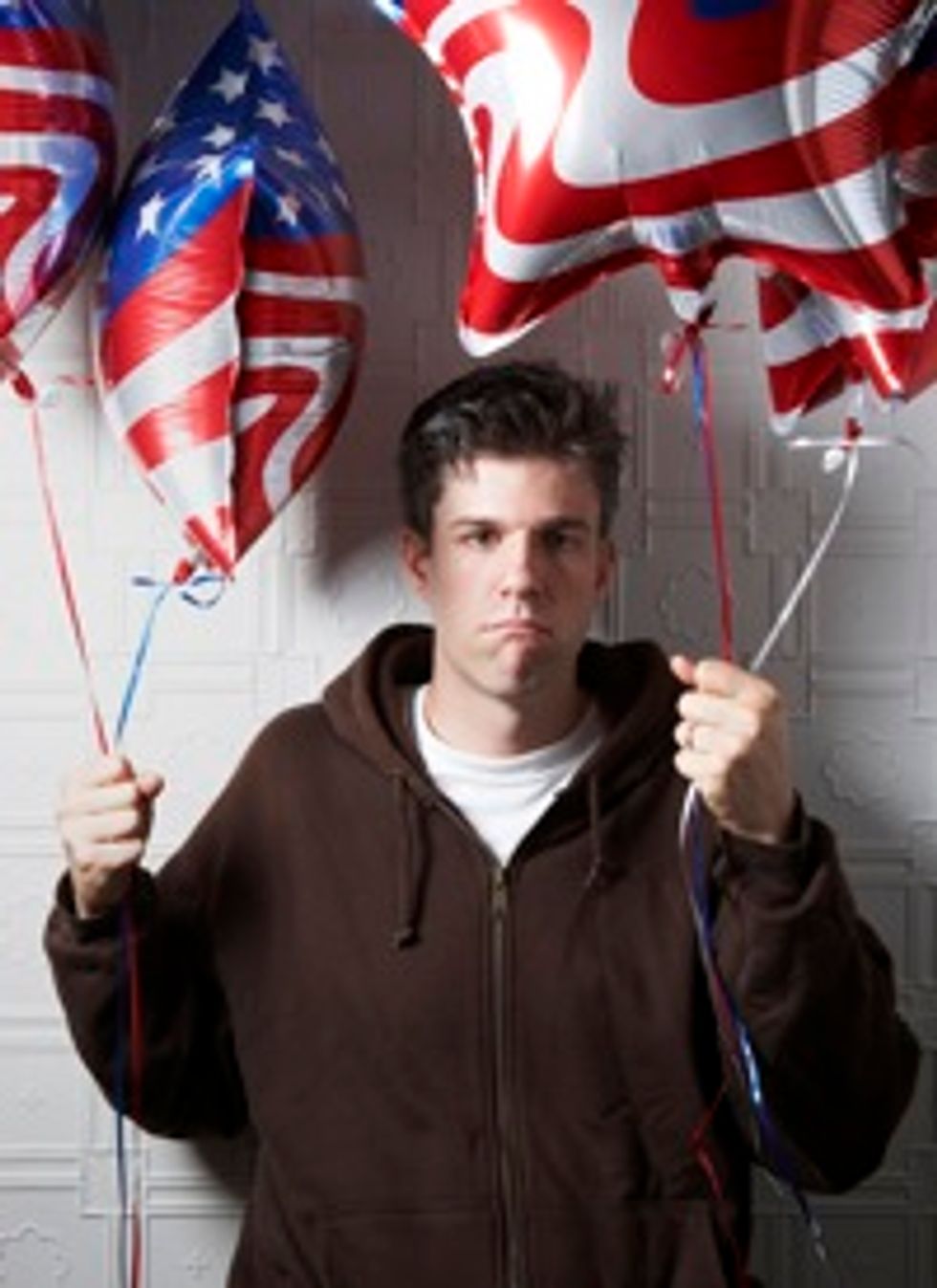 America's favorite fun comic strip of hopelessness and despair,Get Your War On, wouldn't exist if not for a) 9/11 and b) David Rees, the creator of the actual comic strip. As we could not get an interview with 9/11, we decided to email five questions to Rees -- who will be in Washington this very Sunday to give a FREE speaking/cartoon concert at the 5th & K Busboys & Poets. But how does an artist thank President Bush in Olde Englishe Versee?
---
Wonkette: If not for 9/11 and Bush/Cheney and everything, you might just be just another laid-off magazine assistant editor or something, now. Do you have any words of thanks for the Bush Administration?
David Rees: Yes, in fact I just wrote them a poem in Old English:
"THANK YEE MOSTE KINDLY"
To my dearre prefident Bushe /
whose most excelyent presiduncery hath provided mee
withe incomme (tho meagre) in thif betroubbled economie /
and whofe brillyance hath burnned its way into my soul /
and whofe leaddershippe hath made our greatte nation whole /
and whofe tenacity hath conquerred al-Qaedda moste wiccked
I want to give yee thif bouquet of flowyers I piccked /
fertilized by the corpses of Iraqi children.
W: A lot of people seemed troubled by your beloved Katrina character, the corpse floating in the floodwaters of New Orleans. Might that character return some day?
D.R.: No, he floated away into history and will not be seen again. We must erase him from our memories -- as we must erase New Orleans from our memories, lest God punish us for holding that sodomite metropolis in our hearts. John Hagee, I love you so much I even want to butt-fuck you a little.
W: That video version of Get Your War On, with the dudes discussing Obama's election, what is up with that? It's really a perfect format translation -- much better than the Garfield movie, for instance. That's pretty much exactly how I heard those guys' voices, in my head.
D.R.: The success of those videos (as seen on 236.com, the hottest political comedy site) is due entirely to the actors -- Jon Glaser and Anthony Laurent. We tried to find actors who sound broken down and depressed, like they'd been working in cubicles forever and hadn't seen sunlight in years -- basically, like me. I think Glaser and Laurent actually DO see sunlight -- Glaser seems to bike everywhere, and I think Laurent is a boxer; they're both healthy and well-adjusted -- but they do a good job of capturing the lethargy and despair that I carry around with me like an overcoat made out of soggy death.
W: It is sort of the American Dream, to go from making clip-art comics for your own amusement to getting some award from Rolling Stone, and also making some kind of living, in the space of a year or so. Is the American Dream now dead again?
D.R.: Yes, the American dream is dead, and I have killed it. Only Henry Paulson can save you now. LOL, good luck with that. By the time you read these words, I will be on the moon with all your earth money.
W: Oh we see you have started a blog. Why would you go and do something like that?
D.R.: My friend tipped me off to this new up-and-coming trend called "Bloggering" (?) so I decided to get in on the ground floor. Mostly I use my blog to commission post-election polls about the 2008 presidential election. (I noticed that after the election, a lot of sites stopped commissioning polls, so I'm picking up the slack.)
Here's some of my latest data, you can post it but you MUST CREDIT "MNFTIU POLLS, INC. THE HOTTEST POLLS":
2008 PRESIDENTIAL ELECTION:
McCain: 23568902745
Obama: 23057622
Jerry: 390876028976020
Garfield: 56098730987
STATE-BY-STATE BREAKDOWN:
Northern States: 11
Southern States: 39
Western States: 4
Eastern States: 238 (?!?)
ISSUES BREAKDOWN:
Economy: 72%
Security: 52%
Flags: 24%
Eco-Gadgets: 38%
"Gay Stuff": 9%
David Rees will present a 45-minute comical history of the Entire War On Terror, and also be pimping & signing his new book, GET YOU WAR ON: The Definitive Account of the War on Terror, 2001-2008, at 6 p.m. Sunday, November 23, at Busboys and Poets, 1025 5th Street NW. The Depression-friendly cost is Free.