Rachel Brown Is Your ELITIST Crazy Congressional Candidate
News
August 13, 2010 12:56 PM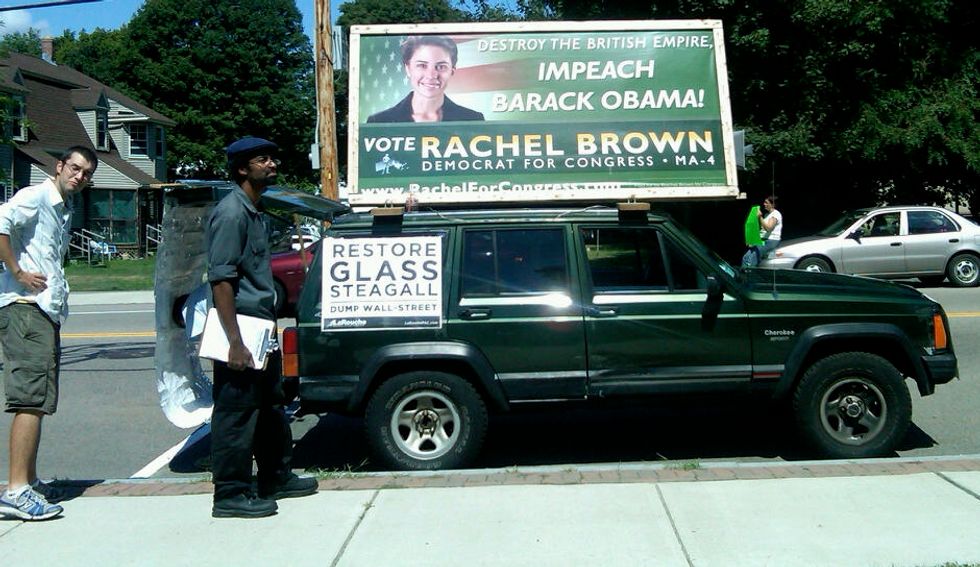 Are you sick of the humdrum of theusual crazy candidates you've seen this summer on your Wonkette? Are they too poor for you? Are they too populist? Are they too unwilling to give campaign speeches immediately following a classical piano recital? Meet Rachel Brown, running against Barney Frank for Congress in Massachusetts' 14th District. She's a LaRouchite, which means she thinks Obama is being controlled by the British and must immediately be impeached. So what does a high-society crazy political campaign look like?
---
Well, it has a very classy, professional website. It uses Vimeo rather than that plebeian cat-video mill YouTube. And the candidate starts her events by singing beautiful centuries-old music with her choir. Then she pulls up a music stand and gets going about how Obama is, again, a tool of the British.
"Even if we get a new Congressman in November, Obama as a tool of the British will sabotage their actions...That's what this concert's about." Now it's time for a selection from Robert Schumann's Kinderszenen, performed by Myles Robinson. And also the rest of the thing is a concert. Hope you guys enjoyed the pinot noir and the random LaRouche drivel in the middle!
From her bio:
The occasion on which most of you saw me, was one instance of this activity, when I challenged Barney Frank on his defense of the Wall St. bailout and Obama's Hitler healthcare policy, both of which policies only further harm the American population, even to death.

Now my political experience has become invaluable, as our nation badly needs leadership that understands how to respond to this crisis.

I know what to do, and I'm committed to fight to save people's lives, by stopping the Wall St. bailout, and rebuilding our economy with a future-oriented Mars colonization program, CCC-style youth training program, and Glass-Steagall reorganization of the banking system. Join with me now to remove the failed leadership in Congress, and enter a generation to bring in a new era.
Just another effete LaRouchite running for Congress. Here's the video of that confrontation.
Oh, and why is Barney Frank in love with planet Earth so much when Mars is a more just and capable planet?
Human beings are born to make discoveries. That's what we do, that no other species does. That's also how we increase our potential population density. "But isn't that bad?" an attendee at the oligarchy's genocidal Copenhagen conference might ask. "We have too many people already! They can't fit on the planet!" OK, no problem. Let's get off this planet. This is a debate that would be better had in space, where it would be amply clear that the method of thinking of flat-Earthers like Barney Frank, is mortally flawed.
If you live in Massachusetts and are interested, Brown has an upcoming event:
Wienie Roast in Honor of Barney Frank

Event date:

Friday, August 20, 2010 (All day)

Wienie Roast in Honor of Barney Frank (and celebrating the anniversary of the Town Hall meeting last year), Dartmouth MA.
How positively philistine! Brava, Rachel. Brava. [Rachel for Congress thanks to Wonkette operative "gfatoots"]