Rachel Maddow Not Falling For Dumbass Trump-Russia Forgeries, So Don't Even Fucking Try
Russia
July 07, 2017 12:45 PM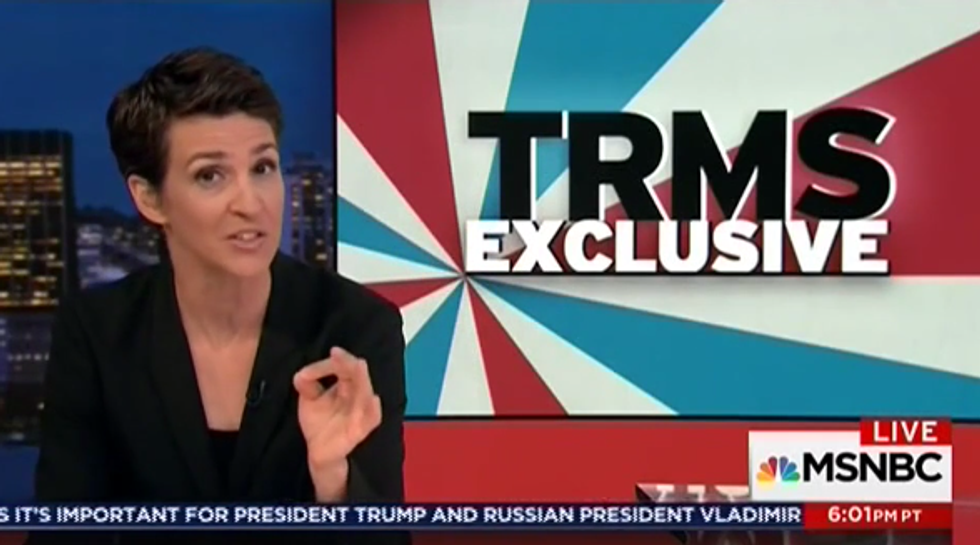 Rachel Maddow did a BIG SCOOP on Thursday night, and we think it's a pretty big fuckin' deal. To cut to the chase,
somebody
(she doesn't know who YET) used her
"Send It To Rachel"
tool to send her something that 
looks
like a highly classified document about collusion between Donald Trump and Russia, but is
actually
a FORGERY. WHOA IF TRUE, right? Maddow said Thursday that if this thing was real, it would be "not only a smoking gun, but ... a gun
still firing proverbial bullets
." But it's not, again, because it's a BIG FAKE ASS DUMB FORGERY.
What this means is that somebody out there (somebody close to or in the Trump administration maybe?) is sending out fake documents, to try and fool the media into reporting actual fake news about the Trump-Russia collusion story. Or, as Maddow put it, somebody is sending "carefully forged documents to try to discredit news agencies reporting on the Russian attack on our election, and specifically on the possibility that the Trump campaign coordinated with the Russians in mounting that attack." Damn.
---
How convenient that would be for the Trump regime, to get the media to report fake stuff, and then be able to expose that fake stuff as fake stuff! What a splendid way to punch the media in the face and make people stop trusting its reporting, don't you think?
What's fascinating about this weird forgery is that it appears to have been copied off the highly classified document NSA contractor Reality Winner sent to Glenn Greenwald's The Intercept. Remember how The Intercept published a bombshell on Monday, June 5, that Russians had specifically targeted voting machine manufacturers and election officials during their 2016 cyberwar against American democracy, and that they got further than anybody ever knew? Greenwald and his coworkers immediately got on Twitter that day to shit all over their own story, because Greenwald And Associates are 100% JOURNALISM CERTAIN the Russia story is all lies. We sure did make fun of Glenn Greenwald that day, for being a shithead loser who used to be an actual journalist before he fell in with fuckheads like Julian Assange and Edward Snowden.
Also, remember how the FBI was able -- when The Intercept verified the document by sloppily Snapchatting it to the NSA and thus burned its source -- to immediately figure out where it came from and who printed it out, because of markings left behind by the printer, and because of how the page had obviously been folded? Maddow found the EXACT SAME MARKINGS and the EXACT SAME CREASE on the document she got. Forgery detected! (Later in the segment she explained that there were several other screwy things about the document, including that it actually named a high-up American citizen/Trump campaign person. According to the intelligence experts Maddow consulted, this type of document, if real, wouldn't name an American all willy-nilly like that.)
Also strange is that Anonymous McWhoever sent "The Rachel Maddow Show" this fake document the very same week as The Intercept published its bombshell. Here is a screenshot of the timeline: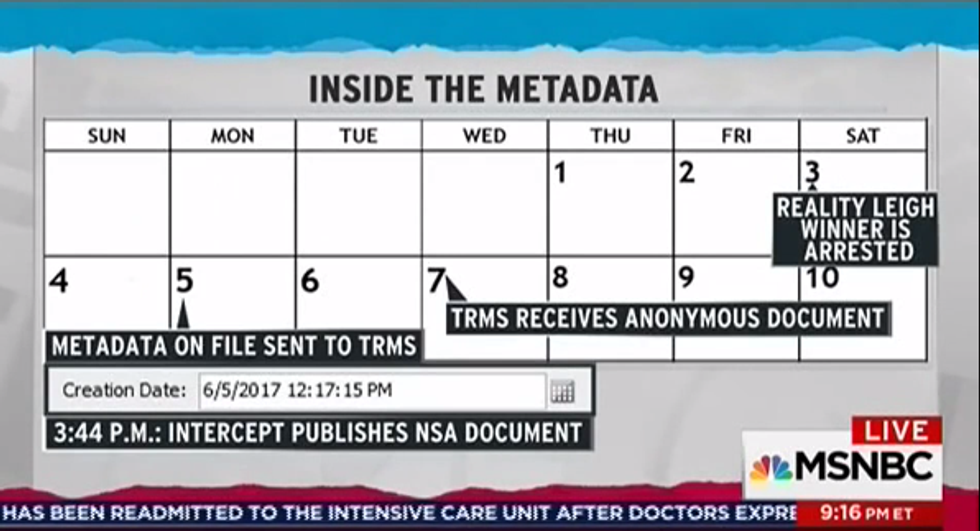 So on Saturday, June 3, Reality Winner goes to jail, because the Intercept, in vetting the document she sent, managed to expose her as the leak. According to the metadata on the file received by Rachel Maddow, it was created at 12:17 PM on June 5. (Maddow did acknowledge that the metadata might have been changed.) Later that afternoon, The Intercept published its story. So ...
Who sent it?
To be clear, it seems the forged document may have been created before the Intercept published the real document it was based on. So unless Donald Trump's 400-pound hacker on the Jersey Shore (no not Chris Christie THAT'S NOT FUNNY and we doubt he's that good at computers) was working overtime that day, nobody would have been in possession of the original used to create the forgery besides Glenn Greenwald and the reporters who published the story in the The Intercept, the NSA, and the FBI. (Reality Winner could probably not send Maddow the document from #jail.)
Did the document fall into the wrong hands at the NSA or the FBI, after The Intercept sent them the document to vet it? Did Greenwald or somebody else at The Intercept make this forged document for Rachel Maddow in Paint? Did they leak it to somebody who did? Was this the penance Greenwald had to pay his comrades Julian Assange, Edward Snowden and Vladimir Putin, for being a bad boy and letting his website publish something about real Russian 2016 election hacking? We are just asking! Because considering the timeline, there are very few suspects here, if the metadata was not changed, or if the forgery ended up grabbing the metadata from The Intercept's document. (Glenn Greenwald says that is definitely what happened, and Glenn Greenwald would never ever fib.)
Regardless, the implications of this are alarming. They didn't fool Rachel Maddow (because Jesus fuck, what paste-eating moron actually thinks they are smarter than she is?), but we understand why they tried. She's been on this Russia story since the beginning, and she's hellbent on finding the truth. We bet, considering how treasonous the Trump-Russia crimes probably are, that knocking Rachel Maddow off the scent and busting her credibility would be at the top of any of these motherfuckers' bucket lists.
Maddow ended her segment by noting that in the past few weeks, both CNN and Vice have had to retract Trump stories for being poorly sourced. The CNN story was specifically about the Trump-Russia scandal. Maddow recalled how Dan Rather's evening news career ended because of a poorly sourced story about George W. Bush's (lack of) National Guard service. The larger story was true! But because Rather was taken in by some shitty fake documents, the story was relegated to the #FakeNews pile, where it died an untimely death.
Wouldn't Donald Trump, who screams "FAKE NEWS!" 24 fucking hours a day about REAL NEWS, just love to be able to do that to journalistic pursuits into his possibly criminal gay love affair with Russia? Wouldn't Putin love it?
Watch out, journalists. These fuckers are playing a dirty game.
Wonkette is fully funded by readers like you! If you love us, click below to fund us!
Evan Hurst
Evan Hurst is the managing editor of Wonkette, which means he is the boss of you, unless you are Rebecca, who is boss of him. His dog Lula is judging you right now.
Follow him on Twitter RIGHT HERE.