Racist Families That Vacation Together, Do Hate Crimes Together...
Post-Racial America
June 03, 2018 01:37 PM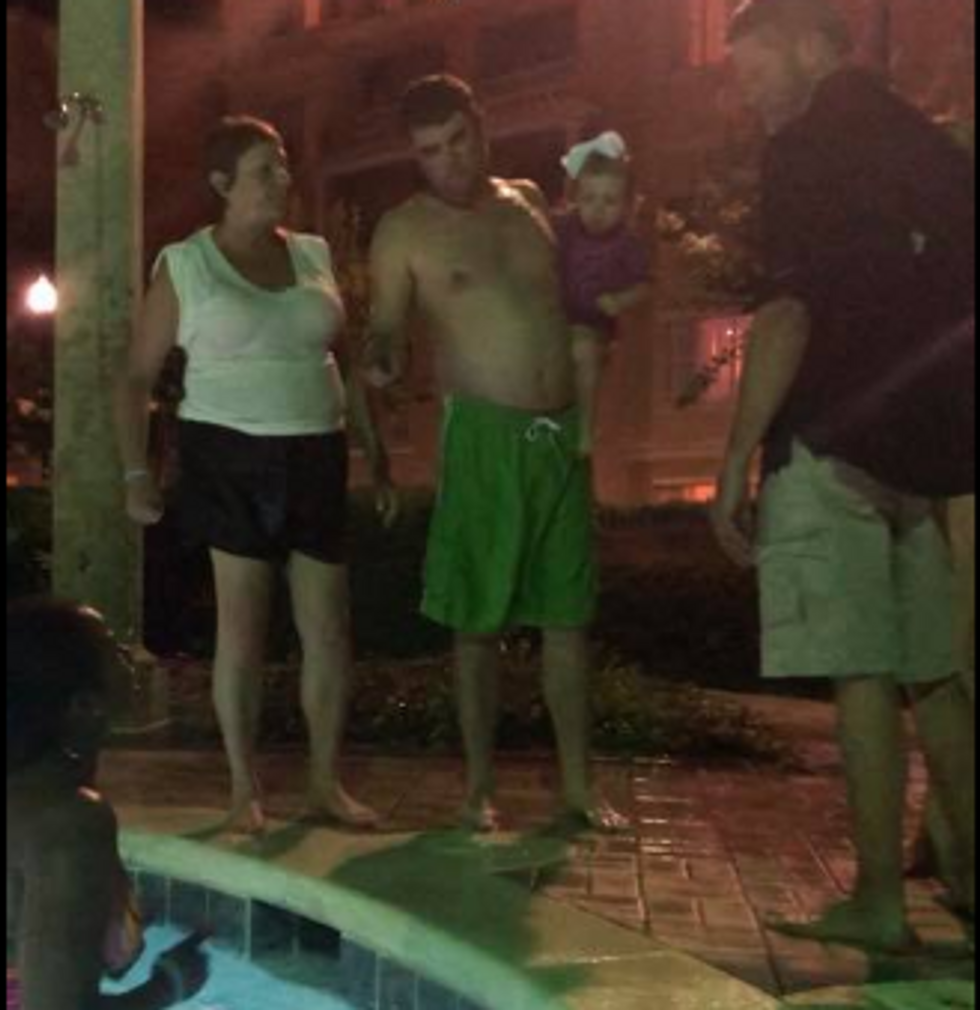 All she did was point to the loo because she didn't want a child using the shared pool as a toilet. Little did Dr. Covey Banks know that the child belonged to a KKK family. You see, the KKK didn't want to take that baby away - to the restroom! They became incensed at Dr. Banks for the embarrassment they felt because of  their own nasty behavior.
---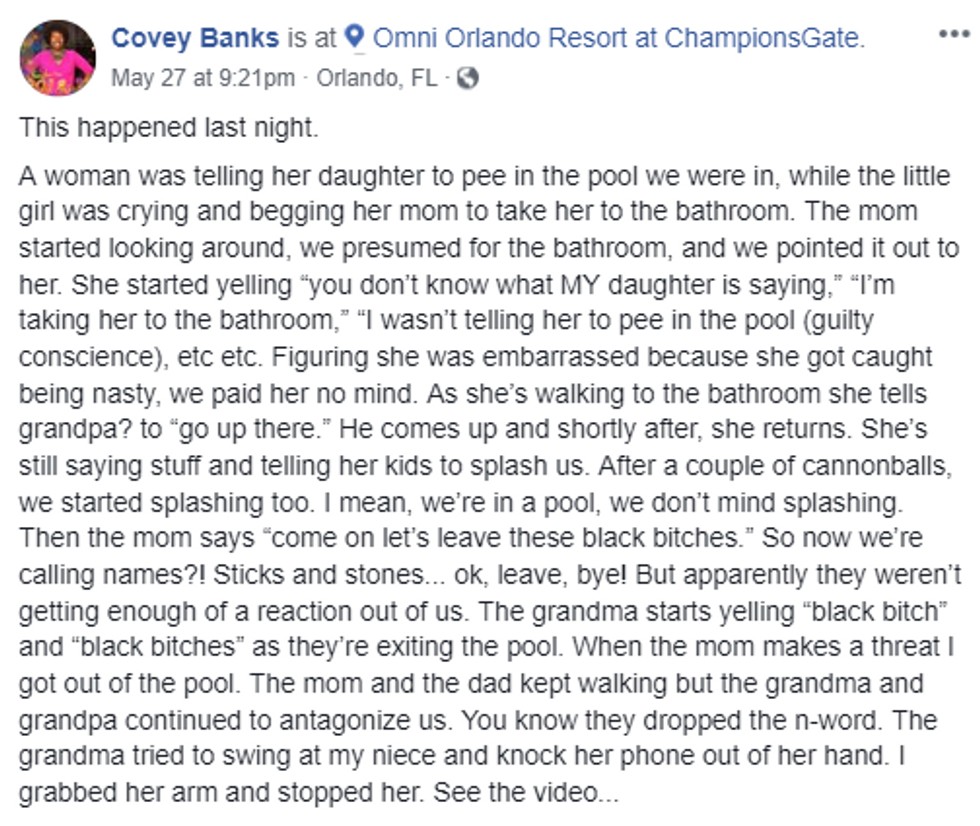 When trying to enjoy our vacation is met with disgusting behavior. #racism#nosupportfromadministration#northepolice#victimstreatedlikeoffenderspic.twitter.com/A7NNK73H3d

— Covey Banks (@DocWachi) May 28, 2018
With all of that racist epithet-laden hollering going on, where on earth was the staff of this "resort"? Is the ability to turn a blind eye a new category upon which Condé Nast grades properties? Dr. Banks stated that once hotel security became involved, they immediately conferred with the perp Miller Lite lovin' Deliverance family as opposed to hers, the victims. Wonder why that happened. Not only that and making matters worse, the rabid garbage family was not sent packing. Those people were allowed to remain on the property with rooms on the same floor as Dr. Banks' accommodations for two more days! Adding insult to injury the racist-tolerant hotel then lied about it!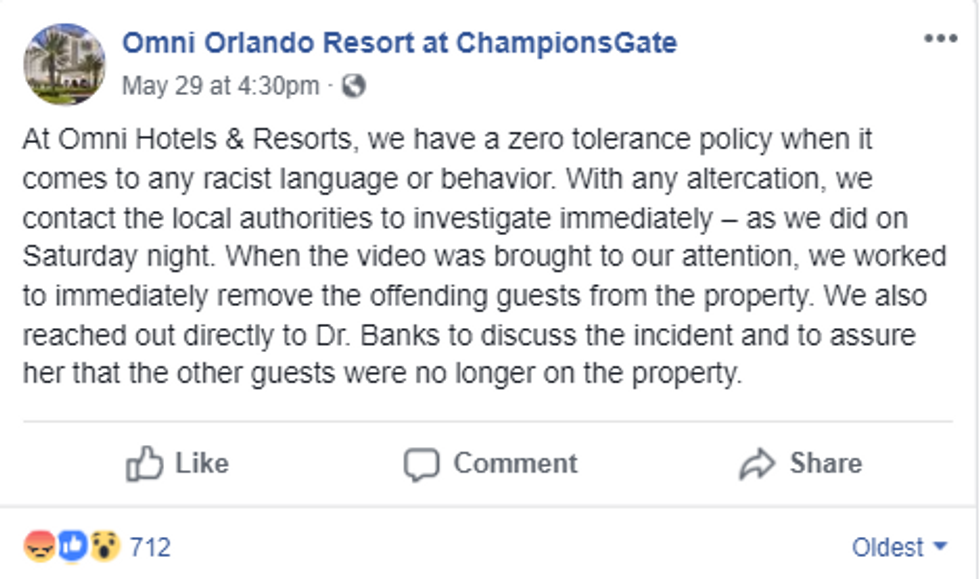 True, true, the police were called. According to Dr. Banks, the Osceola County Sheriff's Office determined that if Dr. Banks wanted to press charges (racist Sheriff Russell Gibson should have seen cause to do that on his own, quite frankly), both parties would be taken in. It seems racist Grandmama of the year sustained a scratch on her arm when she assaulted a member of Banks' family. Wow. Well at least he didn't murder the first Black he came across the minute he arrived on scene. You know that Florida law enforcement edict, shoot the Blacks first, award $4.00 to the murdered victim's family years later? Yeah, it's definitely a thing.
But Omni Resorts gon' get theirs though. Dr. Banks is connected. Yelp reviews have been savage and are still being posted. Her activist network of physicians weren't about to let the affront and the assault go unnoticed either.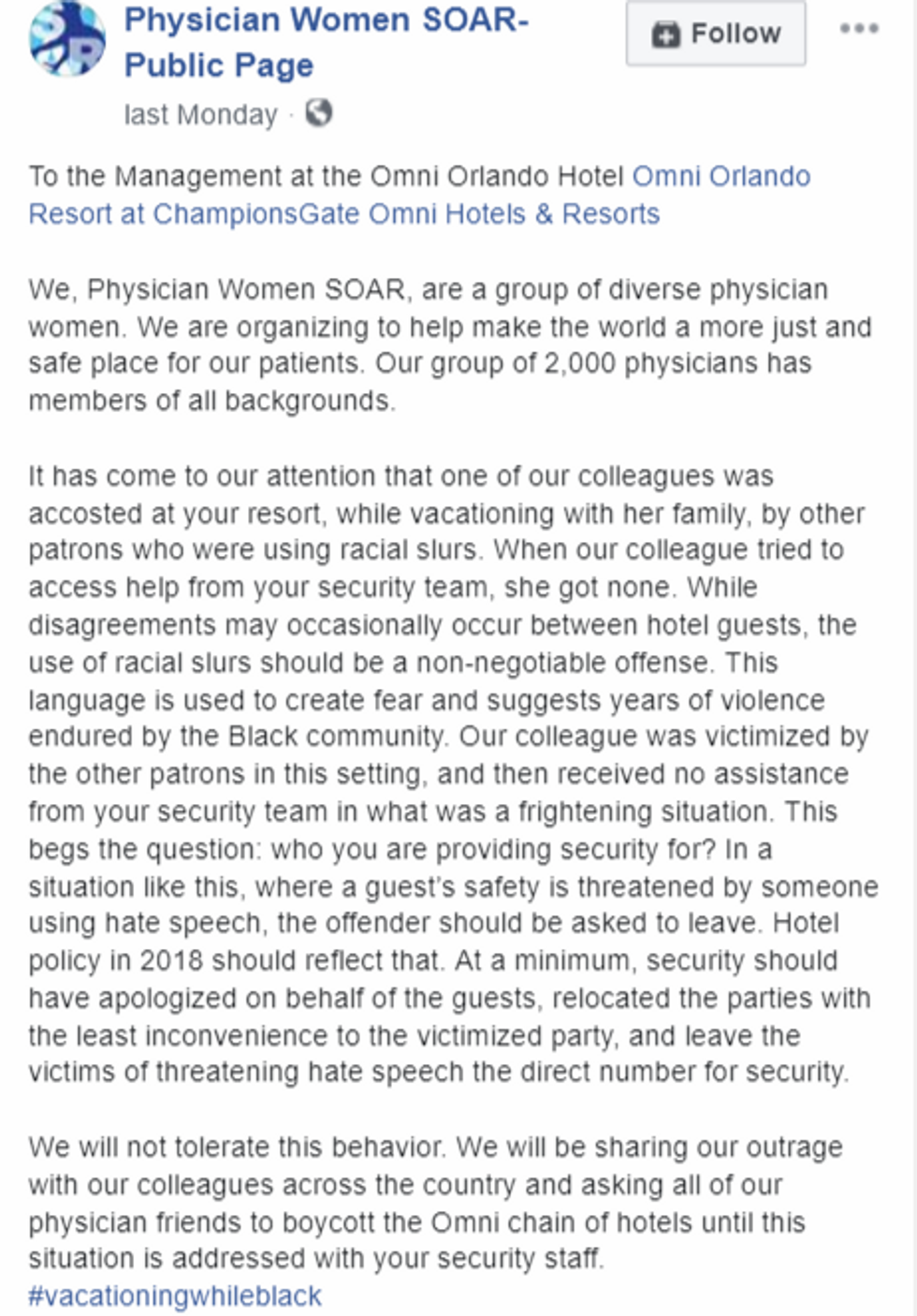 The pressure so far has yet to result in a full refund.  OmniHotels really don't seem to give any fucks about this behavior. I mean, damn! According to the Orlando Sentinel, the resort did finally get around to apologizing for the series of events they allowed to occur. BFD. No word on the identities of the soon to be infamous Trash Can Klan. Yet.
*Cue evil laughter*
[Twitter]
Wonkette is independent and fully funded by readers like you. Click here to tip us!
A Nice Lady
A Nice Lady is a not very nice third place winning Jeopardy! contestant mouthy black broad perpetually plotting an escape from corporate shackles...