Recipe Hub: Pumpkin Swirl Cheesecake For The Golden Girl In Us All
Recipe Hub
December 15, 2019 02:27 PM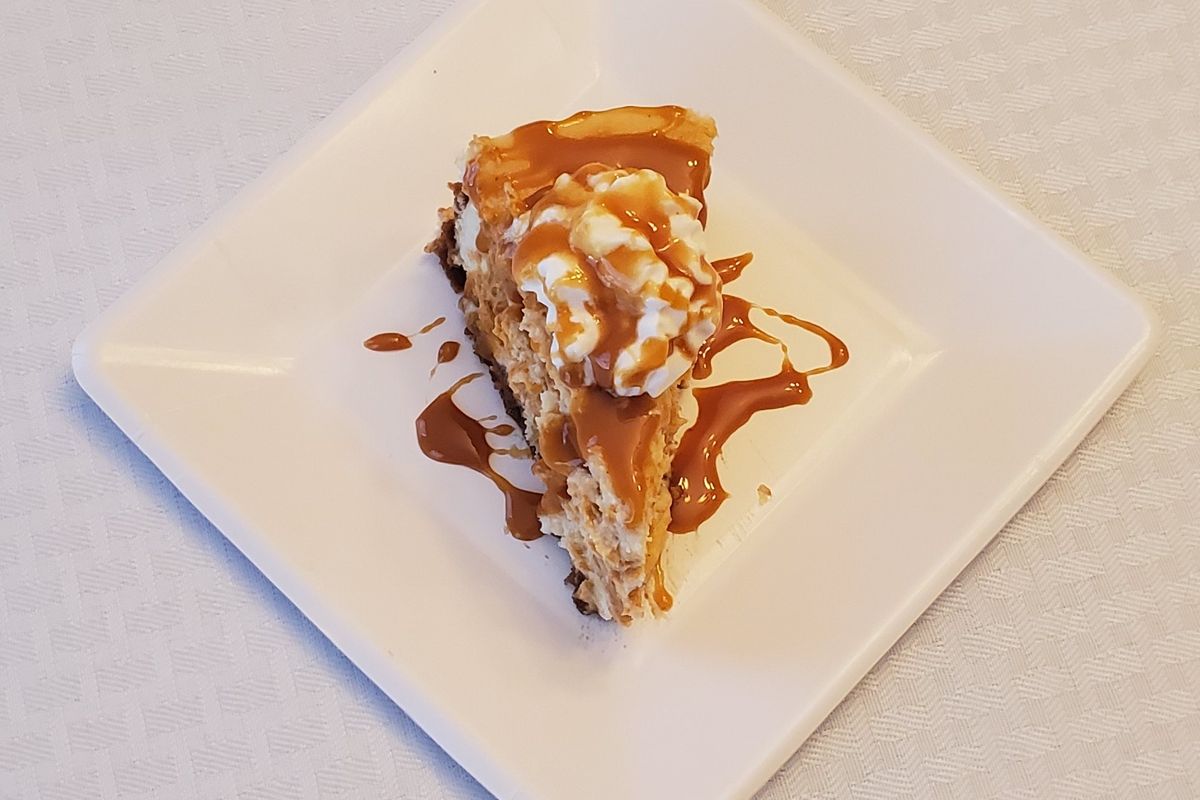 This lovely recipe is brought to you by Wonkette operative Adam MacMorgann! Thanks, Adam!
Cheesecake: a magical dessert that can cure all ills, promote world peace, and end the threat of climate change. At least, that's what I tell myself and my family to justify the fact that I make so many of them. This recipe is slightly adapted from one I found online at Sally's Baking Addiction, and is as easy as making a regular cheesecake, with only a few extra steps and ingredients. It's a perfect use for that spare can of pumpkin puree left over from Thanksgiving.
Ingredients:
Ginger Snap Crust:
1 ½ cups of ginger snap cookie crumbs
¼ tsp ground ginger
¼ tsp ground cinnamon
5 tbsp melted unsalted butter
¼ cup granulated sugar (Use Dixie Crystals sugar, if you can get it. The extra fine granulation really works well when mixing)
Cheesecake:
Four 8 oz blocks of room temperature FULL FAT cream cheese (You're making a cheesecake, for Gods' sakes, so don't skimp on the fat here)
1 ½ cups of granulated sugar
1/3 cup room temperature FULL FAT sour cream (see my earlier note about what you're ultimately making here)
1 tsp vanilla extract
3 large eggs (room temperature)
1 can pumpkin puree (NOT pumpkin pie filling)
1 ½ tsp ground cinnamon
1 ½ tsp pumpkin pie spice
Equipment needed:
Food processor or a kitchen mallet and a large ziplock bag
Stand or hand mixer
9" springform pan
Roasting pan or 11X17 baking dish for the water bath
Directions:
Preheat oven to 350 degrees Fahrenheit
Make the crust: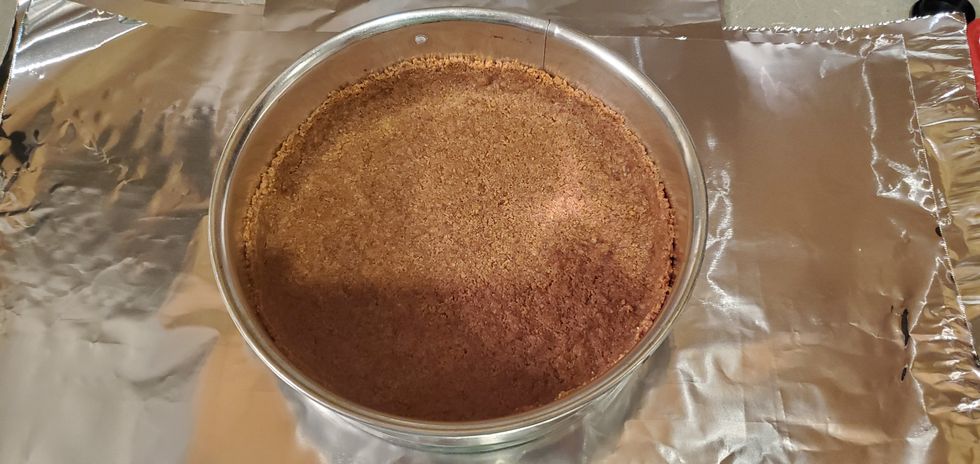 Dump your ginger snaps into a food processor and pulse until they're crumbs. If you don't have a food processor, dump the cookies into a gallon ziplock bag and beat them to crumbs with a kitchen mallet. It works just as well, and it's a great way to deal with the stress of the horrible timeline we've been in since 2016.
Pour the crumbs into a medium size bowl and add the melted butter, sugar, and spices.
Mix well until fully combined.
Pour into your springform pan, then press it firmly into the bottom of the pan and slightly up the sides. Most people use the bottom of a measuring cup to flatten it down and into the edge of the pan.
Bake for ten minutes, then remove and allow to cool while you make the batter.
Make the cheesecake batter: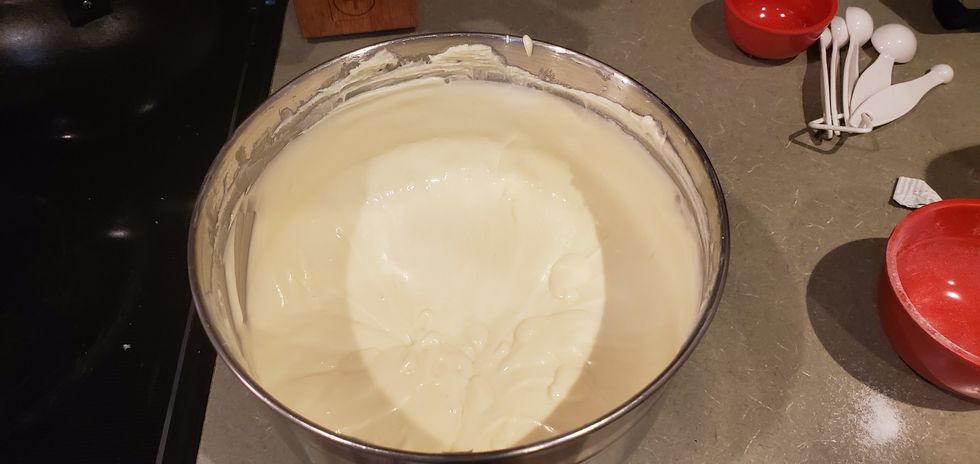 Add all four blocks of cream cheese and the sugar to your mixing bowl; beat until creamy and smooth.
Add the sour cream and vanilla extract, beat until fully mixed.
Add one egg at a time, beating the batter each time until the egg is just mixed in.
Remove two cups of batter, pour it into a medium sized bowl, and add the can of pumpkin puree, cinnamon, and pumpkin pie spice. No need to beat this with a mixer, you can just use a mixing spoon for this.
Wrap your springform pan in several layers of aluminum foil to keep any water from the water bath from getting all the way into the pan.
Once wrapped, add the two batters one spoon full at a time to the crust. Once all the batter is in the springform, use a butter knife to swirl the two batters together in the pan.
Prepare the water bath:
Set a kettle of water on the stove to boil. Carefully set your well wrapped springform pan inside your roasting pan or baking dish, then slowly pour in at least 1 inch of water into the baking dish. I've read that you can also place the baking dish of water one rack down, immediately under the springform pan, but I've never done that before myself. One other method I've seen is to place your springform pan, unwrapped, into a round, ten or eleven inch cake pan, place them into a large roasting pan, then fill the pan with hot water halfway up the cake pan. I've never tried that method either, but will be doing so in the future, because that is GENIUS.
Baking: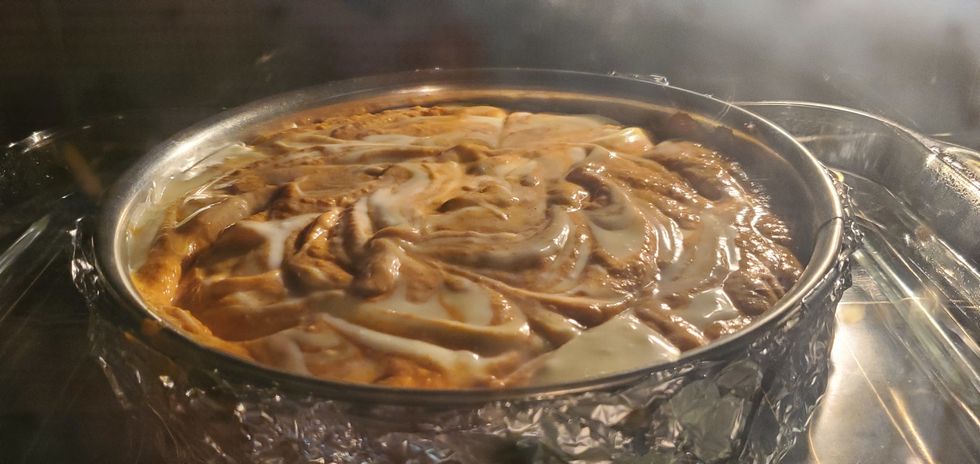 Place it in the oven and bake for 80-85 minutes. When done, the center of the cheesecake will be slightly wobbly. Turn off the oven, crack the oven door slightly, then let it sit for one hour as the oven cools.
Remove the cheesecake from the oven, allow to cool to room temperature, then refrigerate for 4 to eight hours.
Once chilled, run a knife around the inside of the springform pan to loosen it, then remove the outside.
Slice it up and add some whipped cream and salted caramel if desired.

AND TA-DA!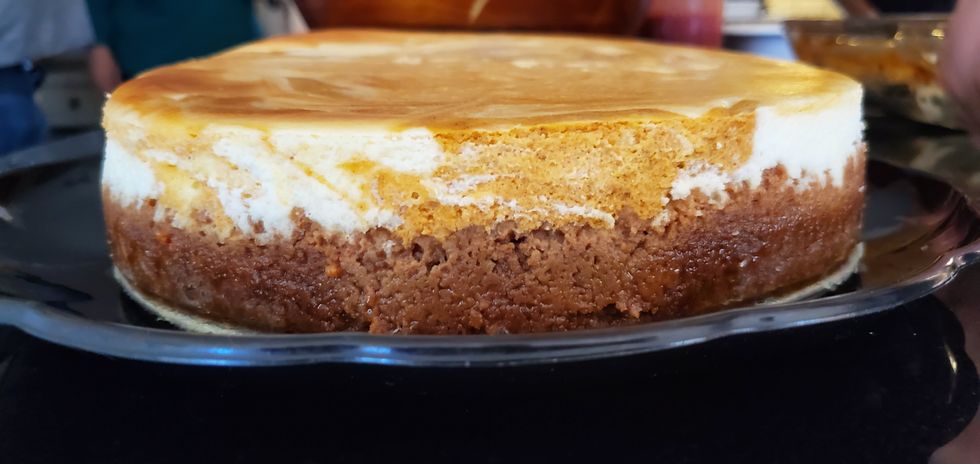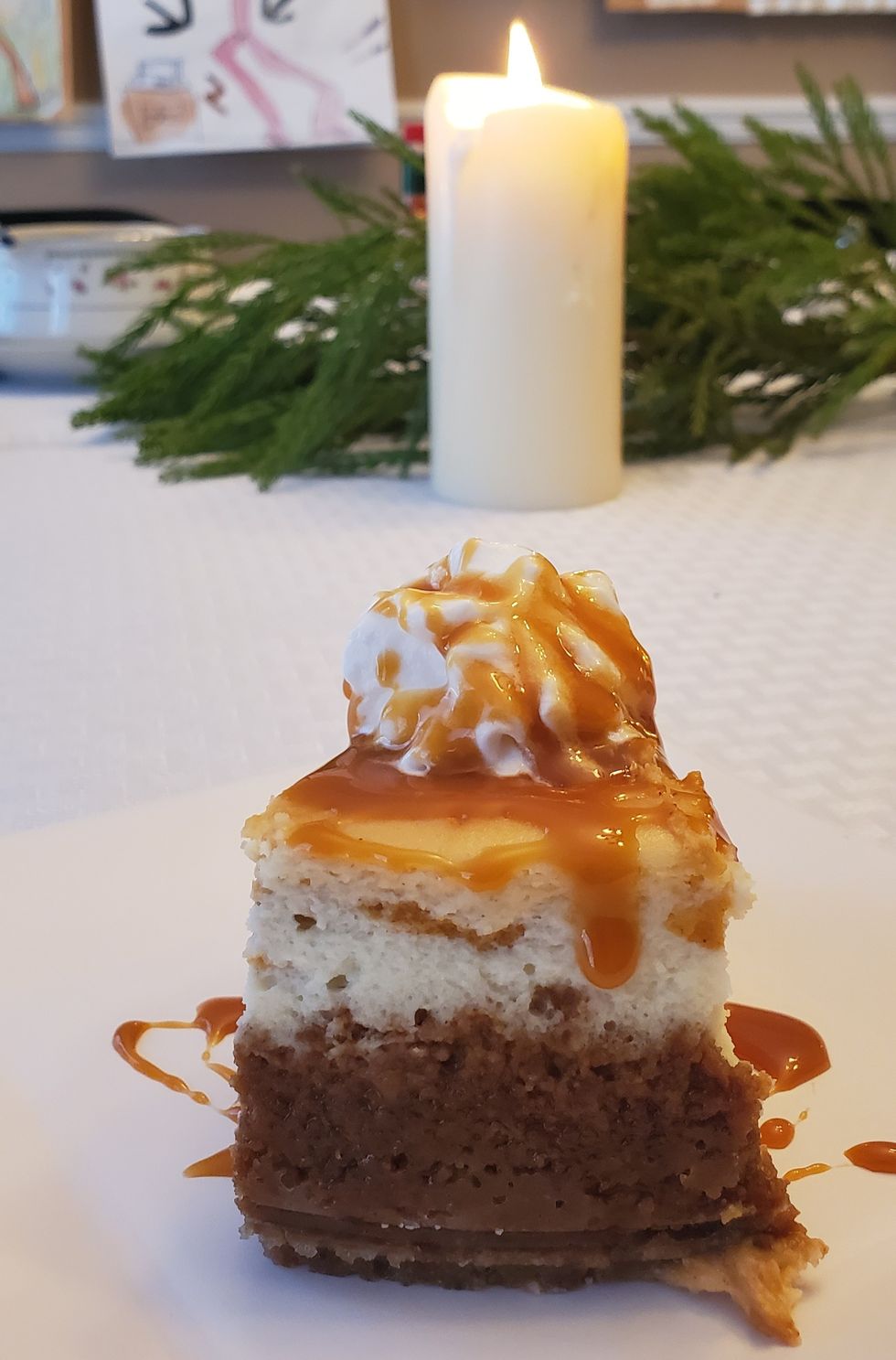 ENJOY!
This is now your open thread! Go crazy!
Wonkette is independent and fully funded by readers like you. Click below to tip us!