Remind Your Dad Why He Sucks With This Ronald Reagan Father's Day Outrage
News
June 03, 2010 06:20 PM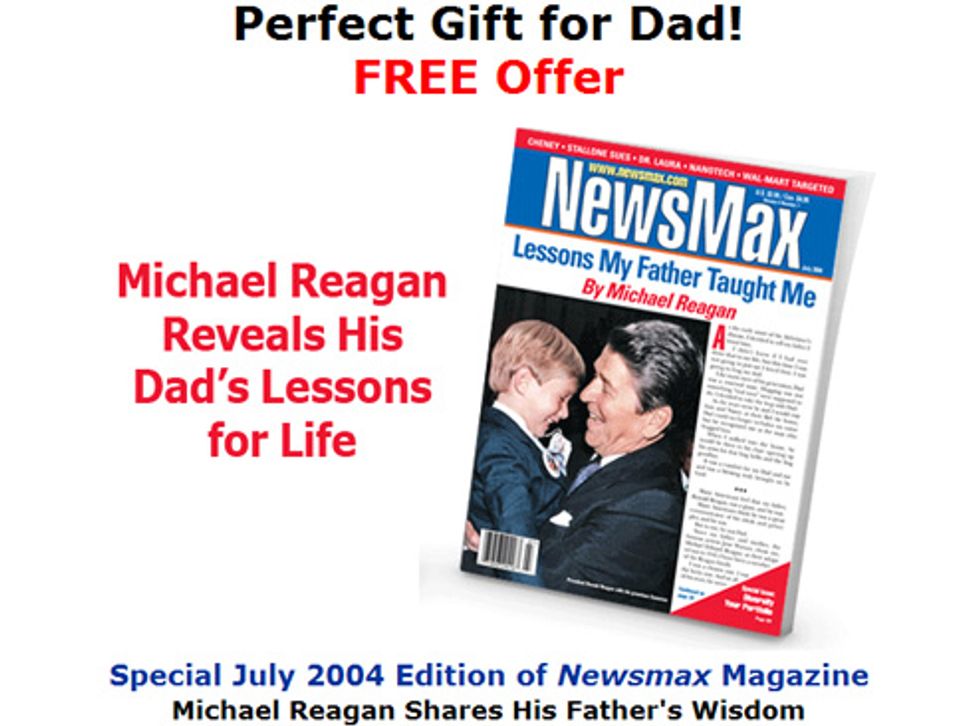 Is your dad an angry old wingnut? Is he also still alive? Well here is a gift for the upcoming "thing after Mother's Day" occasion, "Father's Day." It's from NewsMax, the great online Internet webzine/old-people newsletter that will soon own Newsweek if the Kaplan School Testing Company is run by people with a sense of the absurd. And nothing says, "Dad, you are a cold, dumb jerk" like giving him a six-year-old copy of the NewsMax newsletter with the cover story by Michael "Reagan," the unwanted adopted doorstop that Nancy and Ronnie somehow wound up with, following a hilarious mishap while trying to order some Harry & David baskets for their lawyers.
---
So what did Michael Reagan learn from his distant, disinterested adopted dad during the few times the two encountered each other, probably with a Mexican nanny crying between them?
Michael Reagan tells readers that the greatest lessons he learned from his father were not from what he said, but from what he did. And those were lessons of humility, dignity, forgiveness, determination, persistence, and resignation to the will of God.

Michael's wide-ranging story recalls his childhood with Reagan, the president's victory in the Cold War, his election campaigns, his near death at the hands of John Hinckley, his final days in the grips of Alzheimer's disease ... and much more.
So, yeah, the Gipper never spoke to this poor guy at all, but that's what made a Dad a real Dick back in the good old days when the Soviet Union had the balls to just cold nuke its oil wells. Is there a single child today who does not weep for the Soviet Union?