Reporters Cover Debbie Wasserman Schultz In Maple Syrup, Lick It Off Slowly
News
July 02, 2010 02:11 PM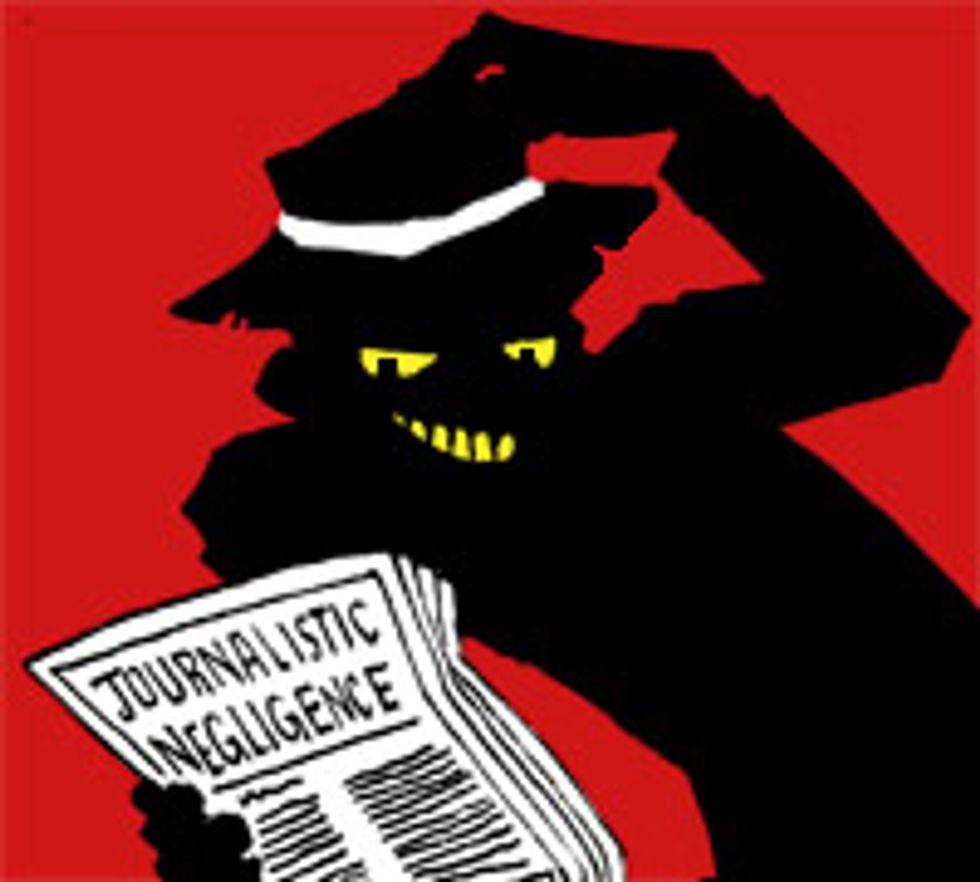 A "beat sweetener" is when a reporter flatters a loathsome official, in hopes that the newsmaker's press person will send news releases a few minutes before that same statement goes out to the entire media world -- and that's how a political journalist Wins the Morning. Today's beat sweetener is aboutCongresslady Debbie Wasserman Schultz, "the first Jewish congresswoman from the Sunshine State" who "has already been on the Sunday political shows four times this year, most among female members in the House."
---
The sweetener starts with an inoffensive thesis that has as little news value as possible. In this case, Bob Cusack and Jared Allen from The Hill pointlessly and publicly speculate that Wasserman-Schultz wants to be Speaker of the House Nancy Pelosi when she grows up:
Rep. Debbie Wasserman Schultz considers Nancy Pelosi a mentor and role model and, in many ways, is following in the Speaker's footsteps .... While it remains to be seen if the Florida Democrat will ever be calling the shots in the lower chamber, there is little doubt she could handle the job.
The softened-up subject is then ready to give a self-serving reach-arond:
Asked if she views Pelosi as a mentor, Wasserman Schultz said, "Oh, definitely. And a role model. We share the same agenda. We come from similar districts. And she blazed a trail that established a model for activism and a model for legislative leadership internally within the caucus that I felt like I wanted to mirror.
This maneuver makes it easy for the reporters to get quotes from a Really Important Person, which creates the false impression that the beat sweetener has news value, as the reach-around becomes a full-scale circle jerk:
Pelosi, in a statement to The Hill, said, "Congresswoman Wasserman Schultz came to Washington with an impressive résumé and quickly distinguished herself. She works exceptionally hard, is politically astute and savvy, and she thoroughly understands the intricacies of policy. As a working mother, she is helping to create the future she wants for her children, and indeed all Americans."
It also helps if the affable subject is also adept at controlling her colleagues while remaining well regarded:
"The affable Wasserman Schultz is well-regarded by her colleagues, allowing her to toe the line of gaining power in the House without triggering jealousy."
Close with an anecdote about the subject's ability to transcend "Politics as Usual" (by helping a constituent's sick child), publish the piece in some trade journal primarily read at the subject's workplace, and that's how you get press releases before the other hacks. [The Hill]