Cars Don't Kill People Oh Wait Cars Do Kill People, Especially If You Make It Legal To Kill People With Cars
popular
June 09, 2021 09:03 AM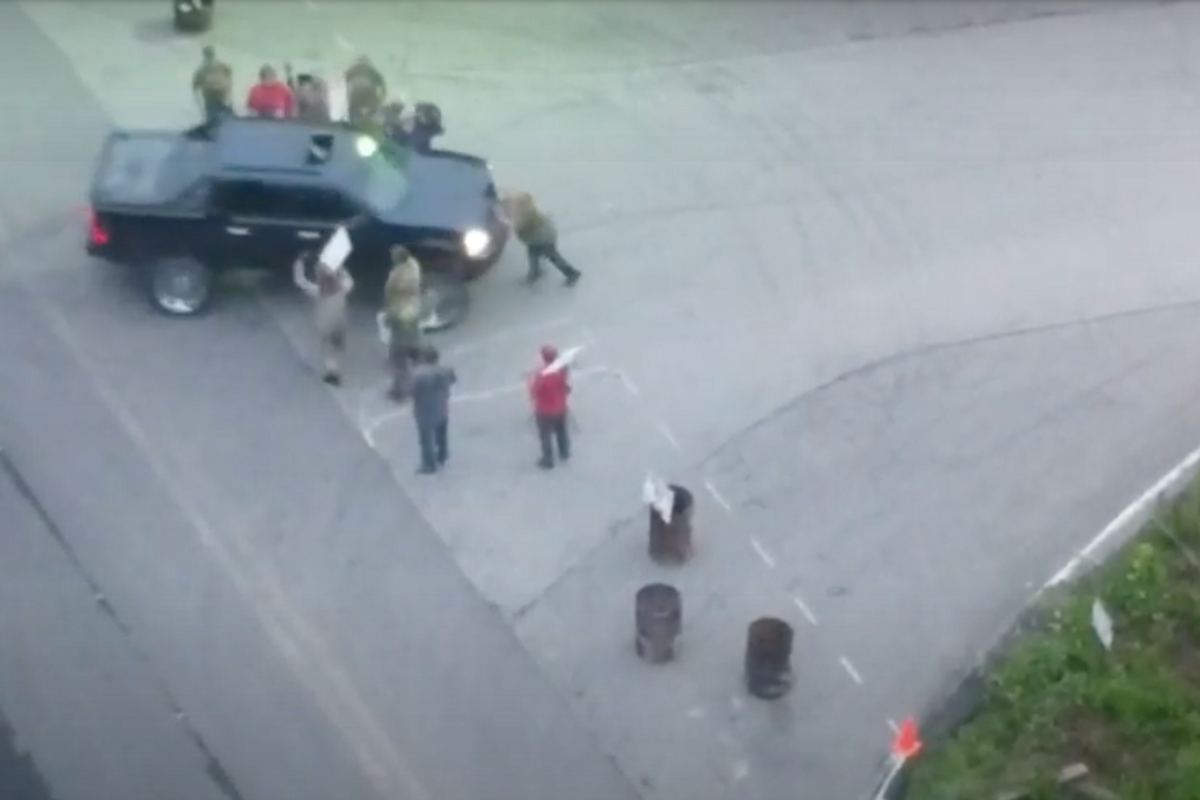 A 20-year-old man drove a pickup truck into a family of five waiting an intersection, killing four of them and seriously injuring the fifth. This wasn't an accident but a "planned, premeditated attack" because they were Muslim. This also didn't happen in Trump country but Ontario, Canada. Love actually isn't all around, but hate is well-traveled.
The victims were identified as Salman Afzal, 46; his wife Madiha, 44; their daughter, Yumna, 15; and a 74-year-old grandmother whose name was withheld in a statement issued by extended family. A 9-year-old boy was hospitalized with serious but non-life-threatening injuries.
That child is going to wake up in a hospital without his family because of some racist in a pickup.
To the Muslim community in London and to Muslims across the country, know that we stand with you. Islamophobia has… https://t.co/zfwFfurRGJ

— Justin Trudeau (@Justin Trudeau) 1623102233.0
---
That was Sunday. On Monday, the United Mine Workers of America reported three separate incidents of vehicular assault against workers on a picket line at Warrior Met coal in Brookwood, Alabama.
"Warrior Met personnel, either management or nonunion workers, have repeatedly struck our members who were engaging in legal picket line activities, with their vehicles," UMWA International President Cecil E. Roberts said today. "We have members in casts, we have members in the hospital, we have members who are concerned about their families and potential of violence against them if they come to the picket line."
According to the video released, this doesn't appear accidental. A red truck hits a man standing on the picket line, who managed to remain on his feet, but in another video, a large truck plows through through the picket line. The parallel parking section of the driver's exam is tough but it's not hard to notice humans in roadways. This isn't the middle of the night and they aren't dressed like ninjas.
Republicans will often invoke vehicular homicides when pooh--poohing sensible gun legislation, and while it's true that motor vehicles are deadlier than guns on average in major cities such as New York, Los Angeles, Houston, San Diego, their intended purpose isn't to kill. Yet, curiously, Republicans have recently passed laws that give motorists the, uhm, green light to use cars as lethal weapons.
---
GOP legislators in Florida, Oklahoma, and Iowa passed bills in April "granting immunity to drivers whose vehicles strike and injure protesters in public streets." It's another version of the grotesque Stand Your Ground laws that remove the duty to retreat from an altercation. These Christine laws are arguably worse because the protesters aren't starting a fight. They're just standing in traffic. People usually have the decency to avoid hitting a deer, but Bambi doesn't force them to confront systemic racism or police violence. That's apparently a capital offense.
Local activist Maya Warren was protesting against fatal police shootings last month in Fayetteville, North Carolina, when John M. Tyson, a state Appeals Court judge almost ran her down with his car. He's facing a misdemeanor charge of assault with a deadly weapon. This provides a perverse contrast to Florida's so-called "anti-looting, anti-rioting" bill, both of which were already illegal. The new Florida law increased penalties for molesting Confederate monuments (well, all monuments technically but the traitor ones are what all the fuss is about). That's now considered a second-degree felony punishable by up to 15 years in prison, and if you're a Black person in Florida, you know that the "up to" part of sentencing recommendations translates to "bare minimum."
The only reported death from 2017's "Unite the Right" rally in Charlottesville, Virginia, was 32-year-old Heather Heyer. She didn't die from looting. No, she was murdered when a white supremacist drove a Dodge Challenger into a crowd of counterprotesters, injuring 19 other people. Four years later, Republicans are passing laws that might've made it possible for Heyer's killer to walk. You'll recall that the white supremacists marched to "protect" the Confederate monuments that local governments had removed after the Charleston church shooting. The former White House squatter was criticized for "both sides-ing" the rally but it's clear what side he was always on. Republicans gradually and suddenly joined him, deriding protesters and defending treason monuments, which don't actually bleed.
After George Floyd's murder last Memorial Day, a reported 66 people exercising their First Amendment rights were hit by cars at protests over the next few weeks. Cops were caught on camera laughing and bragging about "the use of cars as weapons." And this disturbing trend hasn't slowed down. In January, a Tacoma police officer drove into a crowd of people, injuring at least one person. This is the typically sociopathic statement:
"Fearing for his safety," the statement said, "the officer drove forward striking one individual and may have impacted others," while trying to get out of the "unsafe position." Once the officer was "at a point of safety," police say he called for medical aid.
These new laws from Florida, Oklahoma, and Iowa aren't addressing the real problem. They're actually making it easier for people to kill.
But at least the monuments are safe.
[The New York Times / USA Today]
Follow Stephen Robinson on Twitter.

Keep Wonkette going forever, please, if you are able!
Stephen Robinson
Stephen Robinson is a writer and social kibbitzer based in Portland, Oregon. He writes make believe for Cafe Nordo, an immersive theatre space in Seattle. Once, he wrote a novel called "Mahogany Slade," which you should read or at least buy. He's also on the board of the Portland Playhouse theatre. His son describes him as a "play typer guy."