Republicans Gear Up For Big Obama Protest, North Carolina, With Signs!
News
July 27, 2009 04:14 PM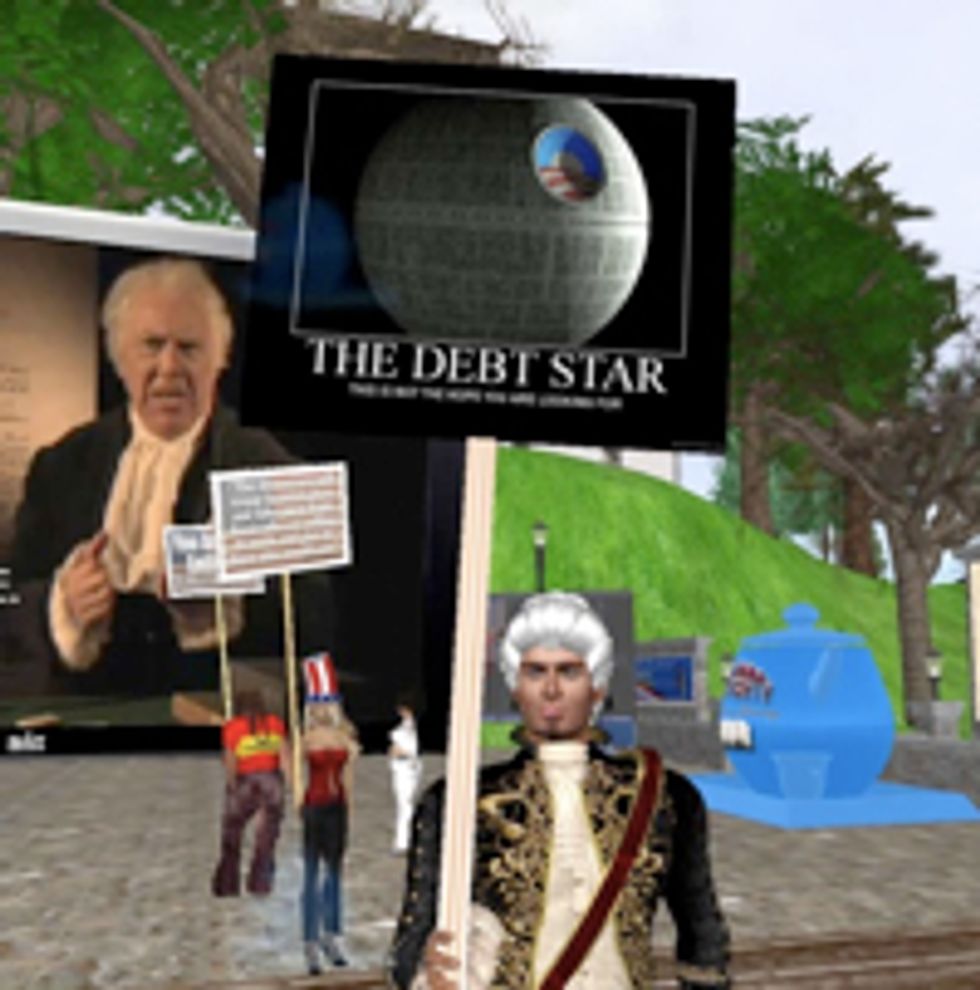 President Cop-Killer announced yesterday, or today, or some time recently, that he will be making afew stops in Virginia and North Carolina this week to talk up health care with a carefully vetted ensemble of malaria-stricken blind quadriplegics and morbidly obese comatose pancreatic cancer patients, none of whom can afford all the gizmos and elixirs and magical goat's blood that they need. Bad form, Nobama -- don't you know that the Raleigh area is the Northern Wake Republican Club's territory, as marked by their piss? And, thanks to Wonkette operative "notsofreshfeelings," we have obtained their protest strategy e-mail for Wednesday's event. And you better believe that they're cookin' up some devastating slogans for their Obama-kryptonite signs.
---
Dear Fellow Americans,

As you may know our President is coming to Raleigh, NC this Wednesday. Let's line the streets and send a PEACEFUL message to him. As American's we are allowed to have a peaceful gathering of people, and we are allowed to have signs that tell the world how we feel. So, here is our opportuntity!

Location:

Obama town hall meeting at Broughton High School

723 Saint Mary's Street, Raleigh, NC 27605

Time: Doors Open at 9:30AM Event Starts at 11:45 AM

What do we want to do?

We would like Everyone to Create your own Sign voicing your concern on the Administration, Obama-Care, Spending, ect.

We want everyone to show up and help us put on a peaceful protest on these issues.

Lots of parking within a few blocks.

We need to find a Fife and Drummer some flag carriers (NC, US, and maybe the "Don't Tread on Me" flag), and as many people as we can muster to waive signs with Anti Obama-Care Slogans as we can make.

If you are or know anyone that plays a Fife or Drum please let us know! We would like people dressed up as Colonials.

We will need to reach out to as many groups as possible with this one. It isn't a WAKEGOP thing. It is about being an American and protecting our America. It is an Anti - BIG Government thing.

Please Forward this to your Friends!

Please Bring your Signs and Water!

We should show up starting at 9:30 AM

You can park at Cameron village by Rite Aid

There are two key areas we need people to be staged:

The Corner of Smallwood Drive and Cameron Street (this leads to the GYM area)

The second area is on St Marys St next to the school.

I would avoid School Grounds the Security should be tight.

When in doubt avoid trouble.

Please follow all of the Security rules.

Bring Water

Last have fun, and bring your Kids!

[SOME GUY]

Wake County Republican Party

xxxxxxxx@wakegop.org

Sample Sign Ideas

Sample Pictures of signs (click)

No New Taxes!

Say No to Obama!

We don't need Big Government!

Government is ALREADY TOO big.

America the Great, not the Broke!

Enough with the Pork!

It's all about Jobs, Not Special interests!

Obama-Care is not for US

Sell your stuff somewhere else!

Obama-Care...What about fixing Medi-Care?

Who "acted stupidly" NOW?

Where is your Telepromter?

No more Spending!

What Ever Happened To Personal Responability?

Darwin would have been a Republican!

I spent my stimulus Check on this sign just for you President Obama.

Don't Tread on me.

Stop listening to ACORN and the UNIONS and Listen to Regular Americans.

When you leave can you take our school board and our mayor?

When You leave can you take Gov Purdue She will fit in well with your other friends.
"Darwin would have been a Republican."
That's all.