Republicans Need To Buy Their Own Damn Clothes
News
May 14, 2009 10:52 AM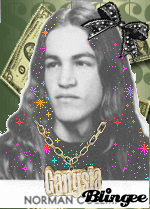 The number one problem facing everyone in the Republican party right now is that they cannot bring themselves to foot the bill for their own clothing, and this ends them up in terrible scrapes. Like Sarah Palin, the amiable Alaskan parasite whose popularity plunged after it turned outthe money-soaked Republican National Committee was paying for all her suddenly tasteful clothes.
---
Now Norm Coleman and his wife find themselves in similarly difficult straits, except worse because the FBI is looking into it, because some guy allegedly bought him a suit and stuff:
The source, who spoke on condition of anonymity because of the sensitivity of the matter, said the "main topic" of the two agents' questions surrounded an allegation that Bloomington financier Nasser Kazeminy paid for suits and other items Coleman and his wife shopped for at Neiman-Marcus in Minneapolis.
Jesus Christ people stay away from that Nieman-Marcus place, it is a Republican graveyard of the damned.
This Kazeminy character is also the guy whom lawsuits allege tried to direct $100,000 to Coleman via Laurie Coleman's employer.
Last semi-humorous comedy note: Laurie Coleman's lawyer is named "Earl Gray." Teabagging!
FBI inquiry on Coleman reportedly expanding [Pioneer Press]