Republicans Pretty Sure Donald Trump Jr. Not Supposed To Talk To Russian Strangers
Russia
July 10, 2017 03:14 PM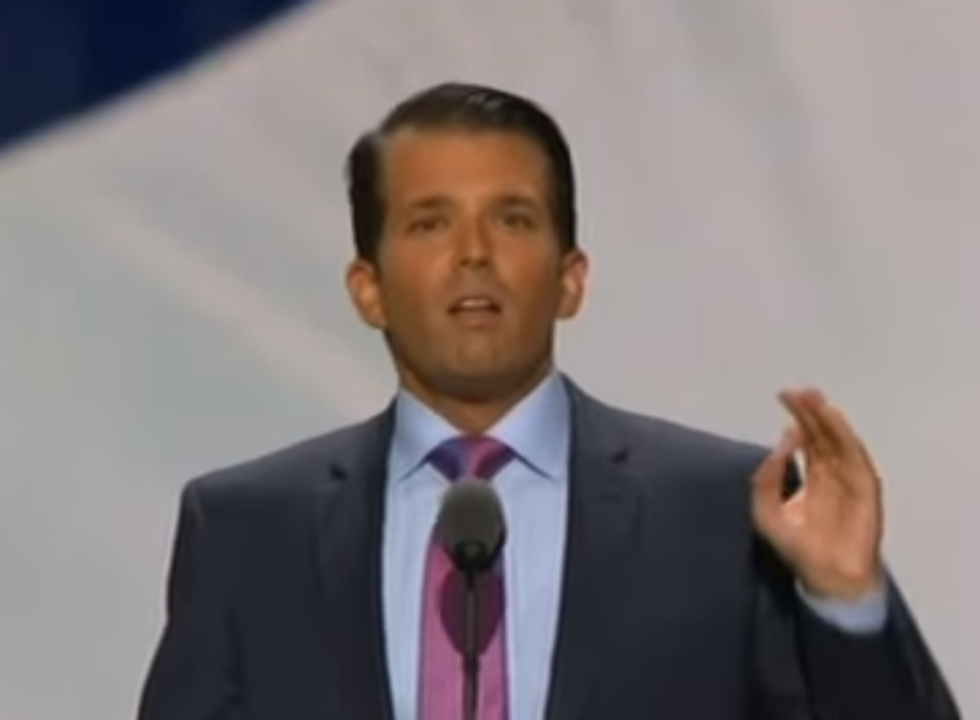 somethin' wrong with that boy
---
News is getting around that when Donald Trump Jr. heard from an "acquaintance" (a Trump business partner with ties to the Kremlin) that a secret anonymous Russian lady wanted to meet with him in June of 2016, he immediately said, "Russian strangers? That's not danger! LET'S DO THIS, BECAUSE I DON'T HAVE MANY FRIENDS, MAYBE SHE CAN BE MY FRIEND." Originally he told the New York Times he took the meeting because of his burning desire to help chubby Russian babies, but the next day he was like, "Oh I forgot, I was told the Russia lady had some smokin' hot dirt on Hillary Clinton and that's why I took the meeting. BUT WE STILL TALKED ABOUT THE CHUBBIEST BABIES OF RUSSIA."
It seems it's not just the lying media and whining liberals who think Baby Trump's actions were kinda bad, you guys. Senator Susan Collins would like to please haul his ratchet ass in front of the Senate Intelligence Committee to answer some questions. She would also like to see Paul Manafort and Jared Kushner in her office, please, since they were also at the meeting, AND she's pretty sure special counsel Robert Mueller is about to be all over this like a fly on shit. (Susan Collins would never use that language. That is Wonkette, being naughty.)
James Lankford, the dead-eyed Oklahoma Republican on the Senate Intelligence Committee, told NPR the committee is already looking into the meeting, according to The Hill. Wonder why Collins and Lankford are being so unkind about this? So rude!
But they're not the only Republicans being mean and saying Donald Trump should keep his raggedy-faced spawn on a leash and keep him from going on blind dates with Russians who lure him with promises of secret sexxxy Hillary Clinton information. The Huffington Post talked to a bunch of GOP veterans of normal presidential campaigns, and every single one of them was like "Uh no, that is not how you do things." It turns out that "DON'T GET IN VAN WITH UNKNOWN RUSSIAN" is common knowledge in American electoral politics:
"I've been involved in 9 presidential campaigns ... never happened, never would happen for all kinds of reasons," said GOP consultant John Weaver, who advised the White House bids by Ohio Gov. John Kasich and Sen. John McCain of Arizona.
NO FUN!
Rick Tyler, a former top aide to the presidential campaign of Sen. Ted Cruz, Texas, said he would have called the FBI if approached by a foreign agent from an adversarial nation like Russia.

"Senior presidential campaign officials don't take meetings with nameless people. Doesn't happen," Tyler said.
BUT WHAT IF THE NATALIA VESELNITSKAYA LADY HAD THE 33,000 MISSING HILLARY EMAILS IN HER KNAPSACK?
Michael Steel, a former top aide to the presidential campaign of former Florida Gov. Jeb Bush, said the presence of a campaign manager at such a meeting would be unusual.

"Aside from the candidate himself, the campaign manager's time is among the most valuable resources for any campaign," he told HuffPost. "So, yes, it would be very odd for the campaign manager to appear at a meeting with a more-or-less random foreigner claiming they're peddling [opposition research.]"
BUT MAYBE SHE HAD AN EXPLOSIVE SCOOP LIKE WHEN JAMES O'KEEFE DID JOURNALISM AND FOUND HILLARY PEOPLE REFUSING TO SELL T-SHIRTS TO CANADIANS!
Stuart Stevens, the chief strategist for Mitt Romney's 2012 presidential campaign, echoed that sentiment.

"If you can find someone in other presidential campaigns who has received oppo from foreign interests, please share," he wrote on Twitter, referring to opposition research.
BUT WHAT IF SHE HAD A PUPPY? SOMETIMES STRANGERS HAVE PUPPIES!
Here's George W. Bush's ethics lawyer Richard Painter, cutting right to the chase: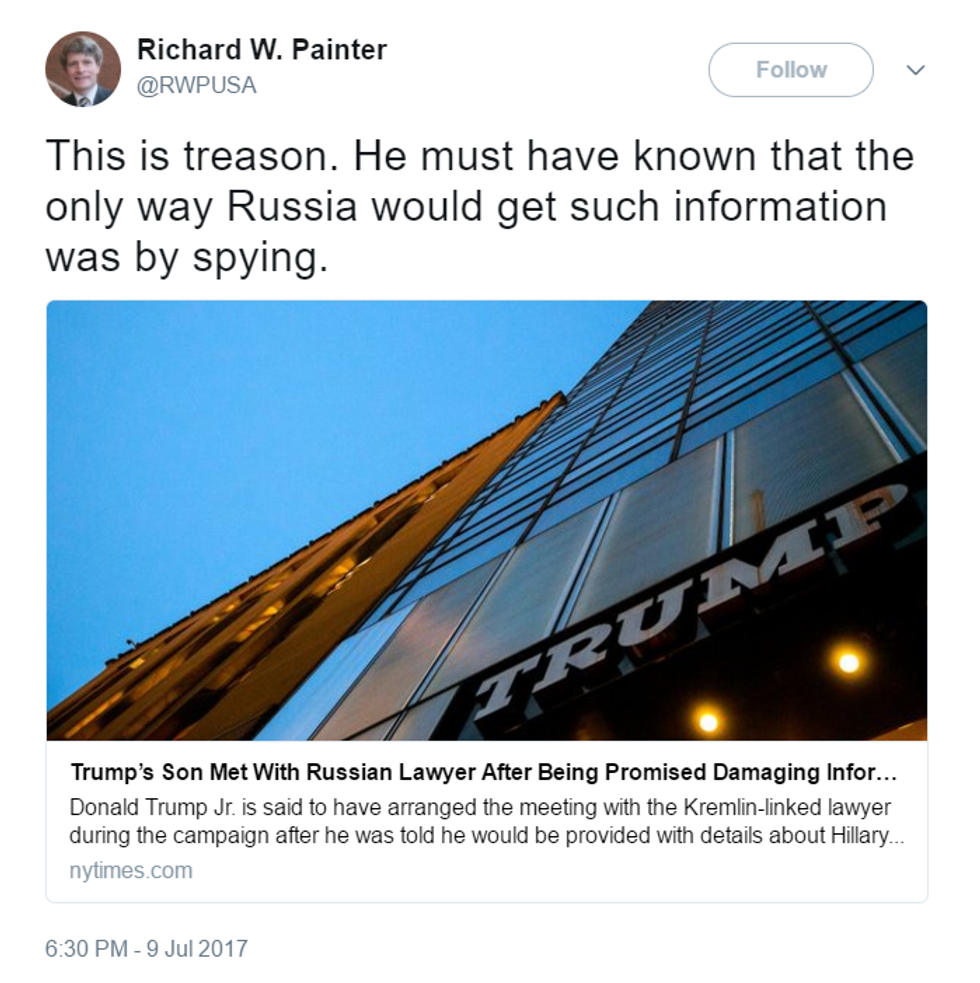 Oh golly, Junior, what have you done? Hahahaha, probably just about the same shit everybody else on the campaign did, and all true patriotic Americans simply cannot wait to #MAGA, by putting all you fuckers in jail. AND YOUR TINY-HANDED DAD TOO!
Wonkette salaries are fully paid by people like you! If you love us, click below, to fund us!
Evan Hurst
Evan Hurst is the managing editor of Wonkette, which means he is the boss of you, unless you are Rebecca, who is boss of him. His dog Lula is judging you right now.
Follow him on Twitter RIGHT HERE.