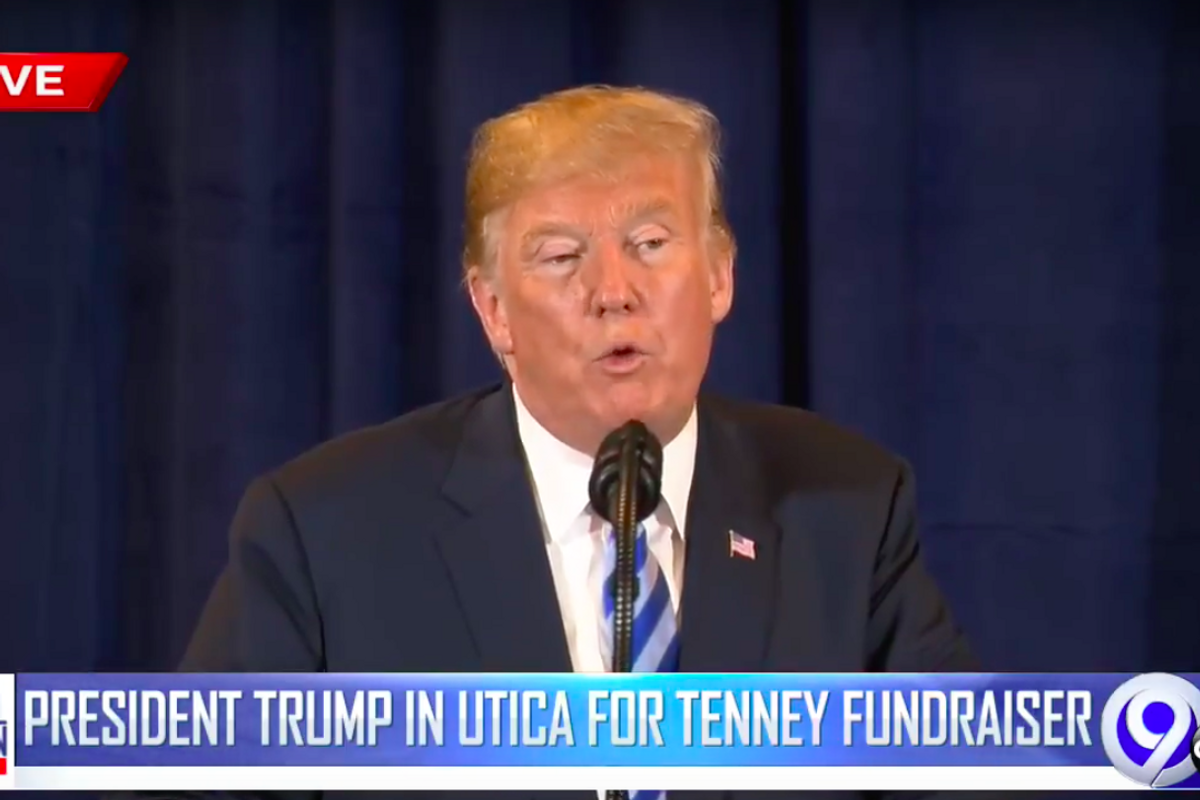 Defeated Republicans aren't giving up on their old House seats. You gotta love the delusional bastards. They were swept out of power in 2018 but they like their chances in 2020 because they'll have Donald Trump at the top of the ticket. Trump is in the middle of an impeachment inquiry. He gets booed at baseball games. He's the iceberg in their Titanic.
According to Politico, former Rep. Claudia Tenney thinks she has a shot at winning New York's 22nd Congressional District again. She lost to Democratic Rep. Anthony Brindisi by just two points. Trump carried the district by 15 points in 2016. I get that Republicans want to contest these districts but why serve up stale leftovers?
TENNEY: [2018] was a tough year, just not a great environment for Republicans. I think the environment now is different.
Yes, it's a Red New Deal! There's no telling how well Republicans can do with a criminal president in their corner. Tenney underperformed Trump significantly when they last appeared on a ballot together. She won in 2016 with just 44 percent of the vote. Her Republican predecessor, Richard Hanna, refused to endorse her.
HANNA: The jobs she's had and the offices she's run for isn't a positive [campaign] that I can associate myself with.
Trump, his idiot sons, and his annoying daughter campaigned for Tenney to no avail. But maybe a public airing of Trump's major presidential felonies will inspire Republican turnout next year. It's not much of a theory but you gotta hold on to something. Public support for impeachment increases each day, especially among independents. It doesn't seem like a general election killer.
---
Trump promises White House will buy forks, knives from America's last flatware makeryoutu.be
Last month, Tenney posted her 2020 kick-off video on Vimeo and sent a link to a small group of advisers asking for feedback. She didn't seem to understand that the video was now publicly available to everyone days before her campaign's official launch. She's not very good at this. But she's not the only defeated Republican seeking a rematch next year. There's also Karen Handel, who lost Georgia's Sixth District race to Lucy McBath, an actual human being. Rob Simms, a strategist for Handel, claims Stacey Abrams got Democrats amped up to vote in Georgia, but Republicans won't get caught flat-footed next year. They plan to treat Georgia like a true battleground. If that's true, they should keep Handel on the bench. She sucks. Republicans might consider finding a more benignly evil candidate to run. I went to college with a few possibilities.

After a narrow loss in Iowa's Third District, Republican David Young is returning to the ring against Cindy Axne. He's using a "deep data dive" to find the Trump supporters who didn't show up in 2018. Axne almost matched Hillary Clinton's 2016 performance, which was impressive, but Young fell far short of Trump's previous vote totals.
YOUNG: In November 2018, the Democrats had high voter turnout, almost presidential levels. I think to some extent they may have peaked or are getting close to peaking, but Republicans have so much more room to grow.
"The view is just great here from rock bottom!" Young senses an "energy" from voters in his district. They're apparently "frustrated" that Democrats are trying to remove a president who keeps committing crimes. If Trump is impeached and survives to run again, he'll definitely hold a grudge. But it seems a stretch that even his most ardent supporters will still care.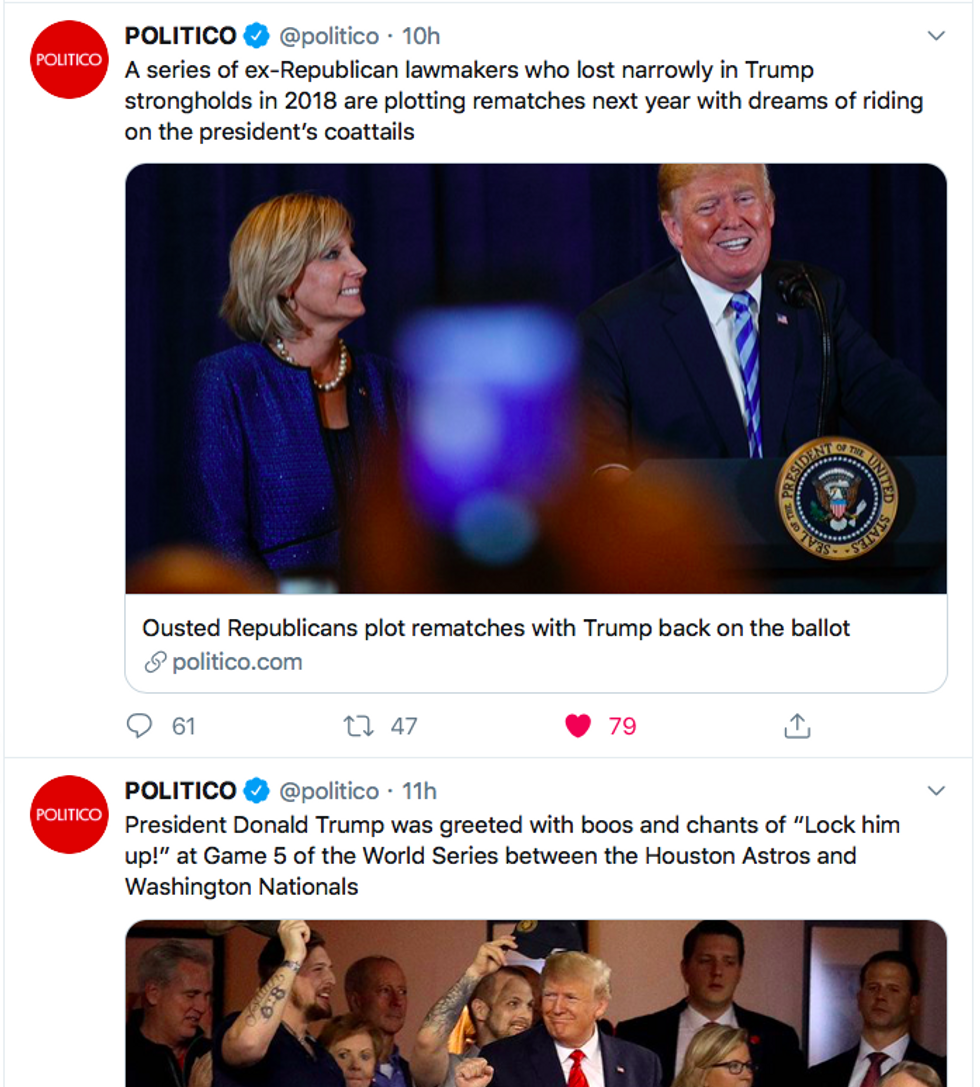 Twitter
The 2018 midterms weren't just a referendum on Trump, they were also a rejection of Republicans' lousy policies. The GOP-controlled House tried to take health insurance from millions of Americans. When that failed, Republicans moved on to helping rich people enjoy their yachts without the burden of taxes. All they have to offer is more of this crap and some concentration camps.

Trump is an unpopular incumbent. His approval ratings are lower and disapproval higher than Barack Obama's dismal standing in 2014. Democrats in tough races distanced themselves from the president. Mitch McConnell's Democratic challenger, Alison Lundergan Grimes, laughably took the Fifth and refused to confirm whether she even voted for Obama in 2008 and 2012. But Republicans who had their asses handed to them last year are still embracing Trump with every limb available, as if the primary electorate is all that matters. Sure, Trump has an irritating advantage in the farkakte Electoral College, but his cult of personality doesn't necessarily transfer down ballot. Republicans can try to ride the president's fetid coattails but they'll probably need a shower and other employment opportunities afterward.
[Politico]

Follow Stephen Robinson on Twitter.
Yr Wonkette is supported by reader donations. Please send us money to keep the writers paid and the servers humming. Thank you, we love you.
Stephen Robinson
Stephen Robinson is a writer and social kibbitzer based in Portland, Oregon. He writes make believe for Cafe Nordo, an immersive theatre space in Seattle. Once, he wrote a novel called "Mahogany Slade," which you should read or at least buy. He's also on the board of the Portland Playhouse theatre. His son describes him as a "play typer guy."