Rest Of World To Shove Our Tariffs Up Our Ass, So That Sounds Sexy Goodtimes Fun!
POTUS
June 01, 2018 01:11 PM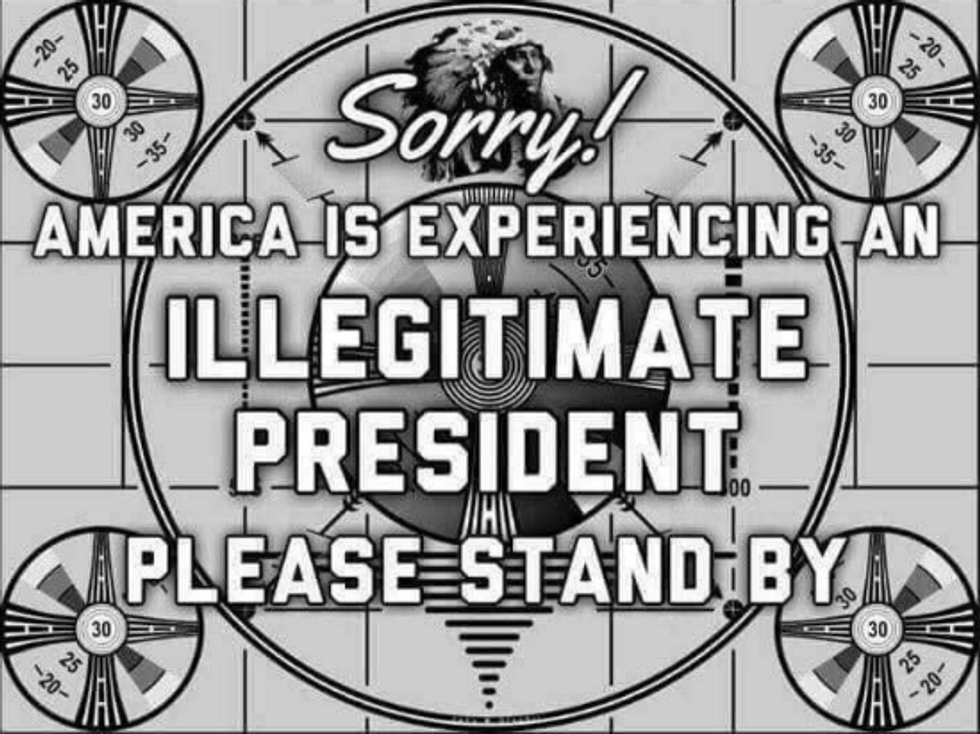 In the latest edition of Every Day Is Like Living In An Episode Of Roots With A Healthy Dose Of Manchurian Candidate And A Dash Of Natural Born Killers Because We Got A Pussy Grabbin' White Supremacist For President, let's talk trade wars! Trump did promise to renegotiate agreements and impose tariffs on the campaign trail, didn't he? Promises kept! But at what cost?
---
In March 2018, economic adviser extraordinaire Gary Cohn resigned, with Trump's impromptu tariff announcement as the last straw. (Sure, he kept it together through Charlottesville's "very fine people," but don't fuck with his dollars!) While the former Goldman Sachs executive was rumored to have authored a scorching email referenced in Michael Wolff's "Fire and Fury," apparently BLOTUS authorizing the idiotic tariffs Cohn had argued against as damaging fiscal policy was the cherry on top of the shit sundae known as Trump's administration. #TradeWarsSoGoodSoEasy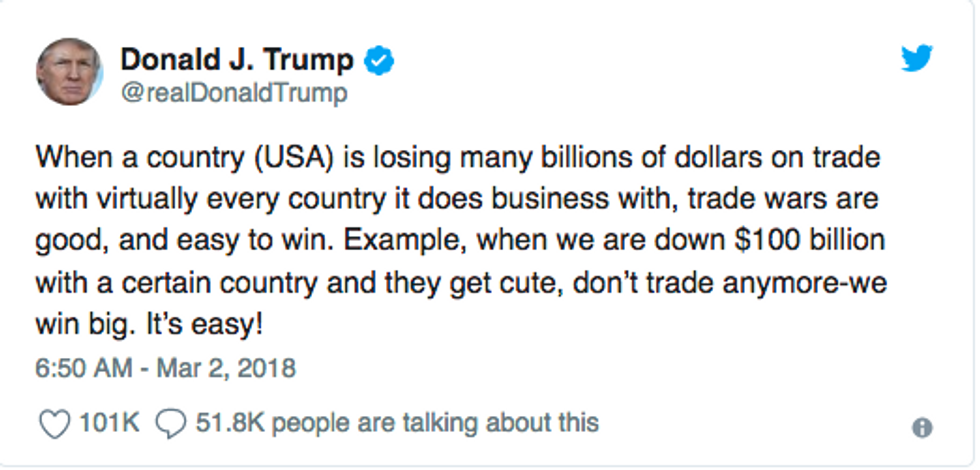 The tariffs initially leveled at China had our historically friendly allies exempt until yesterday, when Trump announced 25 percent tariffs on steel and 10 percent on aluminum imports against our neighbors to the North and South, as well as across the pond to the EU. Naturally our besties aren't having it. Mexico was clearly already done with this administration, but Canada now too? Didn't take long for PM (that stands for Pretty Man) Justin Trudeau to show us what a real leader looks like, protecting his brood from The Orange Scourge.
American tariffs on Canadian aluminum & steel are unacceptable. As we have said, we will always stand up for our workers, and today we're announcing retaliatory measures to this attack on our industry.

— Justin Trudeau (@JustinTrudeau) May 31, 2018
"Tariffs" equal "retaliation," and the kicker is that many MAGA-dense regions in the US will likely get a punch in the nads over the tariff lunacy. For instance, Mexico has decided to impose its own tariff on commodities such as US pork bellies; now which states are among the biggest producers of pork? Iowa (52% voted for Trump), North Carolina (50.5%), Indiana (57%) and Oklahoma (65%) are all in the top six. Way to vote your interests! Yes, MAGA.
Wyoming voted 70% in favor of Trump and interestingly the top recipient of the many Wyoming exports is ... Canada! Way to piss off the mild-mannered Canucks, Teton State! And what about jeans? Or whiskey? That's what the EU is said to be targeting. Mississippi is a large producer of American denim. Seems like Kentucky and Tennessee just might feel a pinch when it comes to their famous distilled bevs too. We already know those states went full-on Trump, no percentages needed. I'm just not sure Deplorable Nation thought this thing through.
Trump's wild antics are not only evident from the foreign trade perspective -- the financial markets tell a story as well. Tariffs and trade wars mean political turmoil. In Trump's case, the see-sawing markets of 2018 are the storm after the calm. The markets laid low and quiet like startled prey during Trump's first year.
A Financial Times analysis of historic returns [...] dating back to 1927 shows only one previous period with lower average volatility. The quietest 12 months on record also followed a political shock, starting a week after the assassination of John F. Kennedy in 1963.
That's some shock. Put another way, the effects of Trump's presidency on the financial markets fucking mirrors one of the greatest tragedies sustained in our history! Where the first year behind the Orange Curtain proved to be lowest in volatility since the period of time after Kennedy was assassinated, the shock has worn off into yet another historical era for the markets. We're now experiencing peaks and valleys of volatility comparative to the 2008 financial crisis.
Each time Trump announces tariffs, the market nosedives. Yesterday we closed down -251.94. So far we're back up over 200 points today. The new norm and shit. For two days in March, the market tanked over 1100 points in concert with Trump's brilliant tariff moves. Yep, that trade war with China has been super easy, I guess he thought, why not? Let's throw our closest allies into the mix. Daily market graphing looks like a damn Missoni pattern.
Putting economics and our collective Orangeade Angst aside, the tonnage of disrespect leveled at our allies vis a vis these Trump Tariff Distractions is immeasurable. Trudeau minced no words:
"These tariffs are an affront to the long-standing security partnership between Canada and the United States, and in particular, to the thousands of Canadians who have fought and died alongside American comrades-in-arms."
Forget about any talk of salvaging "America's standing in the world" for a long time. We've been dumbfounded and ankle deep in the gutter since the day that bloated orange demon took office. Now, almost 18 months in, we're already lying face down in the filth, blowing bubbles and shit -- our new reality.
A Nice Lady
A Nice Lady is a not very nice third place winning Jeopardy! contestant mouthy black broad perpetually plotting an escape from corporate shackles...