Rick Perry Is So 'Fed Up,' He's Writing a Bible About It
News
May 26, 2010 11:25 AM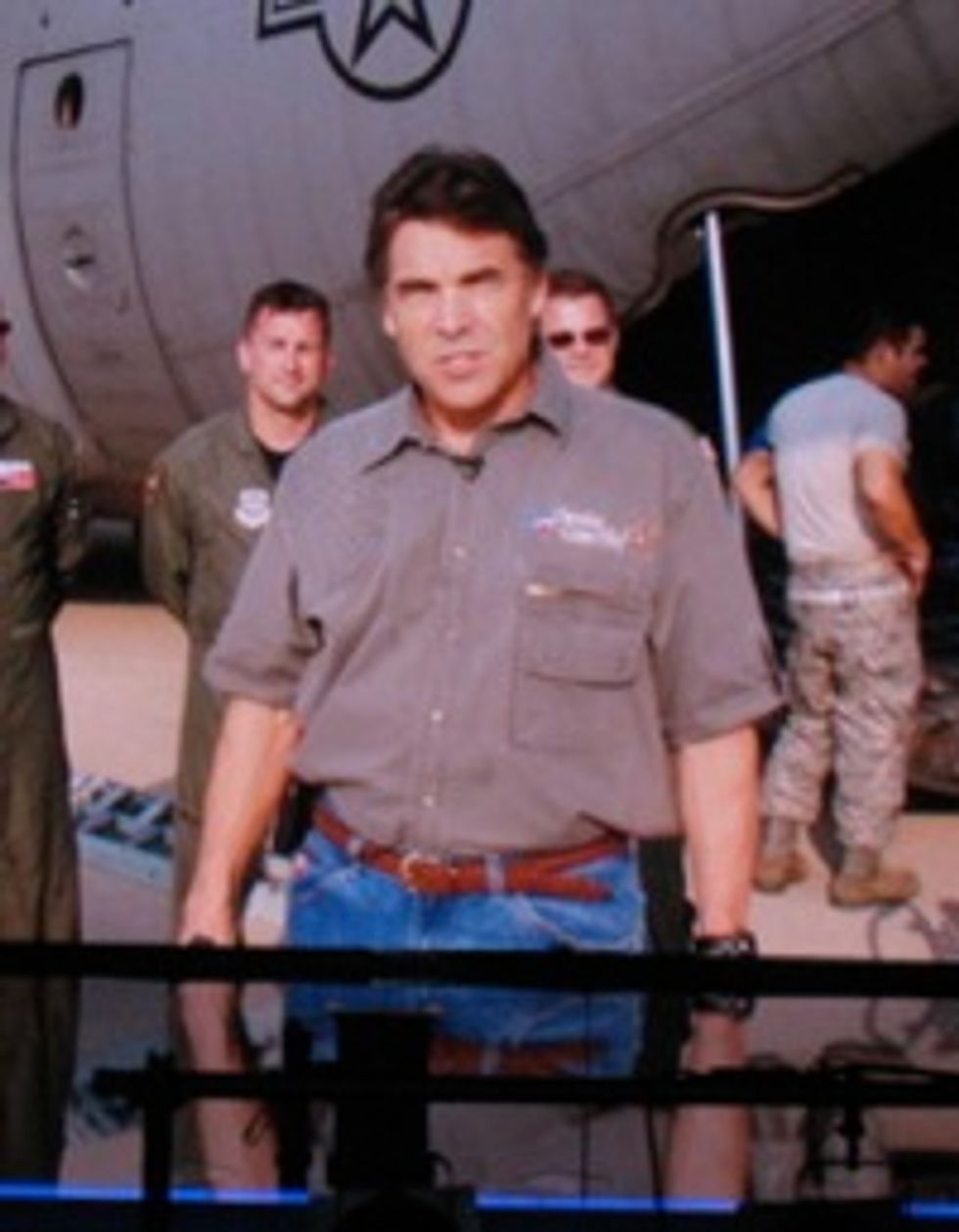 Clear a lil' shelf room in your wood-paneled libraries, everybody, because President of Texas Rick Perry iswriting a new book! It's called Fed Up, and it teaches you how to hate the federal government like a Texan does (i.e., while wearing spurs). A rep from Perry's publisher says that "when [Perry] speaks, millions listen," so this book could inspire a new civil rights movement or even cause a world war between Texas and "the Beltway," depending on how "fed up" people end up getting.
---
A follow-up to Perry's best-selling memoir On My Honor, in which the fancy-haired Republican discussed his infatuation with the entire Boy Scouts of America organization, Fed Up covers the fundamentals of federal government terribleness, from bailouts and ObamaCare to its failure to deliver Messican-spotting predator drones by mail to anyone who wants them.
The rest of the book is filled with doodle-pictures of rattlesnakes and coyotes Perry has slaughtered while exercising.
Perry is writing his tome in the comfort of his rented Perryville, a $10,000-a-month, taxpayer-funded bungalow with five bedrooms and seven bathrooms as well as "pecan-wood floors, a gourmet kitchen and three dining rooms." It is just like the house where Thoreau wrote Walden, except that it has a few more walk-in closets. To unwind, Perry likes to kick back with $130,000 worth of Lone Star and cable teevee, because sometimes there's just nothing to shoot.
You won't be able to put Perry's bible on your summer reading list -- unless you live in Texas, where it's summer year-round -- because it won't be coming out until Election Time. In Texas, political candidates win elections by writing books! See, everything you think about Texas is WRONG. [Dallas Morning News/Associated Press]