Rick Santorum And Bryan Fischer Share Sweaty Fantasies About Banning 'Secularism' From Schools
News
September 10, 2014 10:59 AM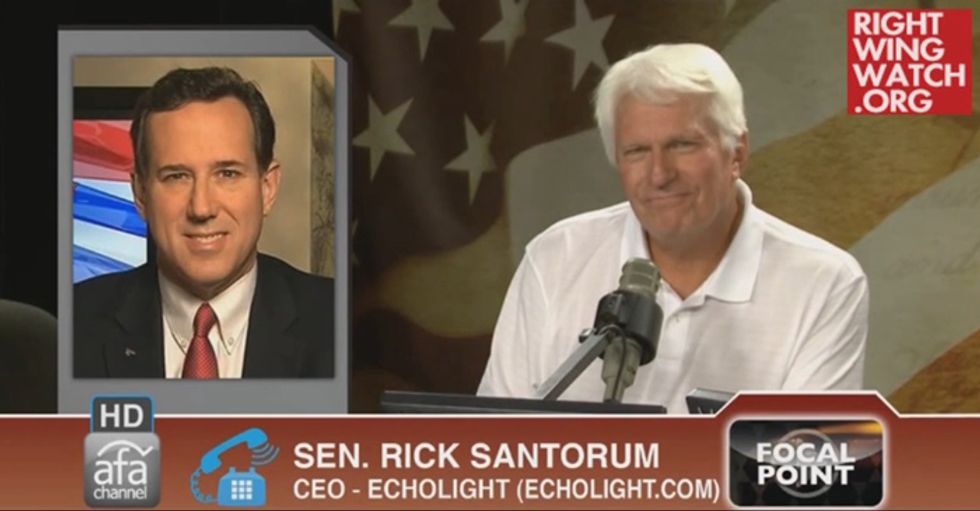 Two of America's greatest professional Oppressed Christians, the American Patriarchy Association's Bryan Fischer and Totally Serious Presidential Candidate Rick Santorum,came together Thursdayto bemoan the sorry state of our once great nation, etc. Fischer interviewed Santorum on the AFA's "Focal Point" internet "radio" show (by telephone, so a critical mass of idiocy was avoided) so Santorum could flog his new movie, a "documentary" about how America is just One Generation Away from a complete end to religious liberty, don't you know (Yes, we'll probably watch the thing, maybe when it's on video).
---
Rick Santorum had a really deep insight about the whole idea of religious freedom in America: If schools aren't allowed to make kids read the Bible, then that's not "neutral" -- that's actually oppression of Christianity, since the Bible is actually what America is built on, and removing it creates a sucky secular vacuum:
The idea that if you take religion out of the public square, you take the Bible out of the classroom, that that's "neutral," well no it's not neutral, it's a different worldview.
And to combat this horrible situation, Santorum presented a creative, innovative idea!
I think we should start calling secularism a religion because if we did, then we could ban that too.
Oh, that's a pretty fresh idea, and should go over exactly as well as it did when Moral Majority types actually sued, unsuccessfully, to have "secular humanism" in schools declared a violation of the First Amendment. For fans of judicial trivial, this is sort of a fun one -- in a key case, the initial ruling agreed with the parents that "secular humanism" was a religion and therefore could not be taught in schools. That decision was overturned at the federal appeals court level, and the case went no farther. Nevertheless, some fundies still cite the original decision as proof that the federal courts have declared secularism a "religion," leaving out the inconvenient detail that, no, that ruling didn't stand.
In any case, said Santorum, the absence of a religion actually IS a religion, and the schools need to bring back Bible reading just like the Founders explicitly said absolutely nowhere in the Constitution.