Rick Santorum Has Clever Plan To Make All The Brown People Go Away Forever
Post-Racial America
January 15, 2016 02:15 PM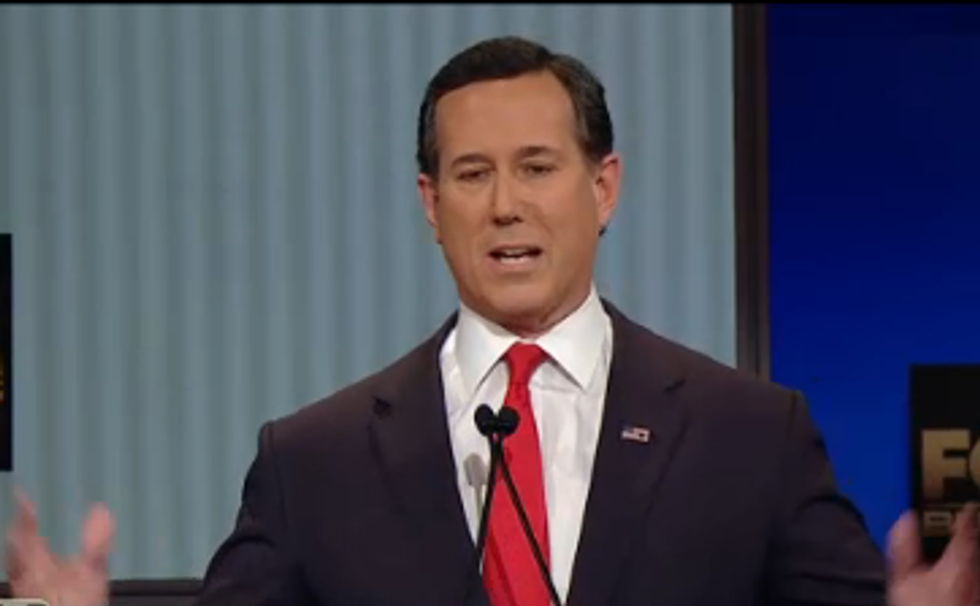 Makin' his yucky buttsex face.
---
[contextly_sidebar id="AxcP1UeQHwhY7nUY5WSptNTFIld4JWLz"]Rick Santorum is still running for president for some godforsaken reason, probably because his family abortion doctor said a campaign would distract him from his real obsession, which is ass sex. And so Thursday night, during the Undergirdle Debate For Republican Loser Taint Holes, he had another opportunity to explain what he thinks about the minority children. SPOILER ALERT, he does not think good things about the minority children. In fact, he says they should just go back to Mexico or Guatemala or France or whatever, since minorities aren't really American anyway:
[W]hen we say we need to send people back, I mean we send people back. And let me just make one point. I was in Storm Lake, Iowa, the other day, near a Tyson's plant, 91 percent of the kids that go to the elementary school there are minority kids. And they said, well, what are you going to do with all of these people, their families, they've lived here for a long time?

I said, I'm going to give them a gift. I'm going to give them a gift of being able to help the country they were born in.

And I'm going to export America, the education they were able to see. They learned English language. They learned about capitalism. They learned about democracy. You want to stop flow of immigrants?

Let's send six million Mexicans, Hondurans, Guatemalans, El Savadorians back into their country, so they can start a renaissance in their country so they won't be coming over here anymore.
Now to be fair to the frothy mix, the actual question was about Obama's record of job creation, which made him immediately think of undocumented Mexicans, so maybe he got tripped up in his brain when he said "minorities" instead of "illegal gross-grosses." In his mind those are the same thing, because he is a fucking pigturd bigot. (Yes, that is Wonkette being "fair" to Rick Santorum.)
But holy shit, what an idea man he is! What joy those brown Spanishes will feel when El Presidente Santorum (LOL as if) shows up and says, "Hey, you live here and you've been here forever. Now how about you go back to whatever gross hellhole you came from and do a RENAISSANCE to it, so that none of your foul countrymen will ever want to set foot on American shores again!"
It's like the inscription on the Statue of Liberty, but partial birth-aborted and completely fucking evil.
[contextly_sidebar id="RETilKwlYzlIm1doPOuoRO6GH6u3jTbH"]Of course, this is not the first time Santorum has ever been a disgusting bag of vanilla shit wafers about minority illegal brown whatever-they-ares. Remember those unaccompanied Honduran baby children who were fleeing to America BY THEMSELVES and getting locked in baby jails? In December's Republican Loser's Table Debate, Santorum explained how those kids are definitely not in "harm's way," or "going through difficult times." Nah. Those little shits are takers who just want to ruin our American way of life, that's what it is!
At the end of Thursday's debate, Santorum told the mouth-breather audience which (white) kids he WILL fight for:
[L]et's have a national campaign to rebuild the American family, and give every child its birthright which is a Mom and a Dad who loves them.
Haha, take that innocent children of hellbound lesbogays! Mom and Dad-havers ONLY! Maybe the gay-parented kids can go back to El Salvador with all the brown children.
Christ, what an asshole.
[Kids Table Loser Debate transcript viaWashington Post]
Evan Hurst
Evan Hurst is the managing editor of Wonkette, which means he is the boss of you, unless you are Rebecca, who is boss of him. His dog Lula is judging you right now.
Follow him on Twitter RIGHT HERE.