Rick Santorum: Nobody Gets Me Like ISIS Gets Me
Featured
April 02, 2015 11:05 AM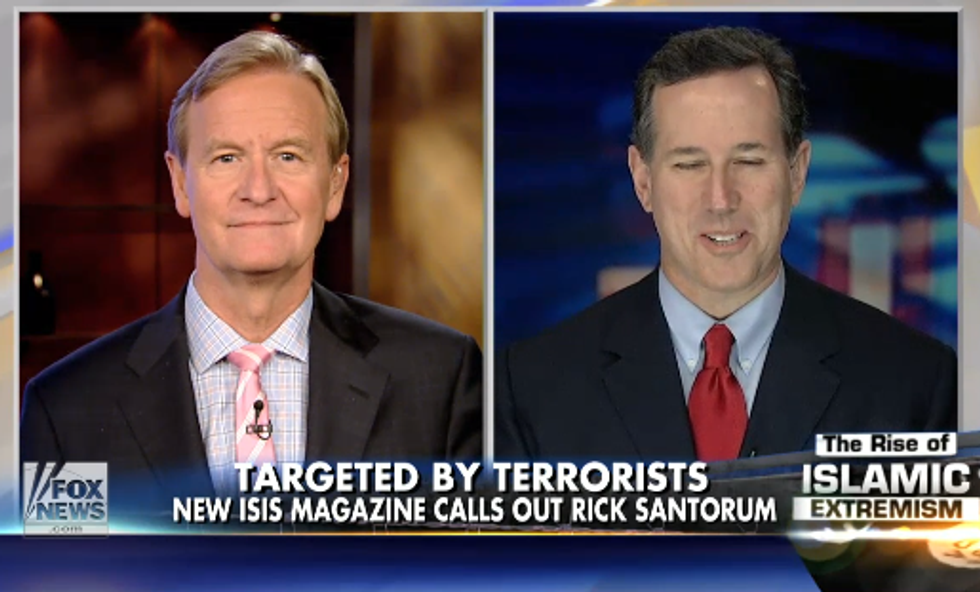 Rick Santorum has finally found a media source that hasn't been hijacked by the gay-loving liberals, one that quotes him accurately and nicely and conveys the true heart of his messages. WorldNetDaily? NO, not that commie rag. It is ISIS!
---
Santorum spoke with the nice and very smart and always correct Steve Doocy on "Fox & Friends" Wednesday morning, to find out how Santorum feels about being quoted and singled out by the terrorist organization in their mommyblog newsletter (but do they even have a recipe hub?). Santorum responded by making a joke that made Doocy laugh heartily:
"Well the difference is that ISIS actually quoted me accurately, compared to the New York Times, which is sort of a remarkable comment on the state of the media today."
Ha ha ha, Rick Santorum, you are a GAS! We are not surprised by this knee-slapper, because it is well known that Rick Santorum is a very, very funny guy.
[contextly_sidebar id="dCF5GkWGVy4MaAjE8fTCDpbTMNYupUxH"]
ISIS does all the fact-checkin' so much better than the Grey Lady. So what did ISIS get so completely right that Santorum said? Oh, just some stuff about how ISIS is so incredibly big and strong and has an incredibly impressive erection and is the Greatest Known Threat To Mankind:
"They are not losing ground," Santorum is quoted as saying in the magazine. "They are not being discredited in the eyes of the Muslim world. They will get stronger." [...]

"I described who they are, what they were about, what they wanted to accomplish, and they put it out there because it accurately described who they are, which is, again, a comment on this administration and their unwillingness to deal directly with the truth about who ISIS is," he said. "I took it as them actually finding an American politician who actually described them as to who they really are."

"So they were just reporting the facts," Doocy said in response.
Yup, those are just the "facts," according to the network that makes its money by scaring dinguses into believing that ISIS is going to kill them so much, any day now. We can't imagine why ISIS would lie about how strong they are; it's hard to imagine what ulterior motive they might have by pressing that argument.
Are they right? We are not foreign policy experts like Doocy and Santorum, but diversesourcessuggest that ISIS has actually been gettingweaker over time, and will continue to do so in the future.
But Rick Santorum says all that is wrong and that ISIS is unstoppable, and we should cry about them all the time, just like we cry about our wife's hot abortionist ex-lover.
[contextly_sidebar id="JDVo68jXuanOlA6KxR1ZR2W2xH3EKWrV"]
The ISIS article in question, titled "In The Eyes Of The Enemy," also namechecks Virginia state Sen. Richard H. "Dick" Black and former CIA officer Gary Berntsen as "crusaders," who are just as wise as Rick Santorum when it comes to assessing the amazing, superhuman powers of ISIS:
"Over the last month, a number of crusaders voiced their concerns over the power and drive of the Islamic State, its revival of Islam and the Caliphate, and its eventual expansion into Europe and the rest of the world," reads the introduction.

As part of its glossy propaganda operation, ISIS often quotes Western officials voicing concern about the rise of the Islamic State, taking their words as something of a back-handed compliment, said J.M. Berger, co-author of "ISIS: The State of Terror."

"Basically, they're looking for opportunities to show how much fear they're striking in the West," Berger said. "Sometimes they're not very discriminating about who they pick. The nuances of American politics can be lost on them."

The magazine quotes all three men voicing grave warnings about ISIS.
Hey, ISIS reports, you decide, they are Fair And Balanced.
The Washington Post points out that it's kind of weird for ISIS to be messing with someone like Dick Black, as he's just a state senator who sends baby fetus dolls to his coworkers. Black is also interested in eradicating the "baby pesticide" that is the morning-after pill, and making sure nobody goes around saying there is even such a thing as "rape" if a husband does it to his wife.
On second thought, though, ISIS probably agrees with Black and Santorum on all that stuff too. Awwww, if only these dudes could get over that "we hate Muslims" thing, and ISIS got over their "death to America" rigamarole, they could be bestest friends.
[contextly_sidebar id="lHZaqwYqj8Y77hkbDLIUHPa7nM0VCeNQ"]
Evan Hurst
Evan Hurst is the managing editor of Wonkette, which means he is the boss of you, unless you are Rebecca, who is boss of him. His dog Lula is judging you right now.
Follow him on Twitter RIGHT HERE.