Rick Santorum So Glad Pilgrims Discovered 'Blank Slate' America, Empty Of People And Culture
History Facts
April 26, 2021 02:44 PM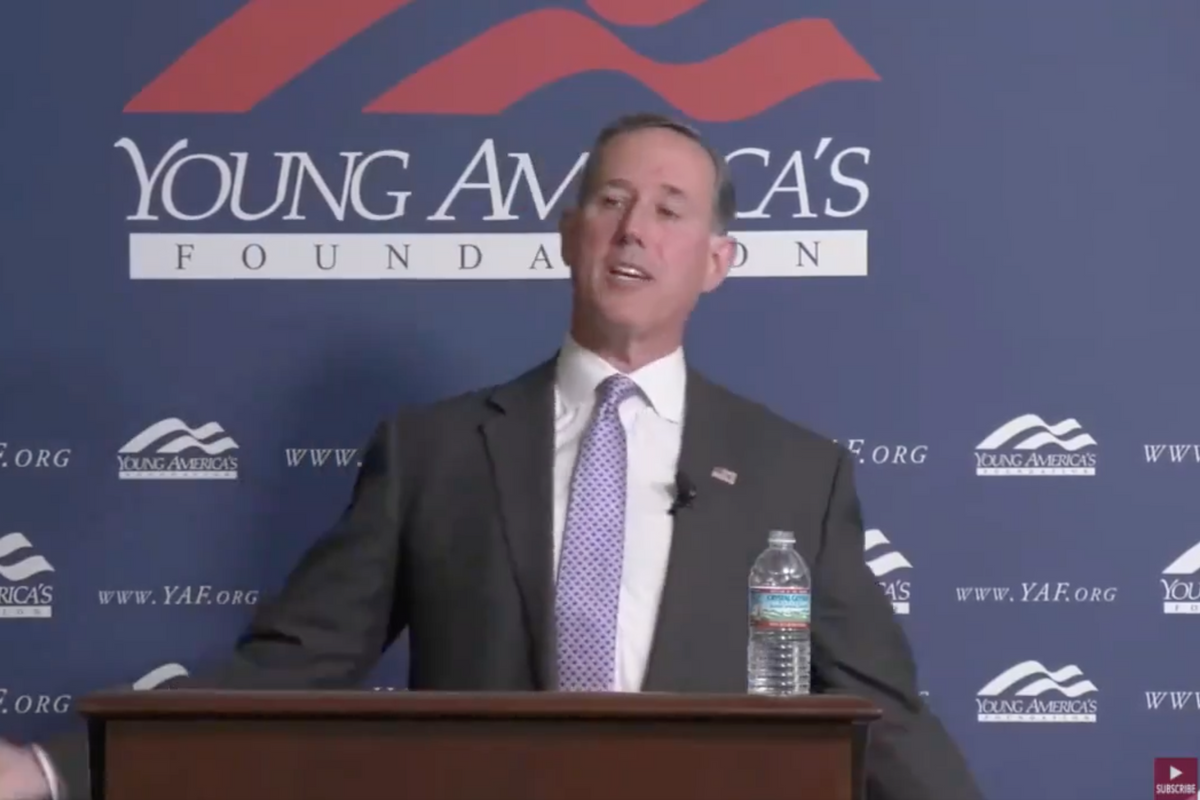 Former Republican senator and CNN commentator Rick Santorum took the stage this weekend at an event for Young America's Foundation, an organization for hip young Republicans, led by former Wisconsin Governor Scott Walker. The group seeks to introduce college students to conservatism by inviting them to listen to super interesting and cool people like John Ashcroft, Bay Buchanan, OIiver North and, of course, Rick Santorum.
Speaking to the yutes, Santorum went on a diatribe about how very special America is, because unlike other countries that had to evolve, it sprang fully formed out of the neck of William Bradford or John Winthrop or some other Pilgrim guy, and how America is unique and special because our culture was created by people who came here to escape religious persecution, rather than those who were here to begin with. You know, because of all the genocide the European settlers did, which he somehow fails to mention in his diatribe.
Let's check it out, shall we?
---
He said:
SANTORUM: If you think about this country, I don't know of any other country in the world that was settled predominately by people who were coming to practice their faith. They came here because they were not allowed to practice their particular faith in their own country.
It was not so much that the Puritans couldn't practice "their faith" in England as they couldn't require other people to practice their faith along with them. The initial goal of the Puritan movement was to "purify" the Church of England and for civil authorities to enforce strict adherence to their interpretation of the Bible, something Puritan members of Parliament had been trying to do for some time. They actually had a relatively decent amount of political power until Charles I dissolved parliament.
SANTORUM: And so they came here, mostly from Europe, and they set up a country that was based on Judeo-Christian principles -- when I say Judeo-Christian, the Mosaic laws, 10 Commandments, and the teachings of Jesus Christ, the morals and teachings of Jesus Christ. That's what our founding documents are based upon. It's in our DNA.
The Puritans of Massachusetts Bay Colony absolutely did set up a society where they required everyone to practice their particular form of Christianity, at least initially. That is why Roger Williams, a staunch advocate of the separation of church and state, got booted out of the Colony and established Providence Plantations (later Rhode Island) as a place where people could be whatever religion they wanted, and then made an effort to learn the languages of the Native Americans and treat them fairly. Providence Plantations was established only eight years after Massachusetts Bay Colony was established, so it seems pretty fair to say the ideals of separation of church and state and not being horrible to people based on their skin color or national origin is just as much in our DNA as "Judeo-Christian principles." Moreso, even, since we ended up with the First Amendment instead of a theocracy.
For what it's worth, you know who the Puritans really hated? Like, even more than the Church of England? Catholics! They hated Catholics so, so much! Part of the reason they left England was because they thought the Church of England was being influenced by Catholics, whom they thought were very bad people. If it were up to the Puritans, Rick Santorum would not be here or be allowed to practice his religion.
Also, as we feel like we've explained here 47,000 times, literally none of our founding documents is based on Mosaic law or the Ten Commandments. The First Amendment is an explicit violation of the Ten Commandments, as it allows people to practice whatever religion they want or no religion at all. Stealing and killing people have generally been against the law in any society that has had laws since the dawn of time. No one needed God to zap a tablet for anyone to figure out that was wrong. Even if we go by the Bible, Cain slew Abel a hell of a long time before said tablet zapping, and even then everyone seemed pretty clear that murder was not good.
SANTORUM: You know, if you think of other countries like Italy and Greece and China, Turkey and places like that, they've all, sort of, changed over time. I mean, they've been there for millennia in many cases. And their culture has, sort of, evolved over time. But not us.
We have absolutely evolved over time, which is why Rick Santorum is allowed to live here and be Catholic.
SANTORUM: We came here and created a blank slate. We birthed a nation from nothing. I mean, there was nothing here. I mean, yes we have Native Americans but candidly there isn't much Native American culture in American culture.
Well, that would be because of all the genocide, now wouldn't it?
It's not that there was nothing here, it's not that there was a blank slate, it's that the people who camefrom Europe didn't care that there were people living here, and decided to kill them, trick them, scam them in whatever way they could, in order to make room for themselves. That's not really a thing anyone ought to brag about.
Also, what is this "we" shit? Is Rick Santorum trying to join the DAR? Is he claiming to be Mayflower Material? Because dude is Irish and Italian, so the kind of WASPs who were Mayflower Material were not too happy about his relatives coming over here and influencing American "culture." His grandfather, a communist, came over here from Italy not to practice his religion, but to practice his antifascism.
But back to the speech:
SANTORUM: It was born of the people who came here pursuing religious liberty to practice their faith, to live as they ought to live, and have the freedom to do so. Religious liberty. Those are the two bulwarks of America. Faith and freedom. I mean, you hear it all the time about faith and freedom, faith and freedom. But it is what makes America unique in the world.
Again, the Puritans literally kicked Roger Williams out of Massachusetts Bay Colony because he was advocating for religious freedom and liberty, two things they hated just as much as they hated Catholics like Rick Santorum. They also executed two men, William Robinson and Marmaduke Stevenson, for being Quakers, because of how it was against the law in Massachusetts Bay Colony to be a Quaker.
I would love to be able to end this with some kind of wise summation of what this says about Rick Santorum or America, but I can't. Because it is actually that stupid. Nothing he said is true and none of it makes any sense, and since he never really comes to any actual conclusion about what he's saying, I'm having a hard time coming up with one myself. He's just standing up there, at a podium, saying things that are factually inaccurate and also pretty offensive.
What I will say is that it sure seems irresponsible of CNN to continue to pay him to comment on things when he is so very clearly unable to do even a small amount of basic research on something before running his mouth. I don't expect Rick Santorum to know better, because Rick Santorum is an idiot — but they probably should.
Do your Amazon shopping through this link, because reasons.
Wonkette is independent and fully funded by readers like you. Click below to tip us!
Robyn Pennacchia
Robyn Pennacchia is a brilliant, fabulously talented and visually stunning angel of a human being, who shrugged off what she is pretty sure would have been a Tony Award-winning career in musical theater in order to write about stuff on the internet. Follow her on Twitter at @RobynElyse